For my first blog of 2022, I wanted to share with you one of my late 2021 finds: Lark Adventurewear! Every year growing up, I would receive new pajamas on Christmas Eve, which I would wear overnight and as I opened presents on Christmas Day. The tradition continued into adulthood, and I received new pajamas yearly for Christmas. Since getting married, I continued the tradition for myself and my husband.
This year I learned about Lark Adventurewear, which uses Softek bamboo material, creating super-cozy sleepwear. The company, founded in 2017, was born when mom Pallavi Golla noticed her son was often sweaty or damp in his clothing. Golla didn't have the same problem with her adult activewear; and when she searched for similar activewear for babies with no luck, she set out to make her own.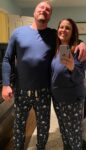 The Softek knit is soft, temperature-regulating, easy to wash and, when applicable, UPF 50 Sun Safe. The fabric is also tested for more than 100 different chemicals, so it's perfect for sensitive skin. And it's tag-less and stain-resistant. Today, Lark Adventurewear mostly outfits babies, toddlers and kids, but there is also a women's wear section, including sleepwear. For the holidays, the company offered unisex adult pajamas, and I was able to grab a pair for myself and for Scott.
I can personally attest to the fabric's softness and, more importantly, its temperature-regulating effect. At night, under covers, it's easy to overheat, but these pajamas help ensure a cool, comfortable night of sleep. Our winter-themed PJs boasted skis and chalets on the jogger-style pant, paired with a navy-blue, long-sleeved shirt.
Since Christmas Eve I've worn the pajamas several times, and they also wash nicely. I should also point out the pajamas shipped in eco-friendly packaging, as well! I look forward to trying some of the adult activewear.
— Kim Krol Inlander, editor in chief
FX Excursions
FX Excursions offers the chance for once-in-a-lifetime experiences in destinations around the world.
Since Cheval Blanc, an extraordinary, newly designed and refurbished 72-room hotel owned by Louis Vuitton Moet Hennessey, launched in September 2021, it has been the talk of the town. Le Tout-Paris remarks about its WOW factor … and the hard-to-get reservations for the 30 seats at Plenitude, the intimate, first-floor gastronomic outlet headed by chef Arnaud Donckele, who earned three Michelin stars at Cheval Blanc Saint Tropez. Reservations are also recommended for Limbar, the ground-floor bakery/café/tea shop/bar where we watched Pastry Chef Maxime Frédéric preparing desserts and an absolute must-have for dinner at Le Tout-Paris, the 7th-floor, all-day brasserie. This brightly colored space, with its raised seating and Fauve-like floor tiles and the adjacent Milanese restaurant, Langosteria, both have access to terraces facing the Seine River, with amazing views encompassing Notre Dame to the Eiffel Tower.
Sponsored Content
Located in the South Pacific, The Islands of Tahiti are just eight hours by air from California. Surrounded by pristine, crystal-clear blue waters, the 118 islands and atolls offer natural beauty, authentic island culture and unique French Polynesian style. The Islands of Tahiti are world-renowned for white-sand beaches, stunning turquoise lagoons and varied landscapes ranging from coral atolls to volcanic mountain peaks. Privacy comes naturally in The Islands of Tahiti and offers visitors the space to relax and reconnect and to be Embraced By Mana. Mana is the life force and spirit that connects all things in The Islands of Tahiti.