For my first blog of 2022, I wanted to share with you one of my late 2021 finds: Lark Adventurewear! Every year growing up, I would receive new pajamas on Christmas Eve, which I would wear overnight and as I opened presents on Christmas Day. The tradition continued into adulthood, and I received new pajamas yearly for Christmas. Since getting married, I continued the tradition for myself and my husband.
This year I learned about Lark Adventurewear, which uses Softek bamboo material, creating super-cozy sleepwear. The company, founded in 2017, was born when mom Pallavi Golla noticed her son was often sweaty or damp in his clothing. Golla didn't have the same problem with her adult activewear; and when she searched for similar activewear for babies with no luck, she set out to make her own.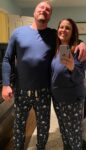 The Softek knit is soft, temperature-regulating, easy to wash and, when applicable, UPF 50 Sun Safe. The fabric is also tested for more than 100 different chemicals, so it's perfect for sensitive skin. And it's tag-less and stain-resistant. Today, Lark Adventurewear mostly outfits babies, toddlers and kids, but there is also a women's wear section, including sleepwear. For the holidays, the company offered unisex adult pajamas, and I was able to grab a pair for myself and for Scott.
I can personally attest to the fabric's softness and, more importantly, its temperature-regulating effect. At night, under covers, it's easy to overheat, but these pajamas help ensure a cool, comfortable night of sleep. Our winter-themed PJs boasted skis and chalets on the jogger-style pant, paired with a navy-blue, long-sleeved shirt.
Since Christmas Eve I've worn the pajamas several times, and they also wash nicely. I should also point out the pajamas shipped in eco-friendly packaging, as well! I look forward to trying some of the adult activewear.
— Kim Krol Inlander, editor in chief
FX Excursions
FX Excursions offers the chance for once-in-a-lifetime experiences in destinations around the world.
Manchester, a city already buzzing with energy, welcomes some exciting new additions, from boutique hotels to highly anticipated culinary destinations to historic venues. Plan a trip to Manchester to not only indulge in your favorite soccer team but also to enjoy delicious food, both charming and luxury accommodations, and lively events and venues.
Sponsored Content
Considering an autumnal adventure or Thanksgiving trip this year? Well, with walkable cities, cozy pubs and lots of seasonal festivals, the island of Ireland is calling. And if you need more reasons to Press the Green Button and go, take a look and see what awaits you on the Emerald Isle …
Porvoo, Finland, only an hour from Helsinki, is a medieval coastal town and a cultural haven, well known for its exciting culinary scene, colorful wooden houses and cafés. Here, you will discover the new Runo Porvoo Hotel, a family-owned landmark building and business blending Finnish traditions with contemporary Nordic design, world-class artwork and the rustic-meets-modern allure of American Shaker-style furnishings.