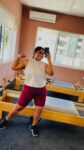 As mentioned before, I enjoy waking up early, and contrary to what you may think, being on vacation isn't the exception. Granted, there are days when sleeping in is non-negotiable and that extra hour or two are detrimental to the day ahead, but having extra time to ground myself before socializing, planning and exploring enhances my travel experience. One of my favorite things about this trip — and particularly at this property — was being able to keep up with the daily practices that make my days better and more fluid, like sunrise meditations (especially with the view we had) and working out in the mornings, which I did on three out of the four days of our stay.
That being said, I rose with the sun on Day Three to make the best of our last full day. I watched yet another beautiful sunrise from our balcony and then headed to the gym for a quick sweat session. Our brunch reservations were late that morning, so I had enough time to get ready and catch up with my loved ones . . . and taking 500 photos in between, ha!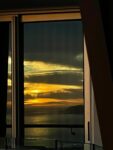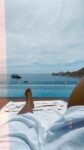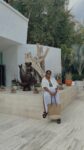 We spent most of the day back at Rooftop 360 for the brunch experience. We both had the huevos rancheros (highly recommended), and I enjoyed some mimosas while Renata raved about the natural fruit juices. After plenty of sun and swimming, we decided to explore outside of the resort for some souvenirs. The neighboring areas are mainly other hotels and resorts as well as street vendors, so we didn't walk too far. However, we did come across Tres Sirenas, a restaurant that caught our attention, so we decided to make dinner reservations and see what it was all about.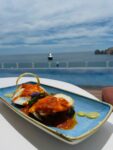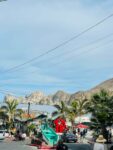 Tres Sirenas is one of restaurateur Edith Jimenez's newest projects, and it specializes in cuisine of the sea. Palm trees, a gorgeous mermaid sculpture and eye-catching café lights make the restaurant stand out from across the street. With its colorful, warm and sophisticated atmosphere, Tres Sirenas is a cozy oasis with live entertainment, superb service and delectable food.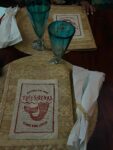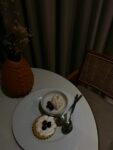 We started with fried calamari, served with French fries and a bright sort of tartar sauce. For my entrée, I went with the Butterfly Grilled Jumbo Shrimp served with grilled vegetables and turmeric rice, while Renata opted for the Imperial Shrimp, stuffed with cheese and jalapeño, then wrapped in bacon and served with the fluffiest mashed potatoes I've tried to date. We wanted to branch out and try all the seafood, but we knew we had to be careful, as eating raw fish and meats isn't recommended during pregnancy.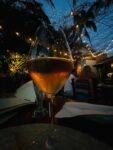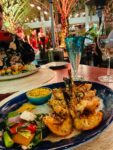 After dinner, we walked back to the hotel and checked out the nightlife at the rooftop one last time and were able to catch the fireworks again. But alas, all good things come to an end, and we knew we had a long travel day ahead of us; so we went back to the room, ordered dessert from room service, put on a movie and called it a night.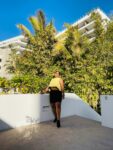 On our last day, we woke up early enough to grab breakfast at Aleta — I even fit in a workout — before our scheduled pick-up. We fueled ourselves with some fresh fruit and juices, and I'm glad we did as we got to the airport early. After finishing packing and checking out, our Baja Travel Transportation pick-up was ready, and we headed out. Although I missed my boyfriend and safe bubble and I was ready to go home, part of me felt sad leaving Corazon Cabo. The team really went above and beyond to make our stay an exceptional one, and I don't have enough nice things to say. Might just have to go back so I can thank them in person … again.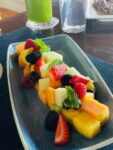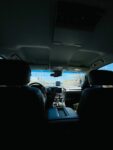 I hope you've enjoyed reading my travel recaps and reminiscing with me. In two weeks, I'll tell you about my lovely time at this year's Philadelphia Flower Show.
— Yasser Ogando, advertising & production manager
FX Excursions
FX Excursions offers the chance for once-in-a-lifetime experiences in destinations around the world.
Sponsored Content
When American travelers make plans to visit Portugal, Lisbon is usually their first stop.
National Rum Day is right around the corner on Aug.16, meaning it's time to start planning your celebration. Sandals Resorts, the all-inclusive Caribbean resort company, shares recipes from mixologists, allowing rum fans to celebrate as if they are staying on property.