A couple weeks ago one of my colleagues and I headed to New York City to meet with some clients. Somehow we managed to schedule these on the one day in September that had the most rain. Nonetheless, we made the best of it and had a successful day.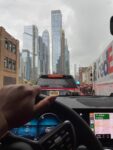 We commuted back and forth from the East and West sides for our meetings and, in between, grabbed lunch at Robert. Located atop The Museum of Arts & Design at Columbus Circle, the restaurant features a modern and classic American style while displaying gorgeous views of Central Park and the always-busy Columbus Circle.
As we rode the elevator to the restaurant, we were able to sneak a peek at some of the museum's installations, which all looked colorful and bright. As the elevator's doors opened on the ninth floor, we were welcomed by the same vibrancy and a gloomy yet beautiful view of Midtown Manhattan. The space was decorated with bright and neon colors and somehow had a modern yet vintage feel to it. We arrived about 30 minutes early and were pleased to learn our table was ready.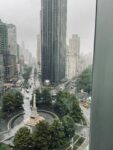 We sat in a cozy corner next to floor-to-ceiling windows and were able to appreciate the city's beauty on a rainy day — though that thought vanished later when I was stuck in traffic for more than one hour! Anyway, as we were in between meetings, we opted to share an appetizer and ordered the grilled octopus, served atop some cannellini beans, chorizo and a not-too-in-your face piquillo pepper pesto … the perfect balance between acidity and heat, if you ask me.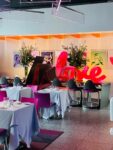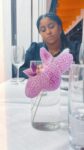 For our entrées, my colleague ordered the Scottish salmon while I opted for the steak frites (thank God I did, as it took me nearly four hours to get home). Beautifully cooked to a medium temperature, my steak was served with a side of truffle Parmesan fries and topped with a delicate demi-glace. Unfortunately, my colleague's salmon wasn't cooked to her desired temperature, but she enjoyed the dish nonetheless. For dessert we ordered the Tres Leches cake; and since my colleague had celebrated her birthday that weekend, I asked our server to add a candle, and you can imagine what followed. By the time we finished our meal, the restaurant was mostly empty, so we were able to map out the rest of the day before leaving.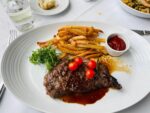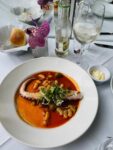 We were glad we decided to arrive early, as we experienced a bit of slow service but attributed that to a small team working on the floor. Overall, we had a lovely time and enjoyed our meal. Robert is a great option for a business lunch or a private event. Add this to your list of places to see in New York City.
— Yasser Ogando, advertising & production manager
FX Excursions
FX Excursions offers the chance for once-in-a-lifetime experiences in destinations around the world.
It's never too early to plan that next big trip. Look ahead to 2023 with travel inspiration from these international destinations.
Sponsored Content
Set on a seaside bluff overlooking Land's End in Cabo San Lucas, Vista Encantada Spa Resort & Residences is a Baja paradise specializing in serene vistas and impeccable hospitality, offering a Pacific coast lifestyle with authentic Mexican touches. Guests can now earn a fourth night free at the stunning resort, plus a $100 resort credit, when booking through March 20, for travel through June 15.
Tickets are now available for the 10th annual South Beach Seafood Festival, taking place this fall, Oct. 19–22. The region's best seafood and South Florida's top chefs and restaurants will be the focal point.