While there are many great restaurants in my town, brunch options are lacking. There are a couple places within a short drive my husband and I like, but we've been multiple times, and the options tend to become boring. We were excited to see a newly opened restaurant in Haddonfield offered weekend brunch. Without a reservation, we tried our luck and got a seat at Gass & Main.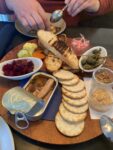 The American BYOB serves brunch, lunch, dinner and dessert. The menu is vegan- and vegetarian-friendly, with many substitutions available. We brought our appetites and decided to split the tinned fish board to start. It came with sardines, bread, crackers, pickled vegetables and a selection of mustards. It was a great start to our meal. My husband opted for the lox Benedict (vegetarians may substitute carrot lox for the fish). I normally prefer savory over sweet brunch options. While I was tempted by the cinnamon sugar French toast, I went with a classic savory option of breakfast tacos. Three tacos came with the order, each filled with bacon and cheddar scrambled eggs, chipotle cream, avocado and cilantro. While I'm sure I would have enjoyed the French toast, I'm glad I ordered the tacos. They were filling but not heavy.
Overall, we were happy with our first brunch experience at Gass & Main. We look forward to going back to the restaurant for another meal soon.
— Katie Skrzek, vice president/digital director
FX Excursions
FX Excursions offers the chance for once-in-a-lifetime experiences in destinations around the world.
With the start of spring, travelers have their choice of new design-centric boutique properties opening in the coming months. Check out these properties for travel inspiration.
Sponsored Content
Europe is more fun with a Portugal Stopover.
Mendocino County is a self-contained universe of effortless, California-centric joy enveloped within the Redwood Forest National and State Parks, the rocky Pacific Coast and several prime wine production areas like Anderson Valley. If Highway 1 and Route 128 are the ribbons holding this package together, Elk Cove Inn & Spa can be considered the bow. Mendocino Coast's first vacation destination, established in 1968, is an ideal 16-room gateway to the destination.