Founded by David Raymond, the original Phillie Phanatic, the Mascot Hall of Fame started as an online-only project. Yearly inductions took place in Philadelphia, Pennsylvania. In late 2018, the Mascot Hall of Fame found a physical home in Whiting, Indiana. Last weekend I attended the official grand opening celebration.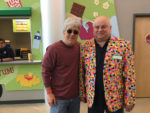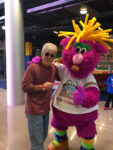 Whiting Mayor Joseph Stahura was joined by the Hall of Fame's mascot, Reggy, in welcoming attendees to start the weekend festivities. The three-day event included appearances by mascots from the Chicago Blackhawks, Kansas City Chiefs, the University of Nebraska and several others.
The museum features all sorts of informative, educational and entertaining exhibits. "It's an interactive children's museum with the theme of mascots," Stahura said. Although youngsters are the primary target audience, adults will have a great time, too.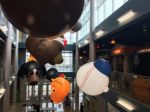 Stahura announced several exciting events happening this summer. In June, a new class of inductees will be announced to join the 17 mascots already enshrined. Currently, all of the Hall of Fame mascots come from professional or collegiate sports.
I have always enjoyed mascots. They provide a sprinkling of silliness to any event. The Mascot Hall of Fame embraces that wackiness while being a completely serious business venture. That combination should prove a winning one. A quick trip over the border from Chicago, the museum, with all of the upcoming events, is expected to bring business and tourism dollars to Whiting.
— John Wroblewski, online writer
FX Excursions
FX Excursions offers the chance for once-in-a-lifetime experiences in destinations around the world.
Sirenian Bay Resort & Villas offers couples a perfect tropical getaway. Located on the Placencia peninsula in Belize, the all-inclusive luxury resort features new elopement and honeymoon offers.
Sponsored Content
Much of the global business travel industry has already made sustainable business travel a priority with a focus on reducing emissions and their environmental footprint. But the industry, as well as external stakeholders, such as policymakers, recognize more needs to be done.
Tucked away between the verdant hills of the Dominican Republic and beautiful waters of the Caribbean Sea, Samaná is the perfect year-round destination. No matter what time of year you choose to visit this hidden gem, you can check things off your travel bucket list. In the summer, escape the busy tourism hot spots and explore off-the-beaten path areas and activities; in the winter, embark on an eco-excursion like whale watching in Samaná Bay.