Founded by David Raymond, the original Phillie Phanatic, the Mascot Hall of Fame started as an online-only project. Yearly inductions took place in Philadelphia, Pennsylvania. In late 2018, the Mascot Hall of Fame found a physical home in Whiting, Indiana. Last weekend I attended the official grand opening celebration.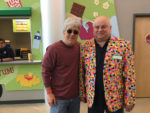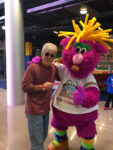 Whiting Mayor Joseph Stahura was joined by the Hall of Fame's mascot, Reggy, in welcoming attendees to start the weekend festivities. The three-day event included appearances by mascots from the Chicago Blackhawks, Kansas City Chiefs, the University of Nebraska and several others.
The museum features all sorts of informative, educational and entertaining exhibits. "It's an interactive children's museum with the theme of mascots," Stahura said. Although youngsters are the primary target audience, adults will have a great time, too.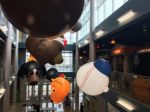 Stahura announced several exciting events happening this summer. In June, a new class of inductees will be announced to join the 17 mascots already enshrined. Currently, all of the Hall of Fame mascots come from professional or collegiate sports.
I have always enjoyed mascots. They provide a sprinkling of silliness to any event. The Mascot Hall of Fame embraces that wackiness while being a completely serious business venture. That combination should prove a winning one. A quick trip over the border from Chicago, the museum, with all of the upcoming events, is expected to bring business and tourism dollars to Whiting.
— John Wroblewski, online writer
FX Excursions
FX Excursions offers the chance for once-in-a-lifetime experiences in destinations around the world.
I imagine that when writer Hans Christian Andersen mused, "Life itself is the most wonderful fairy tale," he was standing at the edge of Copenhagen's historic Tivoli Gardens, one of his favorite haunts, enlivened by the swirl of human happiness that surrounded him: children laughing; carousels spinning; games of chance played for prizes; lovers holding hands; hungry people whispering over sweets, hot drinks, beer and towering, open-faced smørrebrød, Denmark's quintessential sandwich. That fairy tale lives on today at the second-oldest amusement park in the world, a spectacle of folly architecture, bakeries, gardens, rides, restaurants, puppet shows and joy ... and which also happens to be one of the city's most storied places to convene for business.
Sponsored Content
GBTA's Convention 2021 will bring the business travel industry together for the first time in a long time. Once again, you'll learn and connect with experts and each other, along with discussions with leading thinkers, entrepreneurs and change makers addressing the issues that matter most.
The restored Park Hyatt Toronto reopened its doors, bringing luxury, sophistication and glamour alongside a nod to the hotel's Canadian heritage. Alessandro Munge of Studio Munge collaborated on the hotel's refresh, drawing inspiration from Canada's seasons and natural landscapes.