This weekend I ventured to Tampa, Florida's Busch Gardens to enjoy Halloween festivities during its Howl-O-Scream hours. I felt like I was in a movie, emerging into a horror film set with creatures that evoked fear, each of which played their respective part to a tee, creating amusement park by day and a chaotic horror town by night.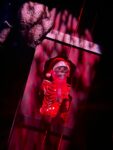 With more than eight prominent attractions and five unique haunted houses to tip-toe in and out, wherever I walked a new creature was reaching out, following me or using their creepy laughter, voices and props to scare me. One person even forced sparks on my feet as I walked.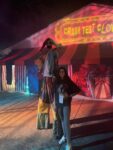 The houses all had a unique theme. One was Santa's Workshop, which made me see Santa's home differently.
Regarding organization, I was a little upset how hard it was to find each haunted house. There was a map, but it could have been laid out better, given several parts of the park were shut down for Howl-O-Scream, forcing us to walk in circles. In addition, signs and attractions that were not open were not lit up for people to see where they were, and the lines for fast-pass guests were different than standard guests. As a result, I was on a scavenger hunt while roaming streets of madness. Thankfully, I had a fast pass or I do not think I would have had as good of an experience as I did, as all the haunted houses had a minimum wait time of more than one hour and were, at least, a 15-minute walk from one another. We wouldn't have been able to see all five houses if we did not have the fast pass.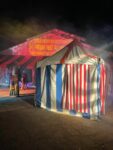 One thing we learned the hard way was Busch Gardens does not allow their general fast passes for attractions during Howl-O-Scream. Instead, the park has different fast pass options for Howl-O-Scream nights, one that includes attractions and one that only allows you to skip the line for haunted houses. I advise you to consider which option best suits your needs and get it in advance to avoid having to visit guest services like we did.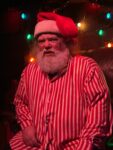 Overall, Howl-O-Scream was something I would enjoy doing again. It was worth the cost, and it got me in the spirit for Halloween.
— Christyn Pek, business development executive
FX Excursions
FX Excursions offers the chance for once-in-a-lifetime experiences in destinations around the world.
Recaro's new CL6720 business-class seat with doors took off recently on Iberia's Airbus A350 cabin, flying Madrid (MAD) to Buenos Aires (EZE), with a total of 31 of the seats in the aircraft's business-class cabin. The premium-economy and economy cabins also feature Recaro seats.
Sponsored Content
Europe is more fun with a Portugal Stopover.
In a city where new hotels, restaurants and experiences emerge seemingly every day, it's expected to feel overwhelmed when deciding where to dine. London consistently sees delicious and top-notch restaurants appear, but how can one possibly keep track of all the new and updated restaurants?