Last weekend I had the great pleasure of taking care of my granddaughter in Portland while her parents spent a weekend away. The day dawned bright and warm on Saturday, making for perfect weather for our visit to the Beaverton Farmers Market. The market has been in operation since 1988 and runs on Saturdays from February through November. Located in the Portland-area suburban city of Beaverton (home of Nike's world headquarters), it covers a full city block and then some, adjoining a city park and directly across from the library. Centrally located, it serves as a gathering spot for the community, but folks come from all over to buy from regional farmers, ranchers, fishermen, dairies, plant nurseries, bakers and makers of all sorts.
My husband and I try to visit whenever we're in Portland; there is so much to choose from, and the atmosphere is lively and friendly. Usually a musical group performs at the edge of the market; and if you don't want to buy ingredients to whip up something at home, rows of vendors line the perimeter of the market stalls selling multicultural plates of mouthwatering food, and one can wash that down with locally produced spirits, wines, ciders and beers . . . and nonalcoholic beverages as well.
Happily, my daughter and son-in-law are raising granddaughter June right, and they've been bringing her here almost weekly since it reopened after the pandemic temporarily shut things down. So it was that my copilot was prepared to direct me the 5 miles or so from her house to the market, and ably did so (though I knew the way, of course) — in spite of the fact that the concepts of "right" and "left" are still a bit fuzzy. Other than having been directed by my daughter to pick out some nice, ripe cantaloupe from a particular stall, we were free to meander and shop at will.
June does have her Market routine, however, which involves getting a lemonade from Liquid Sunshine (she chose the raspberry lemonade on this day) and then choosing a big, ooey-gooey cookie at Decadent Creations.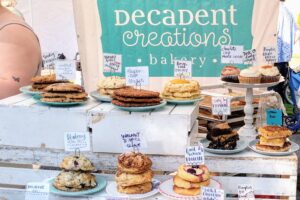 (Got to build up our stamina for shopping, you know.) She knew right where each was located, in spite of the crowds of shoppers and dozens of booths. We found a bench on which to enjoy our treats (removed from the talented but rather loud rock cover band performing that morning) and watch kids playing in the park's fountain.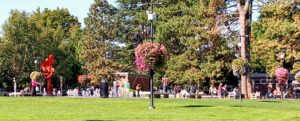 Then, fortified, we started wandering up and down the rows of stalls. We both got a big kick out of the display of animal faces crafted from the dried heads of large sunflowers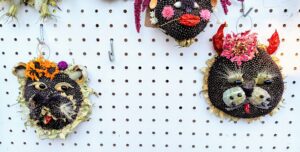 and a broad assortment of dried flowers, seeds, nuts and plants on sale at one place. What ingenuity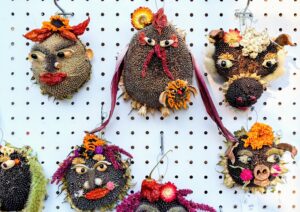 and whimsey!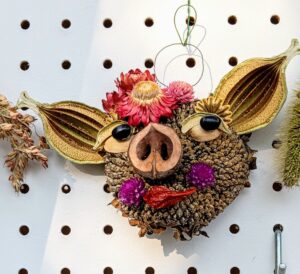 We also stopped at the Market's booth so June could take part in the Market Sprouts activity. Each week there's some kind of craft, game or activity for the kids to help them learn more about farmers, food and healthy choices. They receive stickers in their "passports" by participating, thereby earning periodic rewards. June was tasked with matching pictures of foods with how they grew: underground, on a tree, on a vine, etc., and did quite well.
This is the height of late-summer harvest time, and everywhere one looked there were tables and tables laden with all manner of fruits and vegetables.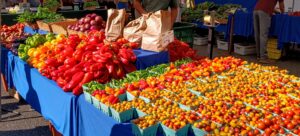 Such a feast for the eyes! When I began to wonder where we were supposed to buy our cantaloupe, June of course knew exactly which stall to visit and led me right there. She proceeded to sample several varieties on offer and chose her favorite, while I picked out her mother's request of an Ambrosia melon. We cruised through several booths selling all manner of unique and lovely plants; sadly, I have little room in my garden for new transplants, but I love to look, and June kindly indulged me. We decided we should buy her parents a pretty anniversary bouquet, planning to pick one out as we headed back to our car.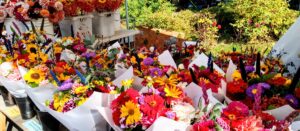 As I said, June is being raised right, so she asked that we detour for a quick visit to the neighboring library to look at some books (so reminiscent of my own childhood Saturday morning visits to the library with my dad), and I was happy to oblige her. As the clock ticked closer to our two-hour parking limit, we left the library and threaded our way back through the market, stopping for our bouquet and admiring some enormous dahlias on the way.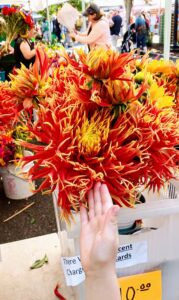 I couldn't have asked for a more delightful late-summer Saturday morning nor a more charming market companion.
— Patty Vanikiotis, associate editor/copy editor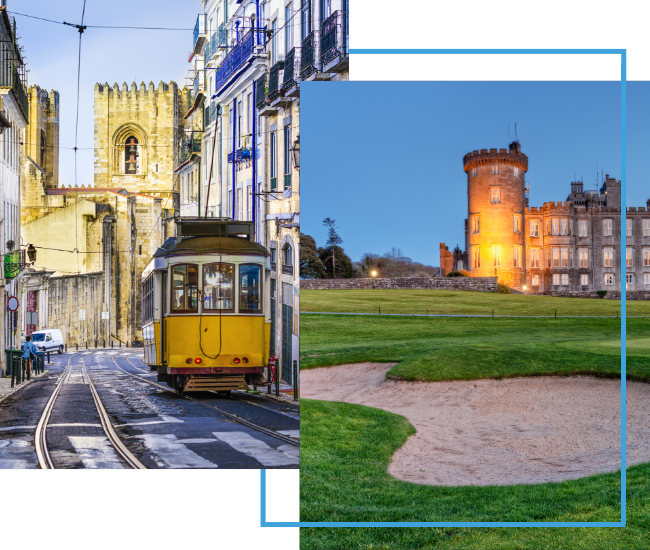 FX Excursions
FX Excursions offers the chance for once-in-a-lifetime experiences in destinations around the world.
Explore Excursions
The Perelman Performing Arts Center (PAC NYC), the cultural cornerstone and final public element of the World Trade Center site, opened this September.  The new performing arts center in Lower Manhattan provides a dynamic home for the arts, serving audiences and creators through flexible venues enabling the facility to embrace wide-ranging artistic programs.
Sponsored Content
Don't risk losing all the money you've spent if you must cancel your trip at the last minute. Allianz Travel Insurance can give you:
Whether you call secondhand fashion treasure troves "thrift stores," "fripperies," "charity shops," "vintage boutiques" or something else, shifting the paradigm from "old clothes" to "new finds," you may find the best, most conversation-starting souvenirs inside these shops and neighborhoods located in the world's most fashionable cities and a few unexpected places.