Last Friday I rang the holiday season in a touch early to celebrate Friendsgiving, the holiday invented during the Thanksgiving season to be celebrated with close friends before all dispersing back to our hometowns for turkey and stuffing with our families.
This was my first Friendsgiving celebration in my post-college life, which definitely brought a more adult-like and mature energy compared to the take-out orders and beer we threw together in college. This year was elegant and filled with all of the Thanksgiving staples like a full turkey, brined for 12 hours; a ham; mashed potatoes; and stuffing.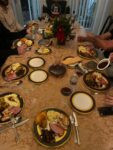 The evening was hosted by my good friends at their home in Queen Village, where they welcomed 10 of us for the feast. My boyfriend and I volunteered to bring the stuffing, mashed potatoes and ham. After grocery shopping the night before, we realized we may have underestimated the effort that each of our dishes required, but nonetheless we brought the ingredients home and got to work.
While my boyfriend peeled and chopped 5 pounds of potatoes, I got started on a cornbread and sausage stuffing.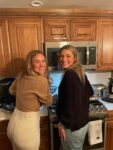 There is definitely a sense of pride you get from watching your closest friends enjoy the food you made, especially the stuffing that will now be an annual staple for the holidays. I particularly loved the Brussels sprout and bacon dish that my friend Mackenzie made and the fresh prosciutto and baguettes that our friend Sal brought from the Italian Market.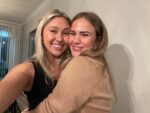 I have always loved the food served on Thanksgiving, so I was happy to celebrate a bit early while having the third Thursday of November still to come. And aside from the food and fun, I appreciated the time to sit down with friends, that I consider family, and share my gratitude for them all.
I hope everyone has a wonderful and safe Thanksgiving and holiday season. Cheers!
— Haley Fogarty, advertising manager
FX Excursions
FX Excursions offers the chance for once-in-a-lifetime experiences in destinations around the world.
Crystal Bridges Museum of American Art, located in Bentonville, Arkansas, presents Diego Rivera's America, the first major exhibition focused solely on the Mexican artist in more than 20 years, on view until July 31. Crystal Bridges is the second and final stop for the exhibition, the only remaining opportunity for visitors to experience Rivera's expansive vision of America.
Sponsored Content
Exclusive Sailing with Global Traveler
In San Antonio, Texas, old buildings are seldom destroyed. When they fall into disrepair, they are instead repurposed and restored to maintain the city's history and traditions for future generations to appreciate. Whether it's a former brewery or bank transforming into a chic hotel or a candy factory evolving into stylish lofts, this Texas city embraces both history and sustainability.