Suppose you are a science nerd or a space fanatic or into learning about the possibility of human existence on other planets. In that case, you might know about NASA's Artemis 1, which was supposed to leave Earth by Labor Day, making its way to the moon. If so, some of you may have traveled to view this $40 billion, 233-foot rocket launch into space. I drove more than 100 miles hoping to watch it take off. The sad news is it hasn't happened yet, and I did not watch history in the making this past weekend. But thanks to Disney World, I got an excellent alternative on the Millennium Falcon and in the Star Wars Galaxy Edge section of the theme park.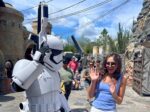 Disney's Hollywood Studios, the largest of all the parks, hosts the 14-acre fantasy land. Step inside thrilling interactive attractions, shops and restaurants and feel as if you are inside the set of Star Wars. I have never seen an amusement park have such high-quality, realistic décor. For example, I was in awe when my sight landed on the full-sized Millennium Falcon (the first of its kind ever built). This spaceship did not look like a statue but rather the real deal, as if it could take off at any given time. The amount of thought and detail that went into this theme park was impeccable!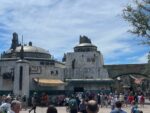 Kids lined up outside Black Spire Outpost's Industrial Depot, which had a workshop stocked with parts, manuals and other sound effects tech items where they could put together their droids. First, get a blueprint, then visit part stations on conveyor belts, and later build droids from an instruction monitory that would come to life. That's not all, though. Other attractions included shops and dining options such as the Milk Stand, where guests can sip on blue or green milk like Luke Skywalker or bite into grilled sausage and roasted pork wraps at Ronto Roasters. Oga's Cantina was another option that looked super cool, tucked away where you can order fantastical alcoholic beverages crafted from ingredients across the galaxy or munch on Star Wars-themed meals at Docking Bay 7 Food and Cargo.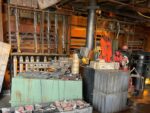 If you are into space, I recommend combining Disney's Hollywood Studios with your weekend of science at Kennedy Space Center. Disney never fails to innovate and develop attractions that give you an escape from reality.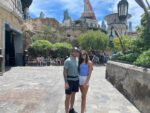 — Christyn Pek, business development executive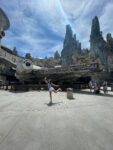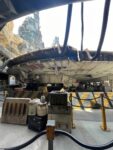 FX Excursions
FX Excursions offers the chance for once-in-a-lifetime experiences in destinations around the world.
Pantone recently unveiled its color of the year for 2023. The highly anticipated announcement has become a tradition, each year introducing a new color to represent the coming year. In 2021, Pantone declared 2022 to be the color of Very Peri 17-3938, a blend of purple and blue. For 2023, Pantone's Color of the Year is Viva magenta 18-1750. A shade from the red family, this color represents a new signal of strength. Brave and fearless, Viva Magenta is rooted in nature and embraces joy and celebration.
Sponsored Content
When American travelers make plans to visit Portugal, Lisbon is usually their first stop.
The UNESCO World Heritage neighborhood of Balat rivals İstanbul's Old City for its historic significance, with an added splash of color. Its cobbled hilly streets boast a full rainbow of houses, cafés, restaurants and churches painted in pinks, reds, oranges, yellows, greens and blues — parts even surpassing my native San Francisco's steep, colorful corridors. The most vibrant stretch of homes, dating anywhere from 50 to 200 years old, runs along Kiremit Caddesi.