Japan is one of my favorite countries to visit, not just because of the richness of its history and the beauty of its landscape but also because of the charm of its people. In addition, Japan offers so many unique areas that have their own special vibe and character. The Dotonbori district of Osaka, Japan, is one of those places. During one of my many trips to the Far East, my daughter Tisha and I made a stop in Osaka specifically to visit Dotonbori.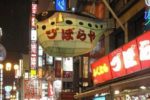 Dotonbori traces its history back to 1612, when local entrepreneur Yasui Doton began expanding the tiny Umezu River, which ran east to west, hoping to increase commerce in the region by connecting the two branches of the Yokobori River, which ran north to south, with a canal. Doton's project was interrupted when he died in the ill-fated siege of Osaka, but his cousins finished the canal in 1615. The new lord of Osaka castle, Tadaki Matsudaira, named the canal and avenue beside it Dotonbori ("bori" from "hori," meaning "canal").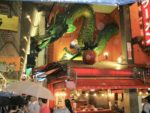 The character of Dotonbori became defined in 1621 when the Tokugawa Shogunate instituted urban planning, designating Dotonbori as the entertainment district of Osaka. By 1662 the avenue boasted many Kabuki and Bunraku theaters as well as the unique Takeda Karakuri mechanical puppet theater. Many restaurants and cafés were built to cater to the flood of tourists and entertainment-seekers pouring nightly into Dotonbori.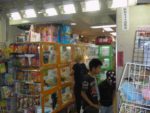 Today it is still one of the major tourist destinations in Osaka. The district runs along the Dotonbori Canal from Dotonboribashi Bridge to Nipponbashi Bridge in the Namba district of the city's Chuo ward. The former theater district is now a popular nightlife and entertainment area characterized by its eccentric atmosphere, enticing street food vendors, variety of shops and large illuminated signboards. The signboards, many three-dimensional, are what give Dotonbori its true character and identity. We spent just as much time looking at the many signs in awe as we did visiting the various shops and eateries.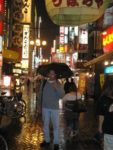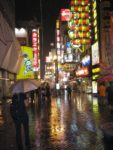 It rained throughout our visit that night, but it did not dampen our sense of adventure and our quest for a unique experience. The first order of business was to find a place to eat. We were intrigued by a restaurant that offered its menu selection from a vending machine outside the restaurant. The vending machine had pictures of each entrée. Once you swiped your credit card and made your choice, a ticket printed. You then take your ticket inside and hand it to the attendant at the counter. After a few minutes you were handed a hot and freshly cooked meal. Tisha and I finished our meal and headed back into the rain to explore more of the district. We came across a well-known restaurant, Zubora-ya, that serves fugu, a blowfish dish. The large blowfish lantern hanging outside the entrance was a dead giveaway. Fugu can be lethally poisonous due to its tetrodotoxins. It must be carefully prepared to remove toxic parts and to avoid contaminating the meat. The restaurant preparation of fugu is strictly controlled by law in Japan, and only chefs who have qualified after three or more years of rigorous training are allowed to prepare the fish. Improper preparation occasionally leads to accidental death. Fugu is served as sashimi. Some consider the liver the tastiest part, but it is also the most poisonous, and serving this organ in restaurants was banned in Japan in 1984. Fugu has become one of the most celebrated and notorious dishes in Japanese cuisine. Tisha begged me to let her try some. Claiming that experiencing this dish was a chance of a lifetime, I told her it could be the end of her lifetime, so "no go," kiddo. I'm adventurous, but not crazy.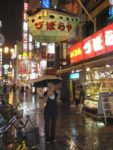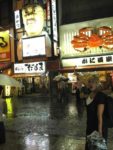 In my opinion, a visit to Japan must include a stop in Dotonbori. Osaka is only a few hours from Tokyo by way of the bullet train, also known in Japan as the Shinkansen. Trust me, making the trip will be one of the highlights of your visit to this amazing country. Dotonbori is not only a treat for your senses but also satisfying to your soul. So when in Japan, just do it. Do Dotonbori!
— Bill Lodzinski, director of sales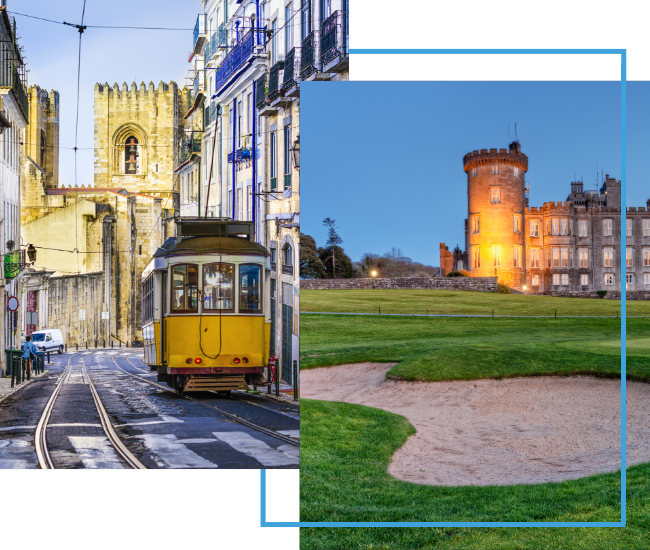 FX Excursions
FX Excursions offers the chance for once-in-a-lifetime experiences in destinations around the world.
Explore Excursions
Corsica with steep, gray cliffs overlooking the Mediterranean and sandy beaches attracting summer visitors, is a French-governed island sometimes confused with Sardinia and Sicily, Italian islands to the south. Fortunately, all three islands share the same love for good wine, food and sun-splashed beaches.
Sponsored Content
Experience the life-changing destination of Greece by exploring its island gems in the Ionian Sea. Scattered off the western coastline of Central Greece, to the south of Peloponnese, the Ionian Islands are an island group comprising large and small islands.
If you're ready to do a little holiday catch-up with your besties, make a beeline for Conrad New York Downtown. The lobby metamorphosed into a holiday forest of heavenly scented, decorated Virginia Spruce trees. Make your first stop ATRIO Barista Station in the lobby for a complimentary hot spiced apple cider (until Dec. 3) or hot chocolate (Dec. 22­–24).