As I mentioned in last week's blog, my husband and I spent New Year's weekend in Las Vegas with friends; and although we dined in for the most part, we did enjoy one meal out. We relied on our hosts as well as our friend Tim, who has spent a lot of time in the city, to choose the restaurant. Las Vegas offers so many options for every type of cuisine and at any price point, so we were happy to defer to them. They settled on Nora's Italian Cuisine, a family-owned place that started out in 1992 with seating for 12. Today it resides in a lovely Southwest-modern building with both indoor and outdoor seating on two levels.
Nora's is clearly a very popular restaurant; we had to make a fairly early reservation for our party of eight, and the place was already hopping when we arrived around 5 p.m. We had requested one of their private dining rooms, and it proved perfect. (Nora's also has banquet facilities.) It was located just off of the large bar and was tucked behind the impressive climate-controlled wine cellar,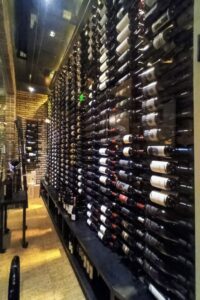 and with the door closed, it shut out much of the chatter of the other diners. We also appreciated that there was a television mounted on one wall, as we were able to watch the completion of the Rose Bowl game and the beginning of the Monday Night Football game (which was quickly suspended after Damar Hamlin's collapse on the field).
Our server, Juan, greeted us promptly and proceeded to give us excellent, personable and prompt service throughout the night, even taking a group photo for us to remember the evening.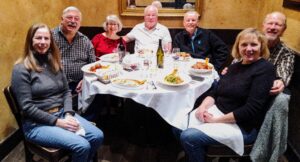 Other support staff were equally attentive, and it was nice to feel as though the restaurant was fully staffed and able to meet the needs of its patrons (which, unfortunately, is not often the case these days). We started with some wonderful crusty bread and olive oil and shared appetizers of bruschetta pomodor, mozzarella caprese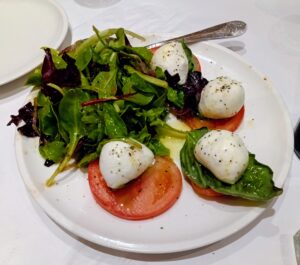 and calamari fritti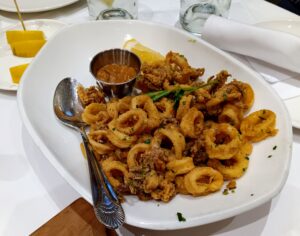 — all very fresh and nicely presented. The multi-page menu offers an extensive array of pasta dishes; pizza; salads; and entrées featuring seafood, beef, veal, chicken, lamb and pork. We all finally made our choices, most opting for a pasta dish. These ranged from the Fruitti di Mare, which Paul reported was just loaded with shrimp, mussels, clams and calamari,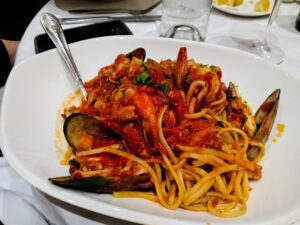 to Julie's Pasta Primavera, which she loved for the generous amount of perfectly cooked vegetables.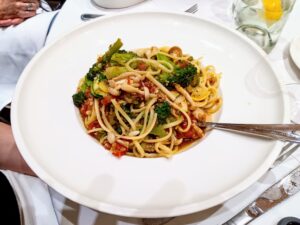 Sue's Spinach Cannelloni gives you an idea of just how generous the portions at Nora's are; this one could feed two easily . . . with leftovers!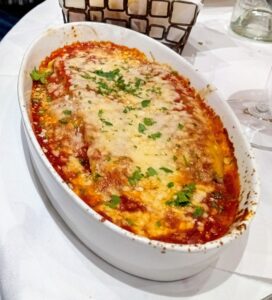 Harry ordered a cup of the Pasta Faggioli, which he was disappointed to find rather more like broth than the hearty soup he expected. However, the sizable meatballs that came with his angel hair and marinara were really impressive.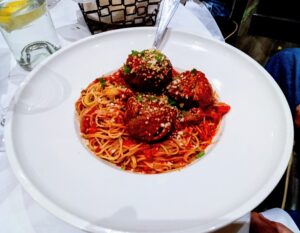 I ordered the Veal Parmigiana, and I have to admit that the sauce was fairly unremarkable and the veal, sadly, quite tough and dry . . . not what I expected after Juan's recommendation.
We were all completely sated by the end of the meal, and while the dessert menu had some tempting options, there just wasn't room for more than a scoop of something light. I loved the hazelnut gelato — very creamy but with nice bits of crunchy candied hazelnuts, and Sue found her lemon sorbetto provided a perfectly refreshing end to her meal.
The dinner provided a nice bookend to a wonderful weekend with friends, and Nora's proved a great choice for a Vegas night out.
— Patty Vanikiotis, associate editor/copy editor
FX Excursions
FX Excursions offers the chance for once-in-a-lifetime experiences in destinations around the world.
Recaro's new CL6720 business-class seat with doors took off recently on Iberia's Airbus A350 cabin, flying Madrid (MAD) to Buenos Aires (EZE), with a total of 31 of the seats in the aircraft's business-class cabin. The premium-economy and economy cabins also feature Recaro seats.
Sponsored Content
Europe is more fun with a Portugal Stopover.
In a city where new hotels, restaurants and experiences emerge seemingly every day, it's expected to feel overwhelmed when deciding where to dine. London consistently sees delicious and top-notch restaurants appear, but how can one possibly keep track of all the new and updated restaurants?