While on a recent trip to Prague, I enjoyed incredible meals. This was my first time visiting the Czech Republic city, and I was excited to sample classic Czech cuisine.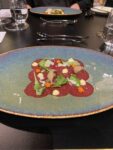 My first night in the city I enjoyed dinner at 1890 Restaurant in my hotel, NH Collection Prague Carlo IV. It was one of my favorite meals while in Prague. The four-course meal featured venison carpaccio with Parmesan and sea buckthorn, wild mushroom soup with 63-degree egg and lovage, fallow deer with truffled potato purée and chestnuts, and chocolate delice with mango and a dry ice presentation. The carpaccio and fallow deer were among my favorite bites during the entire trip.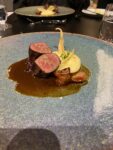 We had lunch at Mlýnec Restaurant, overlooking the iconic Charles Bridge. The meal began with brioche topped with foie gras, blackberry and pistachio. The main course consisted of poached cod with kale, horseradish, leek and marinated salmon. Dessert was nougat cake with pear and nuts. While I don't typically eat foie gras, I enjoyed the preparation, particularly the pairings of blackberry and pistachio.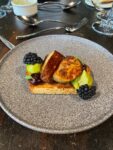 We took part in a beer drafting lesson at Červený Jelen restaurant, where each person in my group learned the art of pouring perfect Czech beer. After our experience we enjoyed a hearty dinner of lobster risotto; beef tenderloin with foie gras, black truffle, rainbow chard and potato terrine; and disassembled apple strudel with pink lady apples, half-dried grapes and cinnamon foam. The decadent beef tenderloin was my favorite course. I've never experience beef with foie gras and truffles, and it's a flavor combination I won't soon forget.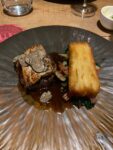 My last full day in Prague we enjoyed lunch at the Michelin-starred V Zátiší. Lunch included beef cheek ravioli with dill sauce and smoked egg yolk; Czech duck breast with pear, red cabbage and cardamom; and a tiramisu tartelette with coffee, tonka bean and grilled nuts. The indulgent and cozy meal was a standout. I normally don't enjoy duck, though I found V Zátiší's preparation tender and flavorful.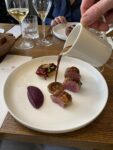 I will think back fondly on these Prague dining experiences and dream of future trips.
— Katie Skrzek, vice president/digital director
FX Excursions
FX Excursions offers the chance for once-in-a-lifetime experiences in destinations around the world.
One of Ibiza's hottest restaurant destinations since its opening five years ago, Bottega il Buco, draws legions of fans with the addition of new head chef Max Rivera Papic, whose kitchen credits include skills honed under the tutelage of Alain Ducasse at The Dorchester, London.
Sponsored Content
Start planning that long-awaited trip to the island of Ireland. With all travel restrictions now lifted, there has never been a better time to visit.
Ski season is around the corner. Now is the perfect time to plan your winter ski getaway. These Colorado resorts offer deals designed for skiers.