Last week I joined a few friends for a mid-week dinner at DOMU, a restaurant serving handmade ramen dishes alongside craft cocktails. This Florida-based restaurant started in Orlando, and its arrival in Jacksonville allowed me to finally try this popular eatery.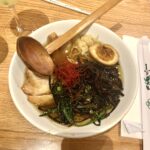 All noodles are made in house, with dishes including ramen noodle soups and hot plates. To start, we ordered a round of Dom daiquiris. Every Tuesday, DOMU hosts happy hour all evening, meaning we could enjoy delicious lime and pineapple daiquiris for nearly half of the original price. The cocktail was tart, not too sweet and well worth the price.
For dinner we all ordered different dishes. One of my friends decided on the DOMU wing bites bowl, which features boneless wing bites with kimchi butter sauce, pickled cabbage, scallions and sesame seeds over rice. My other friend ordered Richie Rich, a miso and pork bone broth ramen dish with chasu (pork belly), scallions, fried garlic, black garlic oil, kikurage (a type of mushroom) and ajitama brûlée (a boiled egg marinaded in a sauce). As for me, I chose the Tokyo, a ramen bowl with chicken broth, fried chicken thigh, ajitama brûlée, kikurage, seared garlic chives, infused duck fat and garlic scallion confit.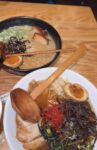 I practically ate until I could eat no more. While it's still warm outside in Florida, this dish will make the perfect fall/winter dish with its rich broth and flavorful ingredients. The noodles were so fresh, and I plan on returning to DOMU in the near future.
As we left the restaurant after dinner, we heard music behind the restaurant and saw a little market set up. A row of tents with different vendors sat along the sidewalk, so we decided to pop over and look at the shops before leaving. We came upon a vintage clothing tent, and we all began flipping through the clothes. Shortly after we came to the tent, I spotted a lovely deep orange/brownish suede jacket with two buttons in the front and flare sleeves. I tried it on and it fit perfectly. I purchased this great coat for just $20, and before I knew it, my friends found things they liked as well. We all walked away with something from this tent, Productive Manic, and I was thrilled with my find. This has inspired me to shop more local and look for more thrift stores, as it was such a great price and was so unique.
— Aoife O'Riordan, associate editor
FX Excursions
FX Excursions offers the chance for once-in-a-lifetime experiences in destinations around the world.
ToursbyLocals, the private tour marketplace connecting travelers with certified local guides for customizable tour experiences, conducted a proprietary travel survey to determine travel trends for 2023. The company features more than 44,000 guides in almost 200 countries, allowing a comprehensive study to reveal what's in store for next year.
Sponsored Content
United Airlines remains firmly committed toward sustainability in aviation. The latest development in its eco-conscious goals includes working with Oxy Low Carbon Ventures to commercialize the production of sustainable aviation fuels (SAF) with biotech firm Cemvita Factory. Cemvita looks to develop a revolutionary new way to produce SAF by using carbon dioxide and synthetic microbes. Additionally, United Airlines Ventures (UAV) recently announced an equity investment in Fulcrum, and United has invested more in SAF production than any other airline in the world.
Hyatt recently announced plans to open more than 20 luxury and lifestyle hotels and resorts in Latin America and the Caribbean through 2024. Some of these new openings include expansion of Hyatt brands into new markets.