During our long weekend family get-together in Arizona a few weeks ago, we spent one day in and around the town of Cottonwood, a town of about 12,000 located on the Verde River in "the heart of Arizona wine country," as its tourism site proclaims. You may be shocked to hear (if you're at all familiar with my blogs) that we didn't visit any tasting rooms or wineries while in Arizona (time was short), but I was more interested in sites and attractions unique to this part of the country, leaving wining to another visit.
After a hearty breakfast at a local diner, our group of 10 traveled a few miles out of town to one of several national monuments in the area highlighting pre-Columbian settlements of the indigenous Sinagua people. The day before, while most of us visited Sedona (as detailed in last week's blog), my brothers and sisters-in-law visited another such site, Montezuma Castle National Monument
and Montezuma Well, part of a prehistoric irrigation system.
Both sites featured cliff dwellings and great interpretive exhibits about the structures and people who created them.
Our destination this day was the Tuzigoot National Monument, featuring a multistory hilltop pueblo of more than 100 rooms built 1,000 years ago. After checking in at the visitor center (and taking advantage of the National Parks pass several in our group had), we met up with one of the volunteer guides at the base of the hill.
He provided us with some history and background of the Sinagua people, who used this site to grow crops and hunt. Built 100 feet above the Verde River floodplain on a ridge with local sandstone and limestone and mortared with mud from the river, the pueblo also made use of local Arizona sycamore and cottonwoods to support the ceilings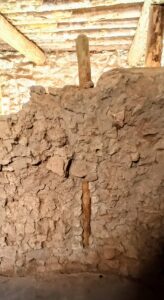 and provide stability to interior walls. After the pueblo was abandoned after a few hundred years of use (no one knows for sure why), it weathered and deteriorated over time, the ceilings and walls eventually falling in upon themselves. What we explored on this day were reconstructions and excavations begun in the 1930s,
with some interior walls (such as the one above) completely original. Our guide pointed out a place on one wall that contained, frozen in the mud, the imprints of the fingers that had smoothed it into place 1,000 years ago.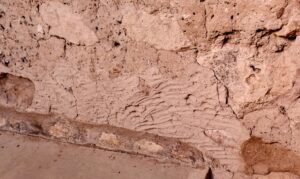 It was awe-inspiring to contemplate.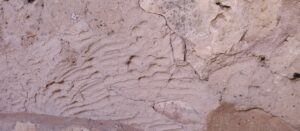 He also noted that almost every room uncovered had a metate (for grinding corn and grain) on the floor, and we spotted these as we wandered around the ruins.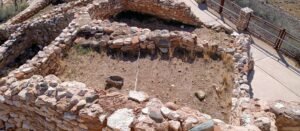 We noted what an ideal spot this would have been, with a year-round water source nearby, level land for growing crops, and security in its high location with expansive views.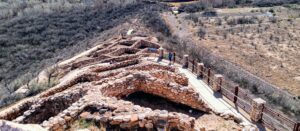 It was actually from this spot that we drew inspiration for our next stop of the day. Looking to the west, we spotted a distant (and more recent) settlement located beneath snowy peaks.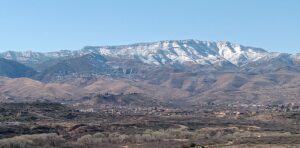 This was the old mining town of Jerome, now transformed into a sort of artists' colony boasting boutiques, galleries and eateries begging to be explored. We wound our way up a narrow, twisting, two-lane road past abandoned, ramshackle buildings to the town, located at around 5,000 feet in elevation, 2,000 feet above the valley.
At one time Jerome was a booming mining town, producing over a billion dollars in gold, copper, silver and zinc, but in the 1950s the last mine closed and the community became a virtual ghost town.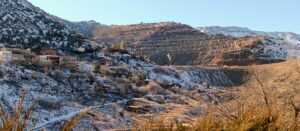 Artists began reclaiming it in the 1960s and '70s, taking up residence in the 19th-century buildings that hadn't succumbed to gravity on the 30-degree slopes. The Jerome Grand Hotel (now rumored to be haunted) still stands at the top of town and accommodates guests.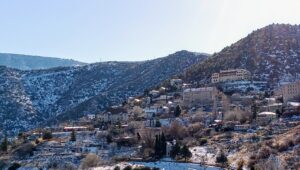 The Douglas Mansion, home of the former mine owner, sits at the center of the Jerome State Historic Park on a ridge overlooking the valley below,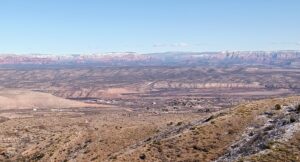 now serving as a museum. Though the engineers in our group would have liked to explore the exhibits and machinery left over from the mines, the sun was dropping toward the mountaintop and we still wanted to do some shopping.  We took a few more shots of the distant Mongollon Rim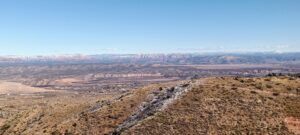 and the snowy San Francisco Peaks off to the northeast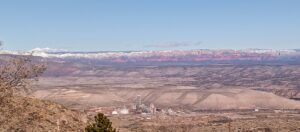 before finding parking spots on the narrow streets in town.
The shops stair-step up the mountainside, each street a full story or more above the last. Some of the buildings seem fairly well-preserved, while others sag and threaten to collapse. We enjoyed a few hours checking out the wares in the shops and galleries, coming away with a few mementoes before winding our way back down the mountain.
We finished our day back in Cottonwood, gathering for dinner at the Belfry Brewery in Old Town Cottonwood. This charming part of the town stretching along Main Street is crowded with tasting rooms, restaurants, shops and more galleries we hoped to return to some day to explore. As it was, we enjoyed some tasty brews and a good variety of menu options from the wood-fired grill as we reviewed the day's adventures. We certainly learned there is much to discover around Cottonwood, and one day proved insufficient to see it all.
— Patty Vanikiotis, associate editor/copy editor
FX Excursions
FX Excursions offers the chance for once-in-a-lifetime experiences in destinations around the world.
Turkish Airlines recently opened a new lounge in Terminal 1 of New York's John F. Kennedy International Airport. The airline operates three flights per day from the airport and now premium passengers have luxurious, comfortable and hospitable lounge amenities to enjoy in a renovated, rebranded space.
Sponsored Content
Europe is more fun with a Portugal Stopover.
It's time to start dreaming of your next trip. Here's some destination inspiration for you. Take a visual journey through these unique museums in Europe with us.