Last weekend I marked a milestone birthday in the Portland, Oregon, area with two rather different dinners, each special in its own right.
Saturday evening my husband and I enjoyed an intimate dinner at DeCarli, one of our longtime favorite restaurants, located in the suburban city of Beaverton, just west of Portland. It had recently moved from its original location where, due to closed streets and added street-side dining due to COVID, parking had become problematic. Its new space, more open but warmed by exposed brick accent walls, wood trim and chandeliers, as well as ample parking are definite pluses, while we found (thankfully) that the food and service remain up to the old standards.
Our favorite courses came early in the meal, with our starter of the meatballs in marinara not even up for discussion. Past experience told us the blend of meats and seasonings bathed in the mildly spicy sauce would please our palates, and we were not disappointed. We were intrigued by the description of our chosen pizza: creamy stracchino and mozzarella cheeses covered with pistachios and thin slices of peach, drizzled with EVOO and aged balsamic. Atop a crisp, cracker-like crust, it proved perfection. We wrapped up our evening with a trip down memory lane as we drove by the small rental house we lived in as newlyweds many years ago.
The next evening found us at a beautiful site in the farmland southeast of Portland, attending a Flight of Figaro Opera Dinner with two other couples from our group of oenophile friends who have known each other for 40-plus years. Our hosts were Burl Mostul and his wife, owners of Villa Catalana Cellars, residing on 14 acres of a former pasture, now transformed into Mediterranean-inspired gardens, ponds and dominated by a Romanesque-style, stone-clad chateau. As we arrived at the property, the building glowed warmly in the evening sunlight,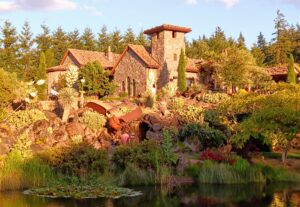 and the gardener in me couldn't wait to get out and explore the grounds. After our group checked in, picked up our wine glasses and staked out a table, several of our party did just that, enthralled as one enchanting vignette after another came into view as we strolled around the upper and lower ponds and gardens.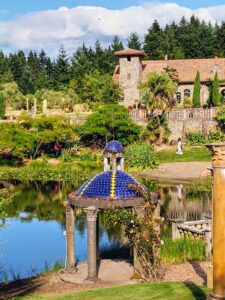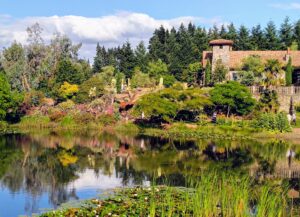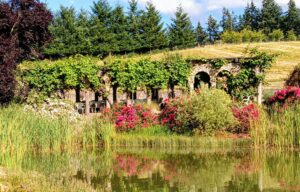 There are several spots where one can quietly sit and sip and drink in the views, as well as tables for groups.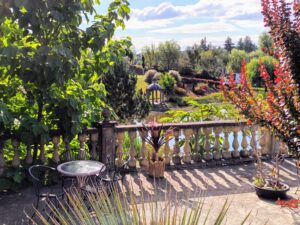 (What an enchanting wedding venue it would be!)
The house itself, built in 2008, was inspired by a 12th-century Romanesque church in Catalonia, Spain, and boasts welcoming terraces,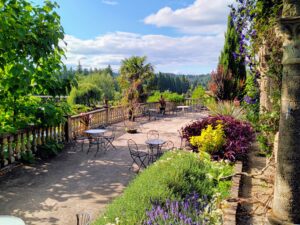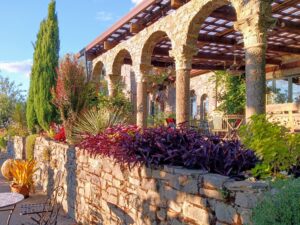 both a round and a square tower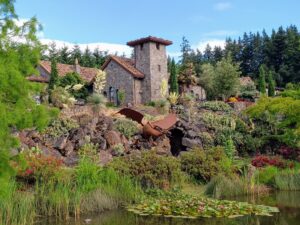 and even a mock moat.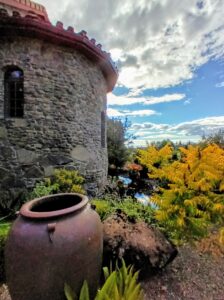 Art and sculptures adorn the grounds,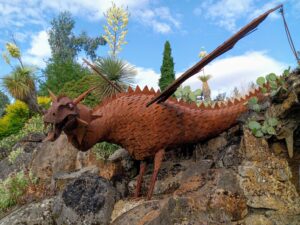 collected by the couple during their many global travels.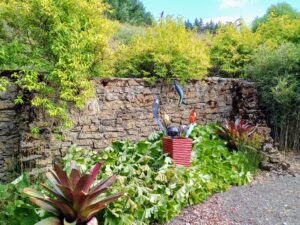 Immediately around the house, the plantings lean heavily toward cacti,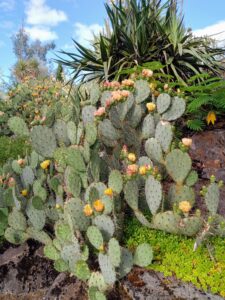 succulents,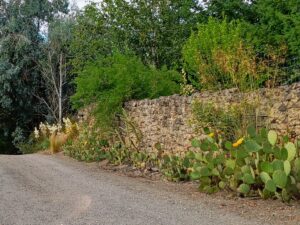 palms, olive trees and Italian cypress, and you could swear you had been transplanted to the Mediterranean shore.
We made our way back to the grape arbor, where rows of tables held guests waiting for the dinner and performance to begin.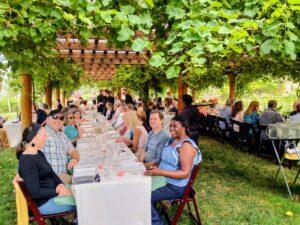 Villa Catalana wines would accompany each course (though vines have been planted on the property, they are not yet mature, so grapes are sourced from around the Pacific Northwest), and after our salads were served, our host introduced the entertainment. Singers from Ping and Woof Opera and their pianist performed excerpts from Rossini's Il barbiere di Siviglia and Mozart's Le nozze di Figaro, the performers providing a brief explanation of the situation and characters before each piece.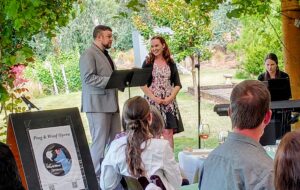 Their animated performances and lovely voices added to the enchantment of the evening. Our catered meal was served family-style, which meant our food (cedar plank-smoked salmon, chicken picatta, roasted potatoes and seasonal vegetables) was still warm when it was served up — often a rarity at such events! Closing with a tiramisu-inspired parfait, we counted the entire evening a masterpiece.
We took a final stroll up the hill to the villa's conservatory, which also serves as the winery's tasting room and home to some of the rare plants Burl offers through his wholesale nursery, Rare Plant Research.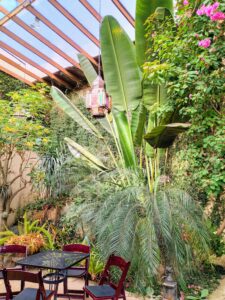 We had the opportunity to sample a few additional wines from the cellar's offerings and thank our host for a truly splendid evening in a stunning, unique setting. What a way to conclude my birthday weekend!
— Patty Vanikiotis, associate editor/copy editor
FX Excursions
FX Excursions offers the chance for once-in-a-lifetime experiences in destinations around the world.
Pantone recently unveiled its color of the year for 2023. The highly anticipated announcement has become a tradition, each year introducing a new color to represent the coming year. In 2021, Pantone declared 2022 to be the color of Very Peri 17-3938, a blend of purple and blue. For 2023, Pantone's Color of the Year is Viva magenta 18-1750. A shade from the red family, this color represents a new signal of strength. Brave and fearless, Viva Magenta is rooted in nature and embraces joy and celebration.
Sponsored Content
Much of the global business travel industry has already made sustainable business travel a priority with a focus on reducing emissions and their environmental footprint. But the industry, as well as external stakeholders, such as policymakers, recognize more needs to be done.
The UNESCO World Heritage neighborhood of Balat rivals İstanbul's Old City for its historic significance, with an added splash of color. Its cobbled hilly streets boast a full rainbow of houses, cafés, restaurants and churches painted in pinks, reds, oranges, yellows, greens and blues — parts even surpassing my native San Francisco's steep, colorful corridors. The most vibrant stretch of homes, dating anywhere from 50 to 200 years old, runs along Kiremit Caddesi.