In my previous blog about Mazatlán, the second port of call on our seven-day Mexican Riviera cruise aboard the brand-new Discovery Princess, I wrote about our morning shore excursion, tasting agave spirits and delectable ceviches. We intentionally chose a short, early excursion, as we made plans to meet up with friends of ours (and travel companions on cruises and a road trip in Spain and Portugal) who were spending a few months in Mexico, escaping the cold, snowy, winter weather of North Central Washington. Paul and Julie have done so the past few winters in their large, comfortable RV, and they were eager to show us the Mazatlán they've come to know as part-time residents of the area.
Our guides met us outside the restaurant after our excursion, and we strolled back through the Plaza Machado and on to Plaza de la República, a lush, shady square full of tropical foliage and featuring an impressive wrought-iron bandstand at its heart. Towering over it looms the 19th-century Basilica of the Immaculate Conception, built in the Baroque style. We stepped inside to view the beautiful stonework, ornate main altar,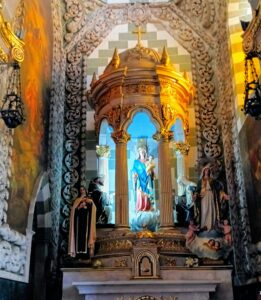 several side altars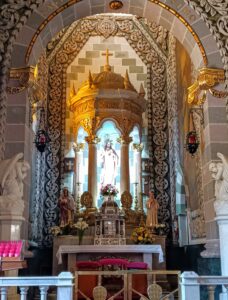 and its massive pipe organ.
From its cool, quiet interior we moved on to the crowded, bustling Mercado Pino Suarez, Mazatlán's largest market and an instant reminder to all of us of the mercados we visited on our trip to Spain in 2019. Here were stalls selling fruit and vegetables,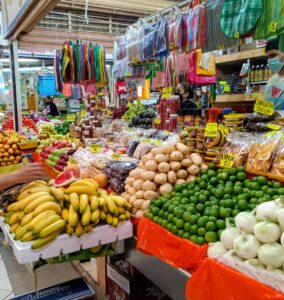 fresh cuts of meat
— even pigs' feet —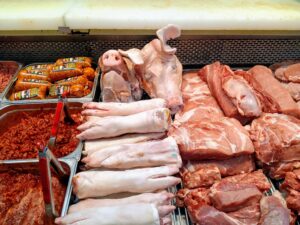 cheese and spices,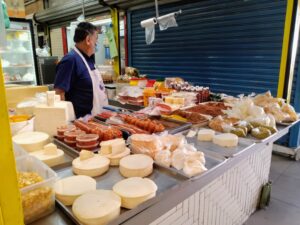 and, of course, here in the port boasting one of the largest shrimp fleets in the world, camarón of all sizes and other fresh seafood.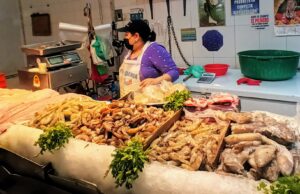 Although there were tourists about, this market clearly caters to the locals, as we saw many shopping for their daily staples.
Next, we headed for the Malecón; Mazatlán sits on a peninsula, and at roughly 13 miles long, its seafront promenade is one of the longest in the world. Here lie long stretches of sandy beach, while on the other side of the paved walkway sit a host of shops and restaurants as well as private residences and hotels.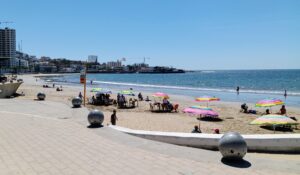 (We didn't venture farther to the north to the "Golden Zone," where there are modern malls and international chains and four- and five-star hotels.) We strolled for a mile or two, admiring the many sculptures and works of art adorning the waterfront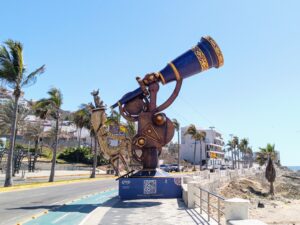 before we popped into a small neighborhood restaurant for a late lunch of shrimp and rice and a refreshing cerveza.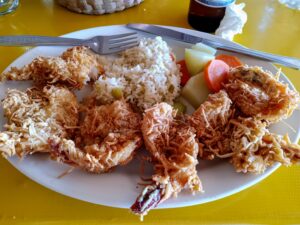 The serving was large (Harry and I could easily have shared one plate between us) and the shrimp heavenly.
Paul and Julie suggested we hail a pulmonia, a small open-air taxi, to take us farther on and up to higher elevations, to which we gladly agreed.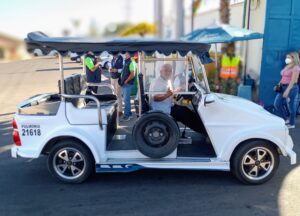 The four of us squeezed in and headed for the southern tip of the peninsula for clifftop views of the ocean and coastline. We pulled into an overlook near the seafood restaurant La Marca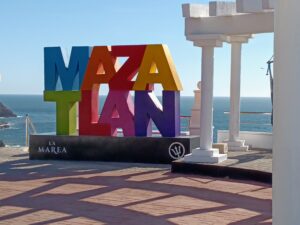 and basked in the expansive vistas of the sun on the water and nearby El Faro, said to be one of the world's highest lighthouses.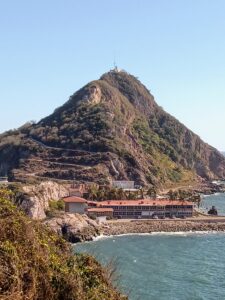 The hike to the top would have to wait for another visit, as we would shortly have to return to our ship. We did take the opportunity to snap a picture of it from our perch high above, though.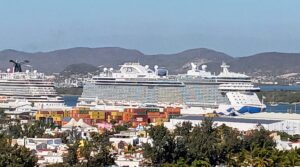 Our friends accompanied us back to the cruise port, and we were so grateful for the chance to spend time with them and for this more intimate and local experience of Mazatlán.
— Patty Vanikiotis, associate editor/copy editor
FX Excursions
FX Excursions offers the chance for once-in-a-lifetime experiences in destinations around the world.
Pantone recently unveiled its color of the year for 2023. The highly anticipated announcement has become a tradition, each year introducing a new color to represent the coming year. In 2021, Pantone declared 2022 to be the color of Very Peri 17-3938, a blend of purple and blue. For 2023, Pantone's Color of the Year is Viva magenta 18-1750. A shade from the red family, this color represents a new signal of strength. Brave and fearless, Viva Magenta is rooted in nature and embraces joy and celebration.
Sponsored Content
Nashville's once-modest skyline continues to evolve as its luxury market grows. Lavish hotel properties are added to the landscape while acclaimed chefs stake claim in the robust culinary scene and premier cultural offerings round out the city's repertoire.
The UNESCO World Heritage neighborhood of Balat rivals İstanbul's Old City for its historic significance, with an added splash of color. Its cobbled hilly streets boast a full rainbow of houses, cafés, restaurants and churches painted in pinks, reds, oranges, yellows, greens and blues — parts even surpassing my native San Francisco's steep, colorful corridors. The most vibrant stretch of homes, dating anywhere from 50 to 200 years old, runs along Kiremit Caddesi.