It was a busy long weekend of sporting events and food. I was all over the Chicago area, but I had a lot of fun and delicious meals.
It started Thursday with a charity softball game benefiting PAWS Chicago at Wintrust Field, home of the Schaumburg Boomers minor league baseball team. On the way home, we went to D'Agostino's. We loved the toasted cheese ravioli appetizer while we waited for our pizza, one of our favorites.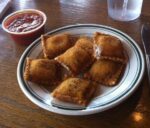 On Friday we watched the Cubs beat the Pittsburgh Pirates 6–5 at Wrigley Field. We celebrated the win with a feast at Sushi World. The mango tango roll was my favorite, but we tried many more rolls, and all were fantastic.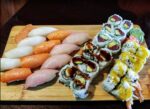 Saturday was spent at the Ballpark in Rosemont watching two Athletes Unlimited softball games. Lou Malnati's was the dinner choice after a long but fun day of softball.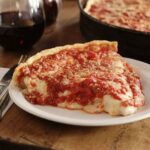 We went to downtown Chicago to see the Chicago Sky clinch a playoff spot as they beat the Las Vegas Aces on Sunday. After the game, we found La Cantina Grill right down the street. The beer-battered tilapia tacos tasted as good as they looked. The frozen margaritas were excellent, too.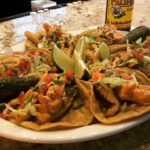 I chose to relax at home on Labor Day. We channel surfed all day and ordered pizza from Graziano's. My choice was the Bianca pizza, which has spinach, caramelized onions, smoked mozzarella and a Parmesan cream sauce. I am working my way through all of their pizza choices, and this was one of the best. It had great flavor and texture combinations while being surprisingly light.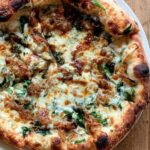 I wrote yesterday about taking a break from running, but after all these wonderful meals, I think I need to get back to it. I might have gained a couple pounds, but I had a great time along the way.
— John Wroblewski, online writer
FX Excursions
FX Excursions offers the chance for once-in-a-lifetime experiences in destinations around the world.
Manchester, a city already buzzing with energy, welcomes some exciting new additions, from boutique hotels to highly anticipated culinary destinations to historic venues. Plan a trip to Manchester to not only indulge in your favorite soccer team but also to enjoy delicious food, both charming and luxury accommodations, and lively events and venues.
Sponsored Content
United Airlines remains firmly committed toward sustainability in aviation. The latest development in its eco-conscious goals includes working with Oxy Low Carbon Ventures to commercialize the production of sustainable aviation fuels (SAF) with biotech firm Cemvita Factory. Cemvita looks to develop a revolutionary new way to produce SAF by using carbon dioxide and synthetic microbes. Additionally, United Airlines Ventures (UAV) recently announced an equity investment in Fulcrum, and United has invested more in SAF production than any other airline in the world.
Porvoo, Finland, only an hour from Helsinki, is a medieval coastal town and a cultural haven, well known for its exciting culinary scene, colorful wooden houses and cafés. Here, you will discover the new Runo Porvoo Hotel, a family-owned landmark building and business blending Finnish traditions with contemporary Nordic design, world-class artwork and the rustic-meets-modern allure of American Shaker-style furnishings.