It was a busy long weekend of sporting events and food. I was all over the Chicago area, but I had a lot of fun and delicious meals.
It started Thursday with a charity softball game benefiting PAWS Chicago at Wintrust Field, home of the Schaumburg Boomers minor league baseball team. On the way home, we went to D'Agostino's. We loved the toasted cheese ravioli appetizer while we waited for our pizza, one of our favorites.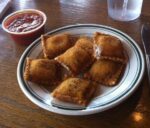 On Friday we watched the Cubs beat the Pittsburgh Pirates 6–5 at Wrigley Field. We celebrated the win with a feast at Sushi World. The mango tango roll was my favorite, but we tried many more rolls, and all were fantastic.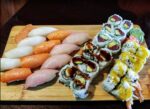 Saturday was spent at the Ballpark in Rosemont watching two Athletes Unlimited softball games. Lou Malnati's was the dinner choice after a long but fun day of softball.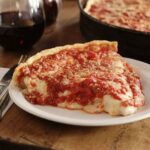 We went to downtown Chicago to see the Chicago Sky clinch a playoff spot as they beat the Las Vegas Aces on Sunday. After the game, we found La Cantina Grill right down the street. The beer-battered tilapia tacos tasted as good as they looked. The frozen margaritas were excellent, too.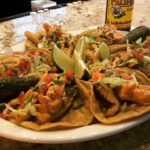 I chose to relax at home on Labor Day. We channel surfed all day and ordered pizza from Graziano's. My choice was the Bianca pizza, which has spinach, caramelized onions, smoked mozzarella and a Parmesan cream sauce. I am working my way through all of their pizza choices, and this was one of the best. It had great flavor and texture combinations while being surprisingly light.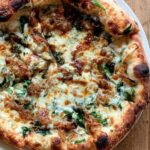 I wrote yesterday about taking a break from running, but after all these wonderful meals, I think I need to get back to it. I might have gained a couple pounds, but I had a great time along the way.
— John Wroblewski, online writer
FX Excursions
FX Excursions offers the chance for once-in-a-lifetime experiences in destinations around the world.
I imagine that when writer Hans Christian Andersen mused, "Life itself is the most wonderful fairy tale," he was standing at the edge of Copenhagen's historic Tivoli Gardens, one of his favorite haunts, enlivened by the swirl of human happiness that surrounded him: children laughing; carousels spinning; games of chance played for prizes; lovers holding hands; hungry people whispering over sweets, hot drinks, beer and towering, open-faced smørrebrød, Denmark's quintessential sandwich. That fairy tale lives on today at the second-oldest amusement park in the world, a spectacle of folly architecture, bakeries, gardens, rides, restaurants, puppet shows and joy ... and which also happens to be one of the city's most storied places to convene for business.
Sponsored Content
GBTA's Convention 2021 will bring the business travel industry together for the first time in a long time. Once again, you'll learn and connect with experts and each other, along with discussions with leading thinkers, entrepreneurs and change makers addressing the issues that matter most.
The restored Park Hyatt Toronto reopened its doors, bringing luxury, sophistication and glamour alongside a nod to the hotel's Canadian heritage. Alessandro Munge of Studio Munge collaborated on the hotel's refresh, drawing inspiration from Canada's seasons and natural landscapes.