Although we've closed out January and are headed into February, I am still reflecting on my highlights of 2022. While many things stood out, I think the best part was seeing some great musicians live in concert. When the legendary Spotify Wrapped came out, I saw just how much I listened to these artists and realized I was lucky enough to see the majority of my top artists in concert this year. Here is a breakdown of some pretty awesome performances I saw from my top artists over the past year.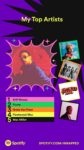 One of the biggest contributors to this accomplishment was my attendance at Bonnaroo Festival in Tennessee over the summer. While the festival itself deserves its own post, I can summarize it by saying I had an amazing time with some great music and even greater friends. At the festival I was lucky enough to see tons of my favorites, but three of my top four artists were performing.
Still Woozy, winning the No. 1 spot this year according to Spotify (as they are my background music to pretty much everything), put on such a fun show. My friends and I hung farther in the back of the crowd to give us space to dance and enjoy the music. Funnily enough, about an hour later during the next band's set, I ran into Sven Gamsky, lead of Still Woozy, dancing in the crowd. (I was too nervous to ask for a photo because he was enjoying the music with the rest of us, but I promise it happened.)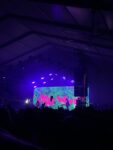 Flume, who came in at No. 2, put on a fantastic show. Two of my friends and I knew we wanted to be as close as we could to see his performance, so we got there a little early and were able to slip through the crowd right up to the GA rail. The three of us had such an amazing time watching his show and were so lucky to be as close as we were to see all of the lights and stage effects he uses.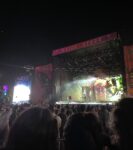 Stevie Nicks, who for years has been one of my favorite singers and idols, closed out the festival as the last performance on Sunday night. All through college my girlfriends and I would blast and sing Fleetwood Mac and Stevie Nicks's songs, and the group of us made our way through the crowd to watch her in person. Safe to say this one got a little bit emotional, but it will forever go down as one of my favorite concert experiences.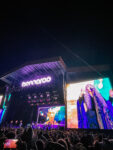 Another concert I went to later in the year was Greta Van Fleet, whom I have been dying to see as they're one of my favorite bands. I dragged my sister to Allentown to see their show; she didn't know their music before we went, but she left a fan. They put on a great concert that exceeded every expectation I had. While all assets of their recorded music are great, lead singer Josh Kiska really stands out. When they performed live, however, guitarist Jake Kiska and drummer Danny Wagner stole the show. Greta Van Fleet, third on my list, deserve the No. 1 spot for the amount of talent they have as a group.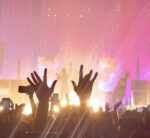 While we are already nosediving our way through 2023, reflecting on 2022 makes me appreciate all of the experiences I have had so far. Looking back on these shows gets me excited to make more memories listening to my favorite artists, and I can't wait to see more of them. Stay tuned for posts about upcoming shows I'll be going to from more of my favorites, like the Stevie Nicks and Billy Joel concert in Philly this summer!
— Aly Evans, administrative assistant
FX Excursions
FX Excursions offers the chance for once-in-a-lifetime experiences in destinations around the world.
Turkish Airlines recently opened a new lounge in Terminal 1 of New York's John F. Kennedy International Airport. The airline operates three flights per day from the airport and now premium passengers have luxurious, comfortable and hospitable lounge amenities to enjoy in a renovated, rebranded space.
Sponsored Content
FXExpress Traveler of the Year Contest 2023
It's time to start dreaming of your next trip. Here's some destination inspiration for you. Take a visual journey through these unique museums in Europe with us.