Few cities match their names as well as Brazil's Belo Horizonte — beautiful horizon. Not only is the city surrounded by a ring of mountains, but its skyline of impressive modernist and post-modern buildings forms an eye-pleasing silhouette of its own.
Just over 200 miles north of Rio de Janeiro, the capital of the state of Minas Gerais is the third-largest population center in Brazil, behind Rio and São Paulo. More than 2.4 million people live in Belo Horizonte itself, with more than 5.5 million residing in the greater metropolitan area.
When Brazil was a Portuguese colony, in the 1700s, the area was settled and populated by immigrants from Portugal and African slaves. Mines and related industries later brought waves of Italian immigrants, and today about a third of the population is of Italian ancestry.
The gold that brought early miners to Minas Gerais has long since played out, but other mineral resources, notably iron, are still mined and processed locally, joining textiles, food processing and electric power as the base of the state's economy. One of Latin America's fastest growing industrial regions, Belo Horizonte is Brazil's second-largest economic center, after São Paulo.
The arrival of Fiat in 1973 and its later expansion kicked off a growth spurt that continues today, with multinational firms including Arcelor and Toshiba. Google's Latin American headquarters is in Belo Horizonte, and Sumitomo Metals of Japan is currently building a $1.6 billion integrated steelworks on the outskirts of the city, scheduled to open in 2010.
For all its economic importance, Belo Horizonte is a relatively new city, barely a century old. Until the early 20th century, Minas Gerais was governed from the old colonial capital of Ouro Preto, built literally over the gold mines that gave the city its name and its riches. But that town of steep streets, for all its charms (it was recently proclaimed Brazil's first UNESCO World Heritage site), was not suitable for a modern capital, so Belo Horizonte was carved out of the forest around an early farming settlement.
The new city layout was modeled after Washington, D.C., its street grid intersected by diagonal avenues and dotted with spacious squares and parks. This was at the height of the Art Nouveau and Art Deco eras, so fans of those architecture styles will like the city immediately.
But its architectural riches didn't end with the 1920s. A young Brazilian architect named Oscar Niemeyer cut his professional teeth here two decades later, leaving the city with several of his most iconic buildings. Continuing waves of new building have lived up to this standard, making the city a textbook of 20th-century architecture. Based on his work in Belo Horizonte, Niemeyer was commissioned to design much of Brasilia, created in the 1950s to serve as the country's new capital.
Although still not a star on the leisure tourism map, Belo Horizonte has invested in an infastructure that draws business and commercial travelers with more than 3,000 meetings and events each year. American Airlines' new direct flights from Miami (MIA) are expected to make the city more attractive to U.S. and international visitors.
---
Lodging
HOTEL LIBERTY PALACE
This 12-story oasis of peace and quiet in the heart of the lively Savassi district has a welcoming English-speaking staff. $$$–$$$$
HOTEL LIBERTY PALACE
Rua Paraiba 1465, Savassi
tel 55 31 2121 0900
www.libertypalace.com.br
OURO MINAS PALACE HOTEL
This conference and meetings center 10 minutes from city center includes rooms designed for women and for guests with allergies. $$$$
OURO MINAS PALACE HOTEL
Av. Cristiano Machado 4001, Ipiranga
tel 55 31 3429 4001
www.ourominas.com.br
PROMENADE BH PLATINUM
Business travelers apprec iate the accommodating manager and generous in-room work space at this 4-star high-rise in the upscale Lourdes neighborhood. $$$
PROMENADE BH PLATINUM
Rua Olegario Maciel 1748, Lourdes
tel 55 31 2125 3800
www.promenade.com.br/bh_platinum
---
Dining
DONA LUCINHA
Hearty country dishes are firmly rooted in the region, with a jewel-like array of candied fruits and local farmstead cheese.$$$
DONA LUCINHA
Rua Sergipe 11, Savassi
tel 55 31 3261 5930
FOGO DE CHÃO
At this genuine churrascaria, meats are roasted over open wood fires in the style of the gauchos. $$$
FOGO DE CHÃO
Rua Sergipe 5, Savassi
tel 55 31 3227 2730
www.fogodechao.com.br
RESTAURANTE XAPURI
Sit on the terrace of this historic farm and enjoy linguica sausage and pumpkins filled with chicken stew and local cheese. $$$
RESTAURANTE XAPURI
Rua Mandacaru 260, Pampulha
tel 55 31 3496 6198
---
Diversions
Belo Horizonte claims (and after a stroll down any street in the lively Savassi neighborhood, it's easy to believe) to be the Bar Capital of Brazil. In the year-round mild weather these venues spill out into the street — not booze joints, but cafés where all ages can mix and meet over a beer, a cup of coffee (they've got a lot of that in Brazil), a lime-and-ice-filled capirinha, a snack or a meal. Grandparents smile benevolently at toddlers crawling under the tables, teens giggle and text, lovers see only each other and businesspeople seal deals as the whole city seems to come and go from these public front porches. For travelers, the bars are the best way to quickly engage in the local scene.
To follow the architecture of local-boy-madegood Oscar Niemeyer, begin with his first major works in the park-filled suburb of Pampulha. Here the distinctive curved silhouette of the Church of St. Francis of Assisi reflects in the lake, and high above its waters stands the stunning former casino, now the Pampulha Museum of Art(Avenida Otacílio Negrão de Lima, tel 55 31 3277 7996), with rotating exhibits. Surrounding it, the Burle Max Sculpture Gardens provide a natural setting for sculptures by several artists. Rent bicycles at the park office to explore the Pampulha Ecological Park (Avenida Otacílio Negrão de Lima, tel 55 31 3277 7439) or come for outdoor concerts on weekends.
In the city center, Edificio Niemeyer rises in sinuous curves above Praça da Liberdade, a pleasant place to stroll among the fountains. Opposite is "Rainha da Sucata" — Queen of Scrap Iron. This is the local nickname for the futuristic building housing the Museum of Mineralogy (Av. Bias Fortes 50, tel 55 31 3271 3414), displaying more than 800 minerals from around the world.
One corner of the extensive Parque Municipal is outlined by the sleek white lines of Niemeyer's Palácio das Artes (Avenida Afonso Pena, tel 55 31 3277 4161), a civic arts center. Inside is an artisans' shop filled with high-quality pottery, woodcarving, needle arts and jewelry incorporating native stones. Art galleries, theaters and exhibition space make this complex the city's main center for fine and performing arts. In the adjacent park are century-old trees, flower gardens and the Orchidarium, a greenhouse full of orchids. Throughout spring and summer the Orchestra of Minas Gerais plays concerts in the park every Sunday morning.
Beyond lies the spacious Praça da Estação, a venue for outdoor concerts and festivals. At one side, the former rail station is now the Arts and Crafts Museum (Pr. Rui Barbosa, tel 55 31 3248 8600), which records the arts and implements of Brazil's pre-industrial era.
Aficionados of contemporary art and design — or those who want a break from cityscapes — should travel out of town to the remarkable Inhotim (Rua B, Brumadinho, tel 55 31 3227 0001, www.inhotim.org.br), where stunning gardens cover several acres of pond-studded lowland and surrounding hillsides. Interspersed with the flower and landscape gardens are innovative and environment friendly buildings filled with art installations. Sculptures in every medium from fallen trees to vintage Volkswagens dot the park-like grounds.
---
INFO TO GO
Tancredo Neves/Confins International Airport (CNF) is about 23 miles from Belo Horizonte. Taxi into town costs about $40; the frequent Executive Shuttle about $10. A metro system connects major downtown points. Visit www.braziltour.com.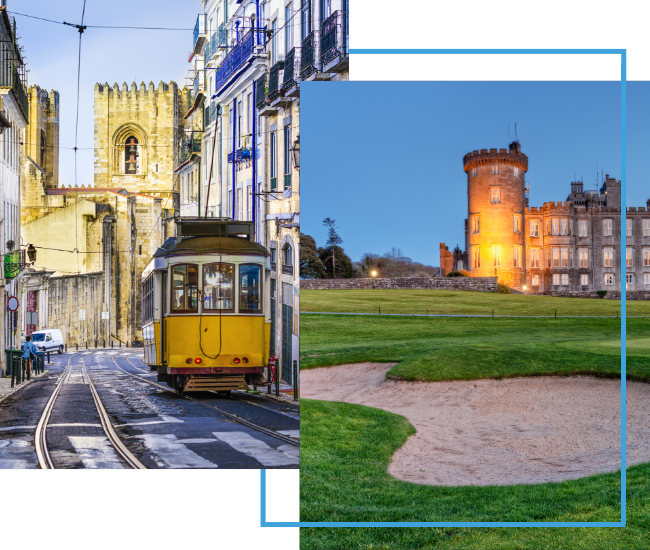 FX Excursions
FX Excursions offers the chance for once-in-a-lifetime experiences in destinations around the world.
Explore Excursions
Like other Angelenos working in the entertainment industry, Sacramento-native Brian Rodda found himself pivoting toward a new career during the pandemic. Prior to the lockdown, he worked in entertainment public relations, hosted a Hollywood red carpet web series and owned a marketing consultancy. When he was in Carmel riding out the situation, a friend encouraged him to take on a new real-life role as a culinary tour guide in the fashionable resort town as travel slowly returned.
Sponsored Content
The Global Business Travel Association (GBTA) believes business travel is a fundamental force for good and brings the industry together to connect, innovate and set new standards. With members from across the globe, GBTA engages the many voices of business travel to build a collective future, providing a platform for buyers and suppliers to come together, connect with peers, grow their network and shape the future of the industry.
Red Savannah launched a new series called In the Footsteps of…, which debuts itineraries of well-known figures, the first being Coco Chanel. As Chanel No. 5 celebrates its 102nd anniversary this year, the travel company invites fashion lovers, history enthusiasts and admirers of Coco Chanel to experience the new itinerary, In the Footsteps of Coco Chanel. The experience allows travelers to step into the remarkable life of one of most iconic figures in the fashion world.