THE BASICS
Name: Andrea DeMarco
Title: Chief sales and marketing officer
Company, city: Regent Seven Seas Cruises; Miami, Florida
First job: Controller of revenue
Where to next: Next month I'll be with the Asia Pacific team in Sydney, Australia. I hope to fit in a family cruise at some point.
A LITTLE BIT MORE
What actor or actress would play you in a movie of your life?
I admire Eva Longoria for her success on the screen and in business, as well as her philanthropy, so I would be thrilled if she agreed to play me.
What would you be doing professionally if you weren't in your current industry?
I have a passion for wellness, so I would be working within the health and fitness industry.
What is your favorite book, movie or television show?
I love watching documentaries about wonderful places I've yet to visit. Travel has the power to broaden your horizons and inspire; I cannot get enough, in whatever form.
THE BUSINESS
What is your most recent project, and what was the inspiration behind it?
Before my current role, I served as senior vice president of Investor Relations, Corporate Communications and ESG for Regent's parent company, Norwegian Cruise Line Holdings. I'm incredibly proud of what my team and I achieved, building the department from the ground up; shaping the company's environmental, social and governance initiatives; and being the face and voice of the organization to Wall Street. The Institutional Investor All-America Executive Team ranked my team No. 1 in Leisure, and I'm honored to be No. 1 Investor Relations Officer in the Leisure Sector for three consecutive years.
What is your favorite aspect of the job?
We're here to deliver an unrivaled experience for our guests. We work hard to keep our standards impeccably high, from the first phone call to the moment they disembark. It's satisfying to receive positive feedback from guests, and it makes the job worth it. It always surprises me how frequently we surpass their expectations!
What's the biggest business risk you've ever taken?
With a background in finance, I began my career in revenue management; however, I realized I'd need to take risks and seek roles where I had little experience if I wanted to achieve my goals. I have taken on sales, marketing and public relations roles … a world away from the number-crunching of my early days. Had I not made those leaps of faith, I would not be in the position I am today.
Who is someone you admire professionally in the travel industry?
I've had the pleasure of working closely with Frank Del Rio, president and CEO, Norwegian Cruise Line Holdings, for many years. He has been an inspirational leader and mentor from whom I have learned invaluable lessons.
AS A TRAVELER
Tell us about a travel nightmare: We all lived a travel nightmare in 2020; the pandemic was a difficult time for everyone but especially the travel industry. As bad as it was, the relaunch of Seven Seas Splendor in September 2021 was one of my proudest and most emotional experiences. Seeing the guests' faces and our crew's reaction to their return on board was amazing. All five of our luxury ships are back on the water, with another coming in November 2023, so there's much to be thankful for now and to get excited about for the future!
Share a comical travel experience: I have a young family, and I recently took them to Walt Disney World for a few days. The whole trip was filled with smiles and laughter.
What is your preferred method of travel — planes, trains, automobiles, cruise ships — and why? I'm biased, but it must be cruise ships. I first sailed in the 2000s and was so hooked, I changed careers to join the industry. I love the exceptional value cruise ships offer and the ability to unpack once while visiting multiple incredible destinations. Waking up in a new port each morning for another immersive experience, coming home to the comfort of the ship each evening is truly special.
What has been the best example of customer service you've experienced during your travels? Recently sailing with Regent Seven Seas Cruises, I asked for mango at breakfast, but none was available. The next morning the maître d' brought a platter of freshly cut mango to my table and explained they went to the local market that morning especially for me. That blew me away. The crew are truly exceptional and want nothing more than to ensure all our guests completely relax and enjoy their well-deserved vacation.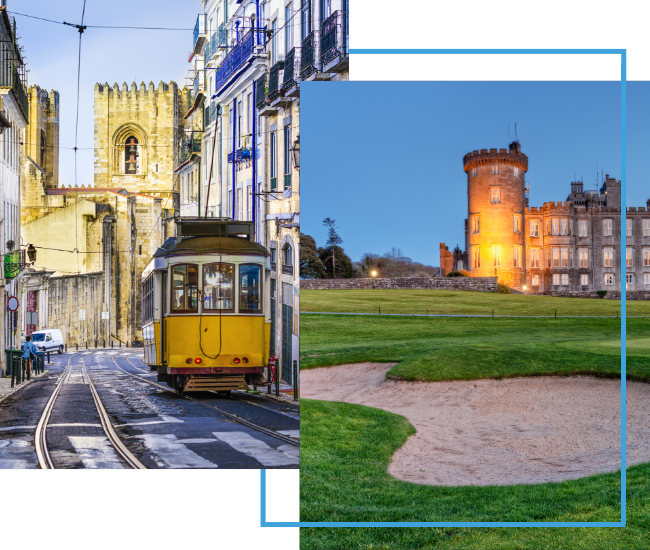 FX Excursions
FX Excursions offers the chance for once-in-a-lifetime experiences in destinations around the world.
Explore Excursions
Did the new film Oppenheimer rouse your interest in the nefarious world of international espionage? You can go straight to the real-life setting for covert actions this November (Nov. 10–12), when La Fonda on the Plaza in Santa Fe hosts a specially themed "Spies, Lies and Nukes" weekend. The hotel actually served as the retreat location for Manhattan Project scientists, who stayed at La Fonda on the Plaza to take a break from the stress of their work. During the weekend, the property's La Fiesta Lounge will make a tasty nod to those days by serving up a special Atomic Martini.
Sponsored Content
Exclusive Sailing with Global Traveler
Ever want handcrafted martinis and freshly shucked oysters delivered straight to your room? The Read House's New Martinis & Pearls service has you covered. Shining in 1920s-themed decor, the historic hotel in the heart of Chattanooga offers a true Gatsby-esque experience, now further elevated with this upscale amenity. Guests can now indulge in their perfectly chilled martini, made to order, and "pearls" (oysters) in the comfort of their room.