The aviation industry is in a state of nearly constant flux with the rapid expansion of airlines, consolidation and emerging low-cost airlines all set to service an increase in demand for air travel.
Frequent business flyers have seen ups and downs — from the usual delays to restrictions and conditions to unpredictable spasms of Mother Nature which send shockwaves and flight cancelations everywhere.
Stocks remain a top-of-mind issue for airline companies. Business publication Yahoo! Finance reported in July, "Despite the multiple first-quarter 2016 earnings beats for airline stocks, the NYSE ARCA Airline index has declined over 12 percent in the last three months. This clearly hints at some underlying problems plaguing the sector."
On the other hand, the International Air Transport Association — the governing body in the aviation industry representing 265 airlines, comprising 83 percent of global air traffic — in its latest study reports a rise in passenger demand globally. "This year people will make 3.8 billion journeys by air. Among them will be families reuniting, students exploring the world, businesspeople creating prosperity, aid workers responding to crises and political leaders seeking to understand and solve problems," said Tony Tyler, director-general and CEO, IATA, in his opening remarks at the 72nd Annual General Meeting and World Air Transport Summit in Dublin, Ireland.
In May alone, compared to last May, IATA indicates global passenger demand rose 4.6 percent. Yet air freight demand in the same comparison was down.
Meanwhile, aircraft design keeps getting slicker. Boeing aviation titans headquartered in Chicago have been celebrating a centennial birthday with plans to launch a new fuel-efficient Boeing 737 Max airplane in 2017 with Southwest Airlines. Brazilian-based Embraer, known for creating world-class private jets, upped its fleet technology: The fuel-efficient E190-E2, introduced this summer, flies at an unprecedented 41,000 miles above sea level. And the Bombardier C series promises to be the aviation game changer. The Montréal-headquartered aircraft manufacturer made the aircraft's historic first flight during the conclusion of the IATA Annual General Meeting in June under the Swiss International Air Lines brand, flying from Dublin to Zürich.
The Asian markets are a huge contender for international airlines forging new routes as well as satisfying China's consumer market with its voracious appetite for flying. China's own carriers are supersizing fleets. Air China, the national flag carrier, welcomed its first Boeing 787-9 Dreamliner in May, becoming the nation's first customer of the environmentally friendly jet. The carrier has 14 more on order.
Aviation insiders note China's secondary airlines are overhauling their long hauls. The Centre for Aviation reports growth in Chinese aviation is now wellevident. In 2012 only five Chinese airlines operated wide-body aircraft; the latest July figures indicate 10 Chinese airlines fly them. CAPA forecasts 17 Chinese airlines will have long-haul fleets in the future.
While legacy airline companies like American Airlines, Delta Air Lines and United Airlines are upping "free" by offering complimentary in-flight entertainment on domestic routes, other companies like British Airways are putting a kybosh on the usual food distribution, sending economy passengers on some trans-Atlantic routes into a downward spiral.
Then there's Brexit. Some economists argue this precedent-setting decision over the U.K.'s departure from the European Union will cause a fissure in the airline industry's fabric. "The U.K. aviation market was indeed one of the stand-out beneficiaries of the E.U. framework and market and will now be the one most impacted by this referendum decision," explained Peter Morris, chief economist, Ascend Flightglobal Consultancy, a London-based international aviation think tank.
Is the aviation industry in crisis? Global Traveler approached 20 CEOs at leading international airlines to weigh in on the issues affecting the sector. The majority — including Delta Air Lines, British Airways, Brussels Airlines, Swiss International Air Lines, Etihad Airways, Lufthansa, Air France, EVA Air, Singapore Airlines and Emirates — declined comment. But newer airlines such as Qatar Airways, founded in 1993; Azul, established in 2008; and the older TAP Portugal, around since 1945, offered their views.
AN INSIDE LOOK
Airline stocks have taken a hit. What underlying problems plague the sector?
Fernando Pinto, CEO, TAP Portugal: There is no doubt terrorism in certain markets has had a negative impact. On the other hand, Brexit also had an influence on stocks, because the U.K. market is important to almost all European airlines, and there is concern about what will happen when the U.K. leaves the E.U. The fall in some markets that were rapidly growing, so-called BRICS, which includes Brazil, also strongly influenced airline stocks.
David Neeleman, founder, chairman and CEO, Azul Airlines: Earnings are still strong in the United States although additional capacity is creeping back in. Fuel prices are up somewhat but not too bad. As to the NYSE index, what goes up must come down. It's just an adjustment. As long as fuel stays less than $50 a barrel, the industry will remain profitable for a long time.
Have terrorism and global economic issues changed your growth strategy?
Pinto: Actually, we changed our strategy. One of our most important markets, Brazil, is going through an economic and social crisis. Angola and Venezuela are also two TAP markets going through a period of crisis. Therefore, we directed our expansion and development for the U.S. market. It has been a successful strategy.
Neeleman: Oil prices are always the main issue affecting everything in the airline business. The Brexit issue has shown no effect; it seems mostly an issue for airlines based in the U.K. The Brazilian economy is stable now, not better or worse than it's been. Azul planned to add new U.S. routes before the downturn, which remain on hold, but the opportunity is still strong once the economy gets better. Terrorism is always a concern, but we've seen little to no effect on bookings because of it. Travelers see Portugal as one of the safest vacation spots, and a Bloomberg report indicates tourism is big business in Portugal. Overnight stays by non-residents in Portugal advanced 13 percent through May this year.
Many leading airlines offer private executive jet service. Do you find this market profitable?
Pinto: The market we serve does not have demand for travel in first class, so this service does not fit in our market. It is profitable, indeed, for markets with a strong first-class demand.
Akbar Al Baker, CEO, Qatar Airways: The segment for private aviation services has grown exponentially with business travel requiring transport to meetings in multiple remote locations, for private family travel or medical-related travel. Since its inception in 2009, Qatar Executive, a fixed-base charter jet operation headquartered at Hamad International Airport in Doha, operates luxury jet services to Europe, Asia, North America, Africa, the Middle East and Australia.
What are the biggest challenges facing aviation, and what are potential solutions?
Pinto: The airlines live sustained by economic growth and tourism, so we rely on economic development. Moreover, especially in Europe, there is great competition between airlines, with the challenge of low-cost companies. Cost management is the challenge for every airline.
Neeleman: Europe has significant air traffic control issues which hamper growth. If the region increased efficiency, more service could be added, but that's not the case. Peak times are maxed out, so you just can't add additional service during those times.
Are you satisfied with the state of tracking missing planes?
Pinto: I'm not satisfied at all. We already adopt control of tracking every 15 minutes. However, we find it unacceptable we continue to see cases of aircraft not found after several days of searching. It has to be immediate. You have to have technology that allows immediate tracking.
Neeleman: The technology exists to know exactly where all planes are everywhere around the world. And it's not prohibitively expensive. I'd support a move using technological solutions where we could track every plane wherever it is.
Do we need more regulation when it comes to safety?
Pinto: I do not think more regulation is the solution. An important action of IATA was the IOSA [Operational Safety Audit] implementation which had wide acceptance worldwide and helped to greatly improve the safety curve. It is a continuous work that has to be done together: by companies, by regulators, traffic control, by manufacturers. The motivation exists in the industry, and that has had results. Security continues to improve, despite the increase in volume of aircraft.
Neeleman: No. Airlines are one of the safest industries in the world.
Is your company taking measures to alleviate passenger wait times at airports, or is it beyond your control?
Pinto: We had a big problem in arrivals in our hub airport in Lisbon, mainly due to passport control. We reduced this problem thanks to a joint effort with the airport and authorities. We still have work to do, especially in departures. Our punctuality reached the highest levels in the world, but in peak periods we have difficulty maintaining it. It is work we continue to do.
Al Baker: For Qatar Airways, safety and security always come first, so where there are long lines to clear security, we offer support and assistance to the airport to help alleviate the wait. We appreciate those airports that support specialty lanes for our business- and first-class customers, for example, and we communicate the optimal check-in time to customers prior to their departure.
Neeleman: We're doing everything we can to alleviate wait times. But not everything is in airlines' control. We're constantly meeting with airports to share data as to when we expect the most passengers so we can creatively solve issues together.
What can make the in-flight experience more pleasant as economy-seat sizes shrink?
Pinto: We have been careful whenever we make a change in the cabin. We are currently investing in business class (which will improve comfort) and in a coach class with an improved travel experience.
Al Baker: Comfort, convenience and entertainment come standard in every row on every Qatar Airways flight. Our economy-class seat is one of the most spacious across the industry. Ergonomically inspired seat design and added features, such as moveable head rests and amenity kits, provide comfort in economy. The economy culinary offering provides healthy and delectable options — on most flights up to three meal options. And for our youngest passengers, Qatar Airways offers a newly designed Hasbro activity kit; special children's meals; and customized entertainment such as the BabyTV Channel with the latest movies, programs and interactive games.
Neeleman: I think passengers' in-flight experience depends mostly on if they have something to keep their interest. The JetBlue answer was always to offer free LiveTV, which was great; and more entertainment channels and movies and free internet make people happy.
Is airfare at its lowest ever? If so, is this sustainable? If not, why haven't prices dropped further, given lower fuel costs?
Pinto: A certain oversupply in the market caused air passages to already fall heavily on price, especially in Europe, mainly due to low-cost airlines. The problems already mentioned in Brazil, for example, lowered the average tariff. We are seeing average rates never seen in the past. The industry always seeks to translate the efficiency gains in benefits for the customer in terms of price. The new aircraft generation, more efficient in fuel consumption, will enable companies to offer better prices for customers.
Neeleman: As fuel has gone down, fares are certainly the lowest we've seen in years. As I said, airline profitability is sustainable as long as oil stays low. But fares — either high or low — are also a function of competition. It's great for the consumer. Fares are at a six- or eight-year low when adjusted for inflation. As airlines are making money right now, there's room for fares to go lower if more capacity is added. But that's dependent on airports. Airlines need available gates, open slots and other infrastructure to add service.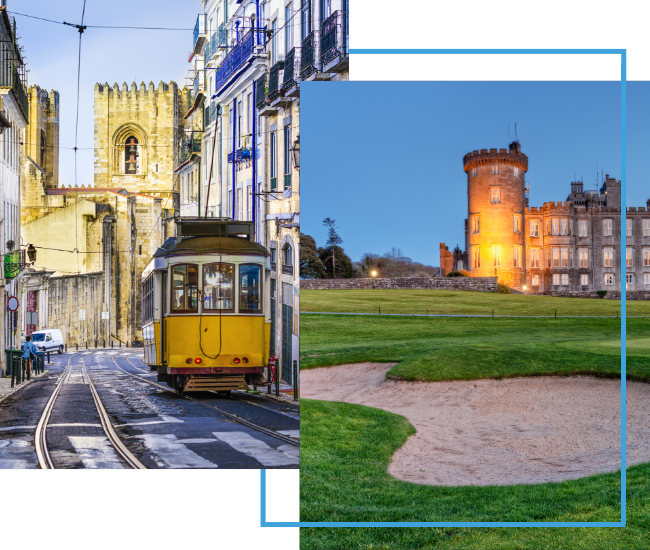 FX Excursions
FX Excursions offers the chance for once-in-a-lifetime experiences in destinations around the world.
Explore Excursions
Did the new film Oppenheimer rouse your interest in the nefarious world of international espionage? You can go straight to the real-life setting for covert actions this November (Nov. 10–12), when La Fonda on the Plaza in Santa Fe hosts a specially themed "Spies, Lies and Nukes" weekend. The hotel actually served as the retreat location for Manhattan Project scientists, who stayed at La Fonda on the Plaza to take a break from the stress of their work. During the weekend, the property's La Fiesta Lounge will make a tasty nod to those days by serving up a special Atomic Martini.
Sponsored Content
Nashville's once-modest skyline continues to evolve as its luxury market grows. Lavish hotel properties are added to the landscape while acclaimed chefs stake claim in the robust culinary scene and premier cultural offerings round out the city's repertoire.
Ever want handcrafted martinis and freshly shucked oysters delivered straight to your room? The Read House's New Martinis & Pearls service has you covered. Shining in 1920s-themed decor, the historic hotel in the heart of Chattanooga offers a true Gatsby-esque experience, now further elevated with this upscale amenity. Guests can now indulge in their perfectly chilled martini, made to order, and "pearls" (oysters) in the comfort of their room.