Top-tier hotels already offer enough amenities — from world-class spas to celebrity chef on-site restaurants — to make your stay over-the-top, but a guest's most priceless resource sits in plain sight smack-dab in the middle of the lobby: the hotel concierge. Waving a "magic" service wand and granting wishes might be the concierge's mantra these days. In fact, one could even go so far as to say the hotel concierge's mission is to turn the impossible into the possible.
Want an Elvis impersonator to knock on your door brandishing a breakfast tray? Perhaps you'd rather have Santa Claus surprise your children. How about a romantic holiday getaway with chilled Champagne, chocolate-dipped strawberries and your suite covered in rose petals?
Whatever your request, hotel concierges — the ultimate insiders — possess a wealth of information, the result of years spent cultivating contacts and local knowledge; and theirs is a complimentary service available to every hotel guest. Simply asking the concierge to recommend dinner or provide a map is limiting your experience. Think big — tickets to the sold-out Broadway show during the holidays, a last-minute reservation at a Michelin-starred restaurant — and let the concierge team work its magic.
As magical as 5-diamond concierge service appears, Nancy Nitsche, director of concierge services at Aria Resort & Casino Las Vegas, says the secret to successfully bringing service to life is the behind-the-scenes activity. "Granting so many requests is a product of a seamless team and high-tech savvy. Upon receiving special requests such as golf tee times, limo service, specialty shopping or restaurant reservations, our concierge team relies on our partnerships and literally toggles between 18 different computer systems to fulfill that request."
A perfect example of the complexity of Aria's cultivated partnerships is a request from the spouse of the chairman of a major Japanese car manufacturer. Nitsche says the November holiday request seemed simple at first: a $1,300 budget for a silver figurine in the shape of a Christmas tree. But calls to high-end Las Vegas shops from Tiffany to neighboring Crystals at City Center came up empty.
"Although we couldn't find exactly what she requested," adds Nische, "we offered her several alternatives, including a commissioned piece from British-born artist Tony Cragg, featured in Aria's walking art gallery collection. She thanked us for our hard work but opted for the spa instead."
Here's a behind-the-scenes look at how concierges around the world do whatever it takes to fulfill guest requests.
HIS TITLE MAY BE lead concierge at the InterContinental San Juan Resort & Casino, but in his spare time Nestor Colon can turn rain into sunshine. A rainy Caribbean holiday vacation for a family of 15 resulted in a facetious request for sunshine. Colon says, "I couldn't make the rain go away in San Juan, but I could offer them transportation 90 minutes away to enjoy the sunny pool at Holiday Inn Ponce, an IHG sister property."
After an exhilarating glacier helicopter tour, an excited couple returned to the Four Seasons Resort Whistler in British Columbia with a souvenir: a block of ice. Their request was to take a piece of their adventure home to South Carolina. Chief Concierge Hana Lynn located a freezer box and packed it with dry ice to ship by air. Two days later, the couple called to report the safe arrival of their glacier. "Definitely my most challenging request to date but also the most thrilling," says Lynn.
When guests asked to go to Chicago, JW Marriott Indianapolis Lead Concierge Doug Messinger offered to book their flight. "They instead asked for a charter jet for four people. That same day we arranged a charter service for only $4,000."
How can you improve on booking your own private island at Royal Belize for your holiday getaway? With Concierge Peter Luppi's assistance, a parent unable to join the family arranged for a helicopter gift drop on Christmas morning.
In New Zealand, when Chief Concierge Jason Eade realized the car hadn't arrived to pick up a bride at the InterContinental Wellington, he quickly helped her into the hotel's car and personally drove her to the iconic Old St. Paul's Cathedral.
A very expectant mother approached Patti Higgins, lead concierge at Waikoloa Beach Marriott Resort & Spa, requesting to give birth surrounded by Hawaiian spinner dolphins. Higgins laughs now. "Logistically and for safety reasons, I knew this would be difficult and suggested she check with her doctor, who promptly said no. The next day, I delivered a CD with whale and dolphin sounds, saying, 'If we can't bring you to the ocean, we'll just have to bring the ocean to you!' "
When hosting an overseas family of five without the father during Thanksgiving, Maribeth Denniston, concierge supervisor at Hyatt Regency Lost Pines Resort and Spa in Texas, fulfilled a special request. "To make up for also missing his daughter's birthday, the dad requested a Disney theme. We hired a 'Cinderella' to greet the birthday girl at the door and take her to breakfast at the Firewheel Café, complete with balloons, presents and a cake."
Special orders seldom ruffle the feathers of a seasoned concierge like Mary Byrd at Florida's Sandestin Golf & Beach Resort. Requests for Thanksgiving turkeys are common, yet when an extended group of family members asked for a large "turducken" for their holiday spread, Byrd only had a few days to locate this specialized bird.
Byrd explains, "This uniquely Southern Thanksgiving dish is a deboned chicken stuffed into a deboned duck, stuffed into a deboned turkey, and it's usually a special order. Fortunately, I contacted our local Fresh Market, which was able to accommodate the request in time for their holiday spread."
THE HOLIDAY SEASON is the perfect time to pop the question, and happily, all the concierges below report, "She said yes."
Pat Finderberg, guest services manager at The Parrish Collection Kauai, is often called upon to create intimate settings for proposals. For one couple, she says, "We arranged a private chef to prepare an elaborate dinner in their cottage. The finale of the cozy meal was the proposal."
In Colorado Springs, Shauna Sartori, concierge manager at The Broadmoor, lit up the room, fulfilling a proposal request with a wreath inscribed with a lighted "Will you marry me?"
Dan Bonne, concierge at The Carolina Inn in Chapel Hill, worked with the culinary banquet team to present a decorated platter with a ring inside. The newly engaged couple returned to a rose petal-covered bedroom.
Concierge Grace Kierce of Ireland's 5-star Dromoland Castle recalls her most unusual proposal request. "When a guest booked an afternoon at the Dromoland School of Falconry, we arranged for a hawk to deliver the engagement ring to his future bride."
HOTEL CONCIERGE TEAMS often face their most challenging requests from guests vacationing during the year-end holidays, yet the majority of wishes are fulfilled.
How do you decorate a hotel's Christmas tree with a Chanukah theme? That was the challenge Gilles Mauffras, chief concierge at the Four Seasons Resort Hualalai, mastered recently. Other holiday requests included implementing the cooking and delivery of kosher meals during a guest's 10-day stay.
Mauffras especially enjoys bringing the "Charlie Brown tree" out of storage each year. "The tree is very small and thin, and we set it up for one of our returning VIP guests."
A decorated tree in the suite or guestroom is a common request during the Christmas holiday, but the difficulty is the timing of the lights and keeping the tree watered to prevent a fire hazard, according to Jim Anderson, chief concierge at the Fairmont Sonoma Mission Inn & Spa. "One guest request went a step further. The parents wanted to surprise their young children by adding wrapped gifts under the tree for the kids."
Nathan Goff, chief concierge at the Boston Harbor Hotel, considers it an honor to fulfill special requests for kids, so when he heard about a family extending their hotel stay through Christmas due to the daughter's medical treatments, Goff leaped into action.
"The mother came to me in a complete panic, saying 'This will be the worst Christmas we ever had!'" recalls Goff. "I determined to change that and make it the best Christmas possible."
Multiple phone calls later, Goff arranged for gifts to be shipped from home and provided a Barbie-themed "Christmas tree" from Winston Flowers. He coordinated delivery of cookies and milk for Santa Claus on Christmas Eve and assured the kids Santa was diverting his route. Gifts were placed under the tree while they slept, along with two monogrammed hotel robes. Goff says, "This is one of the most rewarding outcomes in my 10 years as concierge!"
Mickie Adler, executive concierge at Sun Valley Resort, often provides winter coats, hats, mittens and hand warmers to unprepared families enjoying the Idaho resort's complimentary annual outdoor skating rink presentation of The Nutcracker.
The holiday spirit abounds at the Chateau on the Lake in Branson, Mo., with its Victorian-themed main floor decorated with 32 Christmas trees. Holiday carolers serenade the guests on Friday and Saturday nights, while warm cider is offered in the lobby.
Angel Russell, Chateau on the Lake's head concierge, joins the holiday festivities. "We welcome many families during the holidays, with a constant flow of holiday-themed activities," she says. "We'll host story time under one of the Christmas trees, and I'll read to the children under the two-story-tall Christmas tree. On Christmas Eve, I purchase enough stockings for all the kids and fill them with candy and fruit, placing them at the door of their rooms."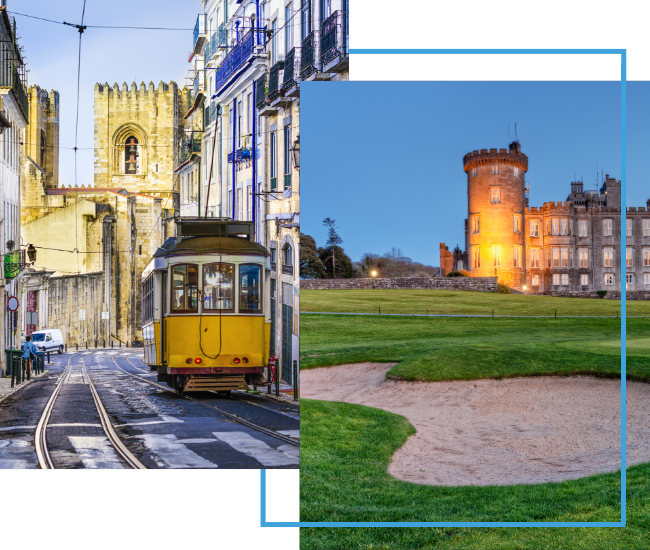 FX Excursions
FX Excursions offers the chance for once-in-a-lifetime experiences in destinations around the world.
Explore Excursions
There's no doubt the northern lights are awe-inspiring and spectacular. Unfortunately, they're also fickle and fleeting, and despite your best-laid plans of checking this item off your bucket list, sometimes Mother Nature's luminescent show just doesn't cooperate. But one cruise line has a new fail-safe in place.
Sponsored Content
In an increasingly digital and interconnected world, the Global Business Travel Association (GBTA) Convention remains an indispensable platform for business travel industry professionals seeking to make the most of the power of face-to-face connections. Taking place August 13–15 in Dallas, the 2023 GBTA Convention provides the unique opportunity for professionals and companies to join visionaries, thought leaders and industry experts for meaningful networking, cutting-edge insights and inspiring innovation.
Think you need a degree in sailing to enjoy a yachting holiday? Dream Yacht Worldwide, a leader in yacht charters, wants you to relax and enjoy the journey. Newly expanded to include the British Virgin Islands, Martinique, Tahiti and the Seychelles, the "Easy Crewed" offered by Dream Yacht Worldwide also include charter options in Greece and Croatia.