HOTEL BRANDS CATERING TO KIDS
You're sure to already have your own favorite luxury hotel brands — maybe there's one that has just the right amenities or another you can always rely on for an excellent staff, no matter where you are in the world. While you may love these brands for your own reasons, they could also offer some perks for your kids. Are you taking full advantage of these perks as more and more hotel brands begin catering to younger jetsetters?
WESTIN HOTELS & RESORTS
A limited but incredibly cool kid-friendly amenity is the in-room tents at Westin Hotels & Resorts. Suite-staying parents can request a cute, hipsteresque tent for their pint-sized traveling companions, and certain properties extend the offer further with toys and activities added.
THE RITZ-CARLTON
The Ritz Kids experience caters to children 4–12 and focuses on nature and the environment. Special activities are meant to inspire curiosity and environmental responsibility in young learners and employ the four pillars of water, land, environmental responsibility and culture. Through the program, kids can enjoy a full schedule of activities, including meals as needed.
MARTINHAL BEACH RESORT & HOTEL IN PORTUGAL'S ALGARVE
The 5-star Martinhal Beach Resort & Hotel, in Portugal's sunny Algarve, has something for every member of the family to love. For teens there's the half-mile crescent of sandy beach directly below, with kayaks and paddleboards. For younger kids there's a club, where they can join lively activities, and well-equipped play areas adjacent to all the places their parents are likely to linger over dinner or a glass of Alentejo wine. For parents there is fine dining, a serene spa and plenty of professionals on hand to amuse the children while mom and dad luxuriate.
For everyone there's the excitement of being in an exotic foreign destination on a beautiful coast that enjoys year-round sunny weather in a resort where everyone speaks English. Everything at Martinhal is designed with families in mind, whether it's a couple looking for a quiet escape with their child or a multigenerational clan on vacation.
The focus is on making life easy for families. The Baby Concierge allows guests to pre-book baby equipment such as safety gates, potty chairs, bottle sterilizers, cribs and baby baths, so traveling with an infant becomes a breeze. Babysitting is always available, and the shop in the Village Square stocks diapers and baby food.
At Raposinhos, toddlers can learn facepainting, create colorful crafts, play games and go on treasure hunts. Older kids can print their own T-shirts and make pizza. Teens can hang out in the Blue Room, playing video, board and table games. A nursery gives special attention to babies and toddlers up to age 2.
At the Explorers and Blast Club teens can learn to windsurf and go on bike tours or dolphin-watching trips. At the Sports Academy, older kids can learn — or brush up on — surfing, diving, tennis or soccer, all taught by experienced instructors. In the summer there are evening activities for all ages while parents enjoy a leisurely dinner.
While large double rooms serve couples well, families at Martinhal can choose from garden apartments or entire houses surrounded by gardens. Like all buildings at Martinhal, these are low buildings set into the natural landscape, many with sea views. Bright and airy rooms boast custom-designed furniture and décor in local woods, cork, stone, woven palm and natural-fiber upholstery. This not only reduces the resort's carbon footprint but also gives it an organic feel.
There are several swimming pools, sports courts and other facilities spread over a large area among preserved local trees and plants. Set into Europe's southwesternmost tip, Martinhal Beach Resort & Hotel is designed to fit organically into the landscape overlooking the sea.
ADVENTURES BY DISNEY DELIGHTS MANGA-OBSESSED KIDS
Do you have a young anime or manga fan in your household? In case you're not sure, the terms refer to Japanese animated films and graphic novels, respectively, and they are becoming so popular in the United States, bookstores are dedicating entire sections of their inventory to the genre, and movies are becoming increasingly available on streaming video services.
This cultural phenomenon provides good news for tourism in Japan, boosting interest to the destination among young American travelers. Of course, Japan offers an entire menu of other, more traditional attractions.
Keeping pace with this trend, Adventures by Disney adds Japan to its roster of vacation options for 2019 with a 10-night itinerary that includes visits to Kyoto, Osaka, Takayama, Hakone and Tokyo.
Best of all, the itinerary includes family-friendly, hands-on activities — like riding in a rickshaw, cycling and even cooking — that go beyond the typical sightseeing tours.
The new itinerary is just one of Adventures by Disney's menu of offerings in 2019, which also include a revamped Alberta, Canada, itinerary featuring cowboy-style rope wrangling and exploring Banff National Park and Lake Louise.
The company is already accepting bookings for all 2019 vacations.
ROYAL CARIBBEAN'S NEWEST SHIP WILL DELIGHT FAMILIES
Royal Caribbean has been in the forefront of family cruising for decades, but the new Symphony of the Seas takes it to the next level, according to Florida-based travel specialist Cruises-N-More. Highlights of the new ship, which embarked on its inaugural voyage in April, offer over-the-top entertainment, culinary adventures and amenities for families of all ages.
The largest and newest ship in the Royal Caribbean fleet, Symphony of the Seas can carry a whopping 5,518 passengers and is ramping up the fun with the line's first glow-in-the-dark laser tag game called Battle for Planet Z, as well as an Escape the Rubicon game, challenging players to solve a collection of puzzles from an escape room built in the shape of a submarine. Meanwhile, water slide fans can test their mettle on the Ultimate Abyss, the tallest slide at sea.
Family accommodations also took a leap forward with a two-level, 1,346-square-foot Ultimate Family Suite tricked out with plenty of kid-friendly bells and whistles. Picture an in-room slide, a private cinema with an 85-inch HD TV, a floor-to-ceiling LEGO wall, a 212-square-foot balcony complete with table tennis and a full-sized whirlpool, and you get the idea. Did we mention the suite also has bedrooms — two, in fact — as well as a dedicated attendant called a Royal Genie?
Since kids are notoriously picky eaters, the ship doesn't neglect the culinary part of the family cruise experience. New culinary offerings include Playmakers Sports Bar & Arcade on the Boardwalk for burgers and wings, tacos and burritos at El Loco Fresh and a dizzying assortment of candy and ice cream at Sugar Beach. Meanwhile, Mom and Dad, along with kids old enough to appreciate fine dining, can tuck into lobster rolls, freshly shucked oysters, crab claws and more at Hooked Seafood, an upscale eatery in the Solarium at the top of the ship.
Symphony of the Seas, currently sailing in the Mediterranean on seven-night cruises out of Barcelona, will make Miami its year-round home port starting Nov. 10, making it the first new Oasis Class ship to sail from Royal Caribbean's new Terminal A. The seven-night Eastern and Western Caribbean cruises will call on Perfect Day at CocoCay, Royal Caribbean's new destination in the Bahamas.
SOUTHWEST IRELAND WITH KIDS
Ireland may be a small island, but it packs quite a punch for travelers. With bustling and historic cities, wide-open countryside and rugged beaches, Ireland is a great locale for families of all ages. For those traveling with the kids this summer, explore Southwest Ireland like a pro with this must-hit list.
SURF AND SAIL
One aspect of Ireland that tends to get overlooked is the country's coastline. Head to Kinsale Harbour, one of the most famous historic harbors in Europe, and take the kids out for a sailing lesson. The waters are known to be steady and ideal for beginners. Pick a beach, any beach, and picnic with the family, jump in the water and enjoy a classic summer activity in a new way.
EXPLORE SEA LIFE
Adventure travelers and active locals know Southwest Ireland to be a top destination for caving and sea exploration, but there is a kid-sized marine world to explore. Get out and observe varied species of dolphins, whales and sea life from a rented boat or cruise. The kids may be tempted to jump in and swim with the wildlife in their natural habitat.
ROAM THE COUNTRYSIDE
When you picture Ireland, you may see rolling green hills, castles and incredible natural beauty — you're right. Book a tour and explore with a local expert and enjoy your freedom to roam, or head to the famous pass through The Gap of Dunloe. Walk along mountain ranges or rent bikes and explore local paths through Macgillycuddy's Reeks. The path extends seven miles through beautiful varied terrain.
Bring the kids to Killarney National Park, a UNESCO Biosphere Reserve and Special Area of Conservation, and head out on a hike. Watch for rare local red deer and feel transported to another realm with views of dreamy forests and seemingly untouched lakes.
Rent a car and roll from town to town on a mini road trip, perfect for the kids' attention spans and for maximizing your time in Southwest Ireland.
LEGOLAND BEEFS UP ACCESSIBILITY
Since LEGOLAND's Florida property opened in 2011, the theme park has been exceptionally accessible and accommodating for children with special needs, both physical and cognitive. Already featuring a range of offerings catering to all kids, LEGOLAND announced an expansion of its efforts for families traveling with special needs.
BEFORE YOUR VISIT
Take advantage of the park's pre-arrival services. Check out the Special Situations section under Planning Your Visit on the site and read through the Guide for Guests with Disabilities and learn all about the park's guest services. Get to know the park map and feel more confident navigating the various guest services, rides and important concession stands, including first aid and lost and found, before your trip. Read up on the best places to stay and visit for your family, from the water park and accessibility features to live shows and seasonal events.
Does your family have dietary restrictions and allergies to consider? No problem. Read through the extensive list of dining options and locations based on your dairy-free, soy-free, tree nut-free, egg-free, glutenfree diets. Search by vegan and vegetarian options and come prepared, or download and print the document to take with you.
AT THE PARK
If you ever need assistance while at the park, head to guest services. Located near the entrance and exit of both parks, the well-trained staff can assist your family with any last-minute issues and questions.
While at Guest Services, families with limited mobility may want to opt for a Hero Pass at no additional cost. Available for guests in wheelchairs or unable to wait on line for an extended period, the pass allows the guest expedited access with the help of LEGOLAND staff.
Don't forget about all of the extra and incredibly helpful services available on site, such as specifically designed spaces including Baby Care facilities, first-aid rooms and sensory-sensitive quiet rooms, complete with noise-cancelling headphones, weighted comfort blankets and plush toys for guests who may need a break.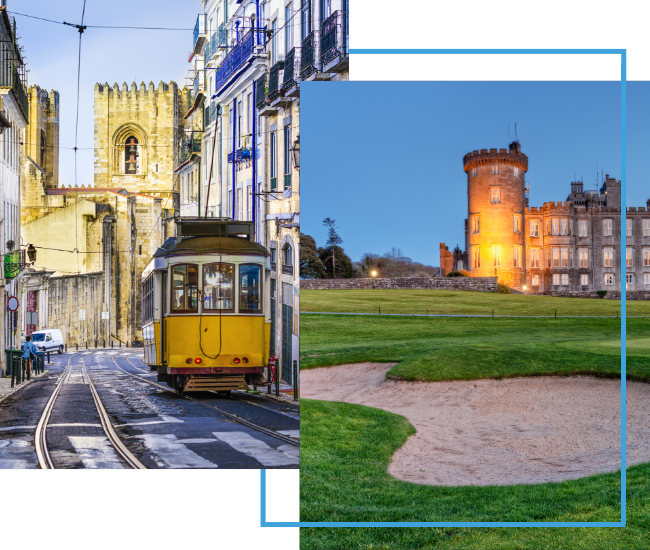 FX Excursions
FX Excursions offers the chance for once-in-a-lifetime experiences in destinations around the world.
Explore Excursions
A new and expanded campus at the Buffalo AKG Art Museum has been completed, reopening this summer and featuring new architecture designed by the architectural office of OMA New York, led by partner Shohei Shigematsu and project architects Lawrence Siu and Paxton Sheldahl, with Cooper Robertson (executive architect). The new expansion includes the Jeffrey E. Gundlach Building and extensive renovations to existing buildings. A $20-million commitment from New York State and Governor Kathy Hochul helped fulfill the expansion's budget and completes the $230 million capital campaign, the largest campaign for a cultural institution in the history of Western New York State.
Sponsored Content
IHG Hotels & Resorts is thrilled to announce the launch of a new mobile product feature for members: IHG Wi-Fi Auto Connect. This feature is now available exclusively in the IHG One Rewards mobile app for both iOS and Android users and will automatically connect IHG One Rewards members to WiFi upon arrival at more than 5,000 IHG hotels worldwide — no separate passwords or log-ins needed. This is in addition to the exciting benefits of being an IHG Business Edge member. IHG Business Edge provides small- and medium-sized businesses access to a user-friendly portal that displays comprehensive spending and savings data while providing the convenience of direct booking with a guaranteed discount.
Ever since opening in 2021, Nobu London Portman Square has served as the focal point for many gatherings, stays and experiences. This fall the hotel's Nobu Bar adds four more reasons to visit with an exciting array of offerings, menus and events.