The Newbury Boston, adjacent to Boston's Public Gardens, reopened in May 2021 under management by Highgate, a leading real estate investment and hospitality company and member of Leading Hotels of the World. When I arrived via a 3.5-hour Amtrak Acela train from Manhattan to Boston South Street Station, a "Red Cap" carried my luggage directly to the taxi stand. The driver recognized the address but not the hotel name; perhaps because the luxury property made its debut as one of the first The Ritz-Carlton properties in the United States (1927) and was a Taj hotel from 2006 to 2019.
The extensive renovation and redesign, led by Jeffrey Beers International design firm, retained historic details of the neoclassical building: high ceilings, marble columns and original cobalt blue chandeliers. The Nero Dorato marble-floored lobby houses the rosewood check-in desk, concierge counter and lobby elevators. The elevators are flanked by The Library, where in-house guests gather for complimentary coffee, cold drinks and pastries at tables or on couches backed by bookcases and a wall of portraits by acclaimed photographer Yousuf Karsh. Also near the elevators lies the 1920s-style STREET BAR, with its fireplace; dark woods; leather barstools; and a New England-inspired, all-day food and beverage menu.
The striking classical staircase (with its original banister) is topped by a massive chrome chandelier that looks like a lighted sculpture, inviting guests to 16,000 square feet of newly transformed, second-floor event spaces. Curated artwork by Mike Carroll and Lynne Kortenhaus are displayed throughout these public spaces.
From the elevator on the 17th-floor rooftop restaurant, CONTESSA, operated by Chef Mario Carbone's Major Food Group, the host leads guests through warmly decorated spaces designed by Ken Fulk to the glass-walled "grand trattoria," which showcases a 360-degree view of high-rise towers surrounding the Boston Public Gardens below. The dining room boasts Scrabble board-tile floors, potted plants, pink and blue velvet upholstery and fringed lampshades and two-tops that line the modern glass wall, where sliding doors and retractable panels open to the terrace.
Our dinner featured a series of well-executed, Northern Italian-inspired dishes. We started with a squash carpaccio and spicy lobster capellini, we shared the veal Milanese and still had a piece to nibble on the train to Manhattan. We also shared a layered tiramisu served in a glass. Meatballs Aldo, grilled Branzino, buttered chicken and a selection of smaller bites are also found on the menu.
Acclaimed interior design firm Champalimaud Design decorated the 286 hotel rooms and suites. The contemporary ambiance starts with landscaped murals and plaid-carpeted corridors leading to rooms where handcrafted woods, herringbone accents and marble touches add texture to a calming color palette of blues, greys and creams. Park View rooms overlook the Public Gardens through beautifully framed window nooks outfitted with blue velvet seating. These rooms display original artwork by illustrator Veronica Lawlor and a multitude of amenities: in-room Nespresso Vertuo espresso machines, exclusive Byredo "Willow" bath products and Frette linens. Among the 90 suites, 42 are fitted with a wood-burning fireplace, as was mine. The corner suite had a separate living room with a couch, dining area and fireplace, plus a fireplace menu offering a selection of woods. I chose birch to remind me of family vacations in a lakeside, birch-log cabin in New Hampshire.
The hotel's Fireplace Butler inserted strips of cardboard between each crumpled sheet of paper (a fire-starting technique I'd not seen before). The menu also offers in-room bites and drinks. The roaring flames were a treat, even alone and watching the TV above the fireplace; dogs probably love sitting by the fire, too, at this pet-friendly hotel.
The most extravagant "Presidential" suites include The Mansion with its fireplace, and The Corner House; both have floor-to-ceiling park views and — with the addition of a second bedroom — are sized at about 2,000 square feet.
The Newbury's prime Back Bay location is near historic sites, galleries and designer boutiques; lobby doors connect to Tiffany & Co. and Zegna, while Chanel and Burberry are Newbury Street neighbors. Copley Square, Trinity Church and the Boston Public Library are a short walk away, as are two restaurants on nearby Boyleston Street, with outdoor seating: The Parish Café, where Boston's best chefs designed the supersized meatball, buttermilk chicken and spicy tuna sandwiches; and Tatte Bakery, a French-styled boulangerie, with authentic croissants, tartines and croque madames.
Although I didn't have time to walk the Freedom Trail, take The Old Town Trolley Tour or tour the John F. Kennedy Library, my priorities were to visit the impressionists and American Collection at the Boston Museum of Fine Arts and the John Singer Sargent portraits at the extraordinary Isabella Stewart Gardner Museum. It was too short a trip, but an easy one via Boston's Back Bay Station and the Amtrak NE Regional train ride home to New York.
1 Newbury St.
Boston, MA 02116
tel 888 974 3948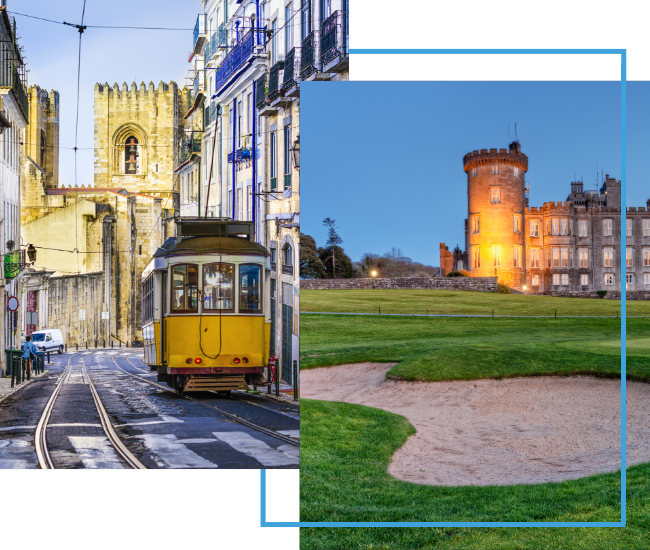 FX Excursions
FX Excursions offers the chance for once-in-a-lifetime experiences in destinations around the world.
Explore Excursions
More than 22 million visitors pour into Bangkok each year, adding to the roughly 11 million residents of the Thai capital famous for its bustling streets. Packed with food carts, markets and cultural spectacles, life in Bangkok is unusually defined by its vibrant street scene, both day and night. That means you don't necessarily need a solid plan when heading out on any given evening.
Sponsored Content
Whether it's the people, the craic (fun) or the coasts, travelers always find something to love about the island of Ireland. What fills your heart?
As first-time restaurateurs, but with plenty of hospitality-related experience, Ria and Kevol (Kev) Graham were not entirely comfortable opening their first restaurant in the Brooklyn neighborhood of Williamsburg, where several upscale restaurants and 5-star hotel dining is just a block away. And to make matters worse, they opened in July 2020, when New York City was in the middle of the COVID-19 pandemic.