James A. Michener called Bora Bora, "the most beautiful island in the world," and his "Bali Hai," immortalized in song in the musical South Pacific, is believed to have been modeled on Moorea. Painter Paul Gauguin came to Tahiti for inspiration and W. Somerset Maugham's novel The Moon and Sixpence was inspired by that artistic journey. French Polynesia continues to create wonder in those who visit —and you can experience it in just one week on our best-selling itinerary.
As the specialists to this idyllic region, Paul Gauguin Cruises reveals the ancient traditions, breathtaking scenic beauty, easygoing spirit and warm hospitality of French Polynesia as no one else can. We have also been given the honor of being voted Global Traveler's Best Small-Ship Cruise Line winner 2018 for the third consecutive year.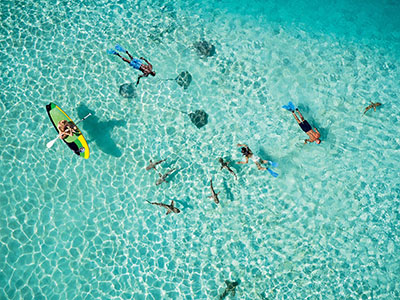 Designed specifically to sail these turquoise waters, the ship's informal ambience reflects the relaxed nature of the region. The Gauguin also brings on board the Polynesian culture and joie de vivre that only the experts to the region can share. A much-loved troupe known as Les Gauguines — Tahitians who serve as staff, entertainers and storytellers — add a uniquely South Pacific touch to life on board. Best of all, The Gauguin offers an all-inclusive experience, with airfare from Los Angeles (LAX) and ground transfers in Tahiti, with luxurious ocean-view accommodations, gratuities, 24-hour room service, bottled water, soft drinks and select wines and spirits, private beach retreats, guest hosts and lectures and entertainment included throughout your voyage — all included in the cruise fare.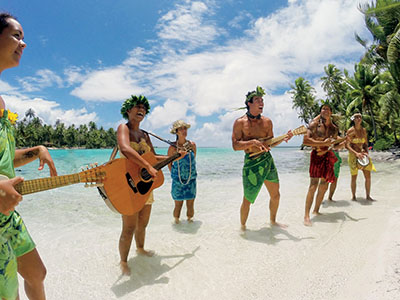 All along the way, you'll enjoy warm Polynesian hospitality, luxurious amenities, gourmet dining and our extraordinary all-inclusive value — all at savings of 50 percent off standard cruise fares plus included round-trip airfare from Los Angeles! And don't miss out on the opportunity to take advantage of our other current promotions. For more information or to make a reservation contact your travel advisor, call 877 440 6114 or visit our website.
https://www.youtube.com/watch?v=ysjgm4dEzMY
FX Excursions
FX Excursions offers the chance for once-in-a-lifetime experiences in destinations around the world.
It's time to start dreaming of your next trip. Here's some destination inspiration for you. Take a visual journey through Santorini, Greece, with us.
Sponsored Content
IHG® Business Edge: Working Together with SMEs for a smarter way to manage travel
COJE Management Group raised the bar when it comes to cuisine and cocktails. The Boston-based group, founded by Chris Jamison and Mark Malatesta, offers guests the ultimate dining experience with old-world hospitality and an array of cuisines for every guest to enjoy. With culinary director Tom Berry incorporating the cuisines he encountered during his travels to South America, Cuba, Japan, Southeast Asia and France, each restaurant has distinguished itself as a must for anyone visiting Boston and each is designed exclusively in-house using inspiration from different regions and countries around the world.