Throughout Georgia, streets and squares bear the name of Shota Rustaveli, a medieval Georgian poet and a key figure in the country's history. Although Georgians take great pride in their long history (founding Tbilisi in the sixth century), they especially savor more recent events when Georgia declared its sovereignty over Soviet laws. Renamed the Republic of Georgia in 1990, it gained independence before the dissolution of the Soviet Union in 1991.
Since then Tbilisi, Georgia's capital, enjoyed increases in international business opportunities, a surge in the restoration of former Soviet buildings, new mixed-used projects and a fast- growing tourism and hospitality industry.
Rustaveli Avenue begins at Freedom Square and extends almost a mile through the city. This center of Tbilisi holds many governmental, cultural and business facilities. Stroll down Rustaveli and feel the city's vibrant energy as businesses, cultural venues, hotels and restaurants cater to locals and international visitors.
Fabrika, one of Tbilisi's most successful urban projects, features a multifunctional industrial space. Once a Soviet-era sewing factory, part of the building now houses a youth hostel, but people of all ages fill its public courtyard and its cafés, bars and boutique shops run by local entrepreneurs. Enriched with colorful and raw materials like wooden planks and metal stairways, along with an array of vintage furniture, it symbolizes the city's modern and youth-oriented environment. Located in old Tbilisi on the bank of Mtkvari River, Fabrika brings a once-forgotten neighborhood back to life.
The Adjara Group, developer of Fabrika, also began work on Radio City in the Gldani-Mukhiani district. The renovated former radio factory will provide a center for creative industries and startup innovators in a unique ecosystem of shared workspaces, shops, restaurants, bars and entertainment and event venues. The project will unite more than 10 industries and 35 sectors and support more than 200 economic activities.
In 2019 Tbilisi's mayor, Kakha Kaladze, convened a meeting on the fate of the city's Soviet mid-century residential apartment blocks, known as khrushchyovkas (a reference to Nikita Khrushchev). Although many residents relate these buildings to the harsh times under the Soviet Union, others appreciate the spacious courtyards and family-oriented design. While new construction replaces many Soviet-era buildings, private contractors rehabilitate others.
Georgia ranked seventh in the World Bank's Ease of Doing Business 2020 rating of 190 countries and No. 2 for ease of starting a business. "Entrepreneurs in Georgia can, for example, transfer a property title within one day and at no cost," said Valeria Perotti, program manager, the World Bank's Doing Business unit. "Georgia started reforming in 2004 and went ahead of many of its peers."
Georgia also gets high marks for the 51 reforms made over the past 17 annual reports, including widespread use of electronic platforms for business. Sitting at a geopolitical crossroads, Georgia can export to Turkey, the European Union and the former Soviet republics; it seeks a similar free-trade accord with the United States.
A recent success story in Tbilisi's startup community emerged in 2021, when U.S.-based SpinCar, a global company specializing in digital automotive merchandising, acquired startup Pulsar AI. The startup created a virtual sales assistant technology, one of the most advanced automated conversational AI platforms in the automotive industry.
According to Georgia's Ministry of the Economy, the Pulsar AI deal was worth tens of millions of U.S. dollars. Pulsar AI's technology research and development team continues to work in Tbilisi while the business team moved to California. It marks the first Georgian high-tech startup to successfully reach the global market, but others are close behind.
Wine and fruit exports also play a big role in Georgia's business growth. In 2021 the total revenue from exports of walnuts, mandarins, peaches, nectarines, apples, persimmons and blueberries amounted to a record $213 million.
Where would you take visitors to introduce them to interesting people and off-beat places in Tbilisi?
Georgia offers many interesting people and magical places to visit. But walking in Tbilisi, just before the Botanical Gardens, you end up in a narrow entrance with stairs leading to the apartment of Mr. Tamaz (ask anyone in the area and they will take you there). Mr. Tamaz is the last master of Georgian silver and gold crafting on accessories. He is almost 90 years old but looks 60. Together with my father, he was one of the first Tbilisi residents to bring back the chokha, a wool coat traditionally worn by men, with folds on the chest, later made to hold bullets and gunpowder. Now the folds are ornamental. It originated in Persia and came to Georgia around the ninth century. Many Georgian men and women brought it back as a source of national pride after claiming independence in the 1990s. Mr. Tamaz speaks six languages, and he and his lovely wife may invite you to enjoy tea and sweet preserve, good homemade wine and lots of amazing stories about Tbilisi. You will see his amazing work and his small studio. And in Georgia you never leave without a small gift.
In the decades since independence, has Tbilisi become a better city for artists, film makers, designers and architects?
Georgians have art and culture in their genes, transmitted from generation to generation. Georgia remains the regional capital of art and culture, despite many challenges. We are witnessing the development of an amazing generation of artists, musicians, painters, singers, dancers, writers, designers, poets … you name it! This is our identity, what makes us all proud to be Georgians.
Tell us about your roles as an actor and TV personality, and recently in the hotel business.
I have acted in films since the age of 11, first in Georgia and then in Los Angeles from 1990 to 1998, before returning to Tbilisi and hosting several TV programs, which I continue to do. In 2017 I got involved in the hotel business, and I am proud of my 15-room Kisi Boutique Hotel in the heart of the old city, close to the Botanical Gardens. My staff and I created a wonderful family atmosphere, and it's the first and only hotel in Georgia with a charming cat who greets guests like a well-behaved staff member.
DIVERSIONS
The Tbilisi Funicular climbs to Mtatsminda, a leisure and amusement park overlooking the entire city. Enjoy a drink at the restaurant at the top along with the view, especially at sunset.
Located near Freedom Square, Art Museum of Georgia exhibits approximately 140,000 items of art representing various cultures and time periods. Also visit the Georgian State Museum of Theatre, Music, Cinema and Choreography (known as Art Palace) to view important cultural objects in an iconic building incorporating Gothic and Islamic architecture.
Gabriadze Theatre, founded in 1981, now houses the Georgian Marionette Theatre. The building features a magnificent though quirky clock tower where figurines perform daily at noon and 7 p.m.
Rike Park Concert Hall and Exhibition Center boasts a beautifully designed glass and steel venue in the middle of a park, with an aerial tramway nearby. Take a short walk to explore the National Botanical Gardens with the Leghvtakhebi waterfalls and the unique Peace Bridge.
Plan a daytrip to Mtskheta, a UNESCO World Heritage site inhabited since 1000 B.C. Just 12 miles (20–25 minutes by taxi) from Tbilisi at the confluence of the Mtkvari and Aragvi rivers, Mtskheta sits astride an ancient trade route. Excavators have found glass perfume bottles, Greek and Aramaic writings, pottery, metalwork and jewelry; and the town's museum displays examples.
LODGING
The Biltmore Hotel Tbilisi
Located in Tbilisi's tallest skyscraper, resembling a cascade of water, the 214-room luxury hotel offers WiFi, upscale bath amenities, a spa and beautiful views. Dining options include a sushi restaurant and a trendy cocktail bar.
29 Shota Rustaveli Ave.
$$$
Stamba Hotel
This 62-room Design Hotels property repurposes industrial features of a former printing house for a 1930s retro look with a contemporary edge. Don't miss the rooftop pool, lobby vertical garden and Tbilisi Photo and Multimedia Museum.
14 Merab Kostava St.
$$$
Tbilisi Marriott Hotel
Opened in 1911 as an opulent mansion-style hotel, the 5-star Tbilisi Marriott offers 116 rooms and 11 suites. Façades retain their original design; rooms with courtyard views feature balconies. Amenities include marble bathrooms, WiFi, a 24-hour fitness center and Executive Lounge.
13 Shota Rustaveli Ave.
$$$
DINING
Barbarestan
The family restaurant bases recipes on Chef Barbare Jorjadze's cookbook of Georgian classics. The atmosphere reads somewhat formal, with lace tablecloths, and menu items include rabbit wrapped in ham, pumpkin patties and cherry soup with mint, all made with local ingredients.
132 Davit Aghmashenebeli Ave.
$$$$
Racha
This popular tavern serves affordable Georgian classics to locals and visitors. From the dining room peek into the kitchen and watch the staff making khinkalis (steamed dumplings). Try mtsvadi (pork skewers with tkemali plum sauce).
4 Mikheil Lermontovi St.
$$
Zala Restaurant
Zala transformed a women's school into a lovely brick venue with a historic arched wine cellar and windows overlooking the charming old Vera neighborhood. Try the beef steak with Saperavi wine sauce and tashmijab (potato purée and Sulguni cheese).
2 Belinski St. $$
JUST THE FACTS
Time zone: GMT +4
Phone code: Country code: 995 City code: 32
Currency: Georgian lari
Key industries: Steel, machine tools, electrical appliances, mining (manganese, copper, gold), chemicals, tourism, wood products, wine
INFO TO GO
Shota Rustaveli Tbilisi International Airport lies 11 miles southeast of the city. A new arrivals terminal opened in 2017 and offers car rentals and taxi service (20–30 minutes to the city; $8–16). The Airport Rail Station (200 feet from the terminal) offers direct trains to/from Tbilisi Central Railway Station (35 minutes; $0.50).
OFFICIAL LANGUAGE
Georgian (English is the official second language)
COMING AND GOING
U.S. citizens need a valid passport to enter Georgia and may reside, work or study in Georgia without a visa for up to 365 days. U.S. citizens who overstay the permitted 365-day period are subject to a fine.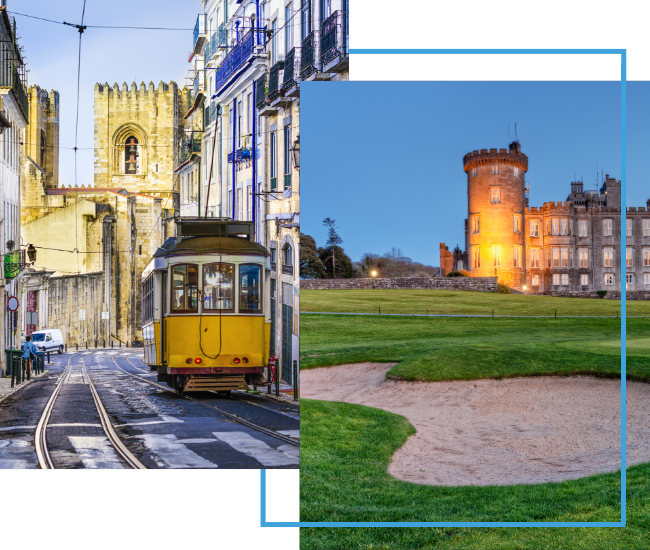 FX Excursions
FX Excursions offers the chance for once-in-a-lifetime experiences in destinations around the world.
Explore Excursions
If fabulous food and beverages are a must-have for any weekend getaway, then look no further than the City of Brotherly Love. Whether your palate has a penchant for vibrant Latin American fare or cozy French cuisine, whether you're an oenophile looking to swirl, sniff and sip your way around the globe or you'd rather sample farm-to-glass cocktails, Philly's got it all this fall. (With the exception of Bolo, which is a short taxi or Uber ride away and definitely worth the trip, the rest of these spots are all within walking distance of each other.)
Sponsored Content
Whether it's the people, the craic (fun) or the coasts, travelers always find something to love about the island of Ireland. What fills your heart?
From Santoríni to Dubai to New York, some hotels just have that "it" factor that draws visitors far and wide. For some hotels it's their proximity to popular landmarks and attractions, for others it's their amenities. But these hotels have something few can claim: a true room with a view.