In a city spilling over with romantic addresses, the boutique, 5-star, luxury Palazzo Venart in Venice, Italy, offers visitors a newly renovated choice. Once lying in ruins, the property has undergone an extensive two-year restoration overseen by Venetian art historians. The building's original frescoes dating to the 1800s once again adorn ceilings and walls in resplendent colors, with original tempera fresco paintings showing scenes of long-ago social gatherings. Rooms are filled with silks and brocades, chandeliers and lovely Venetian furnishings.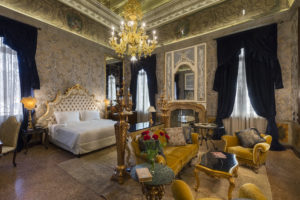 Each of the 18 guestrooms and suites bears a familiar name from the city's rich history, including Marco Polo, Lord Byron, Casanova, Titian, Murano and Dandolo. For dining, there's the two-Michelin-starred Ristorante Glam overlooking the Grand Canal and the hotel's inner courtyard. Under the direction of Enrico Bartolini, the menu features contemporary Italian dishes. Palazzo Venart is part of the LDC Italian Hotels collection, with spectacular properties in some of Italy's most-loved cities. The brand's acronym, LDC, stands for Luxury, Dreams and Culture, and that's the experience guests can definitely expect.
FX Excursions
FX Excursions offers the chance for once-in-a-lifetime experiences in destinations around the world.
Ah, the romance of train travel ... even commuters feel it. There's something oh so Alfred Hitchcock, Agatha Christie and Harry Potter about chugging down a track on the way to some wonderful — perhaps even mysterious — destination, your bag neatly tucked above you, a book in your lap, your journey ahead. The scenery outside passes by like a film in fast motion. The seats (comfortable on most global trains, even in second class) feel like super-plush movie theater lounge chairs. Each train car, like a narrow living room, boasts its own mood depending on fellow travelers and the ministrations of attentive staff.
Sponsored Content
Nashville's once-modest skyline continues to evolve as its luxury market grows. Lavish hotel properties are added to the landscape while acclaimed chefs stake claim in the robust culinary scene and premier cultural offerings round out the city's repertoire.
It's time to start planning your next trip. Take a visual journey through these U.S. locations where historically significant moments in the Civil Rights movement occurred.