In a city spilling over with romantic addresses, the boutique, 5-star, luxury Palazzo Venart in Venice, Italy, offers visitors a newly renovated choice. Once lying in ruins, the property has undergone an extensive two-year restoration overseen by Venetian art historians. The building's original frescoes dating to the 1800s once again adorn ceilings and walls in resplendent colors, with original tempera fresco paintings showing scenes of long-ago social gatherings. Rooms are filled with silks and brocades, chandeliers and lovely Venetian furnishings.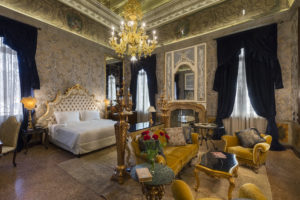 Each of the 18 guestrooms and suites bears a familiar name from the city's rich history, including Marco Polo, Lord Byron, Casanova, Titian, Murano and Dandolo. For dining, there's the two-Michelin-starred Ristorante Glam overlooking the Grand Canal and the hotel's inner courtyard. Under the direction of Enrico Bartolini, the menu features contemporary Italian dishes. Palazzo Venart is part of the LDC Italian Hotels collection, with spectacular properties in some of Italy's most-loved cities. The brand's acronym, LDC, stands for Luxury, Dreams and Culture, and that's the experience guests can definitely expect.
FX Excursions
FX Excursions offers the chance for once-in-a-lifetime experiences in destinations around the world.
I imagine that when writer Hans Christian Andersen mused, "Life itself is the most wonderful fairy tale," he was standing at the edge of Copenhagen's historic Tivoli Gardens, one of his favorite haunts, enlivened by the swirl of human happiness that surrounded him: children laughing; carousels spinning; games of chance played for prizes; lovers holding hands; hungry people whispering over sweets, hot drinks, beer and towering, open-faced smørrebrød, Denmark's quintessential sandwich. That fairy tale lives on today at the second-oldest amusement park in the world, a spectacle of folly architecture, bakeries, gardens, rides, restaurants, puppet shows and joy ... and which also happens to be one of the city's most storied places to convene for business.
Sponsored Content
Since its prestige for attracting the world elite grew in the 1960s, Greece remains the go-to destination for glittering holidays. Each step of the journey is enrobed in luxury, from culinary traditions with the highest standard of execution and name-brand, high-end shopping to first-rate wellness locales and elite accommodations, like 5-star hotels, private villas and yachts.
The restored Park Hyatt Toronto reopened its doors, bringing luxury, sophistication and glamour alongside a nod to the hotel's Canadian heritage. Alessandro Munge of Studio Munge collaborated on the hotel's refresh, drawing inspiration from Canada's seasons and natural landscapes.