In a city spilling over with romantic addresses, the boutique, 5-star, luxury Palazzo Venart in Venice, Italy, offers visitors a newly renovated choice. Once lying in ruins, the property has undergone an extensive two-year restoration overseen by Venetian art historians. The building's original frescoes dating to the 1800s once again adorn ceilings and walls in resplendent colors, with original tempera fresco paintings showing scenes of long-ago social gatherings. Rooms are filled with silks and brocades, chandeliers and lovely Venetian furnishings.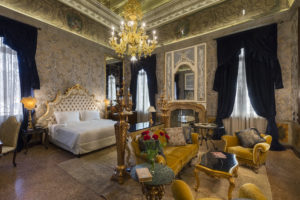 Each of the 18 guestrooms and suites bears a familiar name from the city's rich history, including Marco Polo, Lord Byron, Casanova, Titian, Murano and Dandolo. For dining, there's the two-Michelin-starred Ristorante Glam overlooking the Grand Canal and the hotel's inner courtyard. Under the direction of Enrico Bartolini, the menu features contemporary Italian dishes. Palazzo Venart is part of the LDC Italian Hotels collection, with spectacular properties in some of Italy's most-loved cities. The brand's acronym, LDC, stands for Luxury, Dreams and Culture, and that's the experience guests can definitely expect.
FX Excursions
FX Excursions offers the chance for once-in-a-lifetime experiences in destinations around the world.
News of climate change and its impact on the Earth and our environment has been harsh, to say the least. In fact, the American Psychological Association defines the term "eco-anxiety" as "a chronic fear of environmental doom."
Sponsored Content
Exclusive Sailing with Global Traveler
Truly the city that never sleeps, Berlin's nightlife scene proves more marathon than sprint. Nightclubs don't start thumping until well after midnight, and Berliners wait until the wee hours to hit the dance floor. For an earlier start, the German capital boasts more than 40 theaters and stages, while its bar scene also impresses with its depth and variety.