Half-timbered houses cluster around old churches with needle- thin spires. Grassy paths lead into thick pine forests. Jagged, sheer-sided mountains frame peaceful Alpine meadows. Welcome to the Dolomites — 18 peaks rising to more than 10,000 feet in the northern Italian Alps — designated a UNESCO World Heritage site.
In summer, wildflowers carpet the high meadows where sweet-faced cows create random melodies with their cowbells. Warm weather attracts hikers, climbers, cyclists (electric bikes are available in summer), hang gliders and abseilers from around the world.
You'll certainly find many high-end, chalet-style hotels and restaurants, but the Dolomites also offer numerous family-friendly, reasonably priced options, especially when compared to the chic ski resorts in the French, Swiss and Austrian Alps. Rifugi or hütte (quaint huts in spectacular on-mountain settings) offer authentic and inexpensive experiences. Mostly accessible by foot or on skis, many open only in the summer months while others welcome guests all year for meals and overnights. Visit rifugios.net for up-to- date information.
Hikers and mountain bikers will want to download the free maps.me app. It shows all the trails and footpaths and, once downloaded, can be viewed offline. Tre Cime di Lavaredo (Three Peaks) offers one of the most iconic hikes, featuring easy-to-moderate inviting paths, massive sandstone monoliths and lush valleys. The hike to Lago di Sorapis proves much more challenging, taking a good four hours roundtrip through meadows and pine forests before hitting the difficult part — metal stairs, ladders and cables along a narrow ledge of rock — before reaching the milky-blue glacial waters of the lake. But don't miss the easy 20-minute circuit around Lago di Carezza, an emerald lake surrounded by misty spruce forests and looming mountains, boasting stunning sunset views.
A favorite hideaway of European royalty in the 19th century, the historic spa town of Merano now enjoys reinvigoration with the present-day search for wellness. Terme Merano offers detox therapy, thermal pools, a snow room and treatments using unique ingredients like organic whey or fine marble sand for exfoliations from Venosta Vallex. At Val Gardena's Adler Spa Resort Dolomiti, opt for the organic hay sauna, a blossom steam bath or a soak in an otherworldly subterranean salt lake. Although today's sleek, modern spas offer the latest therapies, most also rely on age-old cures like hot soaks, vigorous massages and clean mountain air. Be aware most of the saunas are gender-mingled, and nude or partially towel-wrapped bodies are the norm.
History buffs can sign up for World War I tours to experience artifacts, trenches, tunnels, forts, bunkers, parapet walks and via ferratas. Italian and Austro- Hungarian troops fought ferocious battles among these steep, ragged cliffs. Erwin Rommel, the famed German general known as the Desert Fox in World War II, fought in these mountains as a young officer in World War I. The dead from both sides rest in small hillside cemeteries framed by low stone walls and overgrown with tall grass and wildflowers. Download battlefield maps at altabadia.org or book with a specialty tour operator like Scott Dunn (scottdunn.com), who offers four days/three nights accompanied by a historian and experienced mountain guide.
In winter the mountains transform into a paradise for skiers with some of the longest continuous runs in Europe. Buy the Dolomite Super Ski Pass to get access to the entire region — more than 740 miles of pistes connected by 450 lifts. First-time skiers can head to Cortina Ski School, the first Italian ski school, founded in 1933. Book the Smart Ski Course (six-hour lesson), then hit the slopes. Almost half of the slopes in Cortina d'Ampezzo are beginner-friendly. Mid- grade skiers will want to spend time in and around Alta Badia, known for winter hiking trails and cross-country skiing but also more than 80 miles of downhills. Val Gardena always draws powder hounds and heli-skiers. Must-tries for experienced skiers include carving, telemark skiing, twin-tip freestyling and off-piste skiing — all with the help of an expert mountain guide.
Strap on snowshoes for incredible winter hiking. One of the best, the Cinque Torri hike in the Eastern Dolomites offers a moderate, 4.5-mile circular hike that takes three to four hours to complete. Explore other winter sports such as sledding, tobogganing, fat-bike touring, snowmobiling and dogsledding.
To ski and eat, sign up for the Santa Croce Gourmet Ski Tour out of Alta Badia. You can indulge in the entire hut-to-hut feast without removing your skis. Non-skiers may take a cable car directly to one of the mountaintop restaurants serving local cuisine along with panoramic views. Try the savory speckknödel (bacon-speckled dumplings in beef broth) or kaspressknödel, dumplings made with local mountain cheese. If there's game on the menu, order it. For dessert: strauben (like funnel cake but different) or the truly decadent Kaiserschmarrn (shredded sweet pancakes topped with stewed berries, powdered sugar and fresh whipped cream).
Après-ski? Selva and Cortina prove popular with the ski-hard/party-hard crowd; Livigno offers more than 150 bars. Must-try: bombardino, Italy's favorite winter drink, combining creamy egg liquor with brandy and topped with whipped cream and cinnamon … warm and reminiscent of an ultra- boozy eggnog.
Don't miss the fairy-tale village of Santa Maddalena, located in Val di Funes; Alpe di Suisi and its undulating, high-mountain meadows dotted with charming wooden farmhouses; St. Johann in Ranui church, a tiny whitewashed church with mountains looming above; and Gardena Pass, a high mountain pass with hairpin turns and dramatic scenery … not for the faint-hearted.
LODGING
Forestis Dolomites
Surrounded by dense forests and snow-dusted peaks, this retreat offers minimalist interiors with floor- to-ceiling windows and fireplaces indoors and out. Enjoy a nature- based wellness program; farm-fresh dinner with sunset-over-the-summit views; and drinks infused with local herbs, berries and fir needles.
Palmschoss 22, Bressanone
$$$$$
Hotel & Spa Rosa Alpina
The charming and convivial family- owned, 70-year-old resort, now part of the Aman portfolio, boasts luxurious accommodations and heartfelt hospitality. Tastefully designed with antiques, fresh flowers and frescoed walls, it offers a family pool plus roaring fires in winter.
Strada Micurà de Rü 20, San Cassiano
$$$$$
Hotel Miramonti
The elegantly unfussy mountain hideout perfect for couples and young families boasts a minimalist but cozy interior with warm woods and contemporary furniture. Enjoy the glass-enclosed restaurant with off-the-charts views and a Finnish sauna and onsen. Land Rover shuttle to skiing.
Via San Caterina 14, Avelengo, Merano, South Tyrol
$$$$
DINING
AlpiNN
A spectacularly cantilevered glass box with wraparound views extends out from the Lumen Museum of Mountain Photography. Ask for a window table and enjoy a seven-course, hyper-seasonal, über-local menu. Accessible by cable car.
Plan de Corones 11, Brunico
$$$$$
The Restaurant St. Hubertus
The 10-table, 3-Michelin- starred restaurant helmed by legendary chef Norbert Niederkofler touts a no-waste Cook the Mountain philosophy, meaning fresh, seasonal and local. The superb wine list features many from South Tyrol.
Hotel Rosa Alpina, Strada Micurà de Rü 20, San Cassiano
$$$$$
Rifugio Ütia de Bioch
A slope-side, family-owned restaurant at the top of the Bioch chairlift features a wood interior and Tyrolean décor. Traditional dishes include polenta with wild mushrooms and apple strudel with hot vanilla sauce, alongside local wines.
Piz Sorega – Loc. Bioch, Badi
$$
INFO TO GO
The drive from Austria, Germany or Switzerland takes four to six hours, depending on traffic and weather. Major airlines fly into Venice Marco Polo Airport; rent a car and drive 2.5 hours to Bolzano or two hours to Cortina d'Ampezzo. Road signs are in Italian and German, but English is widely spoken in most tourist-friendly cities. Most major credit cards are accepted, but carry euros for the smaller restaurants and some rifugi. Audley Travel (audleytravel.com) can arrange for a guide to accompany a friends- and-family group along the best less-trodden routes, sharing the area's history, culture, geology and wildlife. Indagare (indagare.com) offers 5-star tours including World War I historical sites, hands-on cooking classes and personal training sessions. Dolomite Mountains (dolomitemountains.com) arranges tailor-made hiking, skiing, cooking and spa holidays.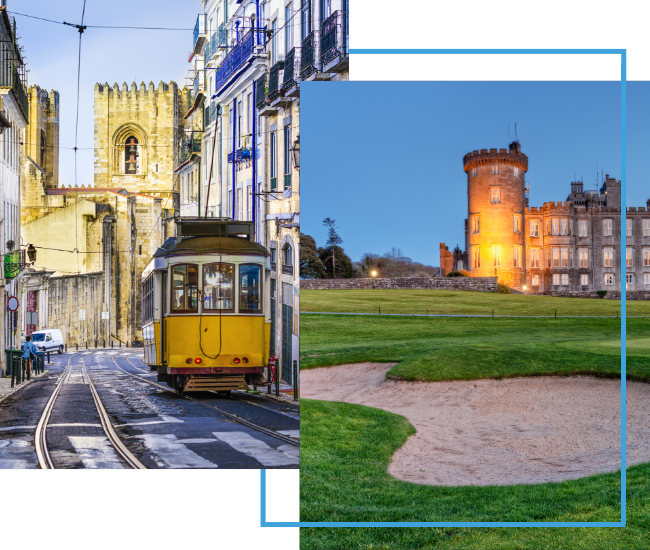 FX Excursions
FX Excursions offers the chance for once-in-a-lifetime experiences in destinations around the world.
Explore Excursions
A new and expanded campus at the Buffalo AKG Art Museum has been completed, reopening this summer and featuring new architecture designed by the architectural office of OMA New York, led by partner Shohei Shigematsu and project architects Lawrence Siu and Paxton Sheldahl, with Cooper Robertson (executive architect). The new expansion includes the Jeffrey E. Gundlach Building and extensive renovations to existing buildings. A $20-million commitment from New York State and Governor Kathy Hochul helped fulfill the expansion's budget and completes the $230 million capital campaign, the largest campaign for a cultural institution in the history of Western New York State.
Sponsored Content
Learning more about our readers' travel habits and preferences ensures Global Traveler delivers the content you desire. As the travel industry has adapted and changed over the last few years, it's more important than ever to connect. To best meet your short- and long-term travel content needs, please help us!
Ever since opening in 2021, Nobu London Portman Square has served as the focal point for many gatherings, stays and experiences. This fall the hotel's Nobu Bar adds four more reasons to visit with an exciting array of offerings, menus and events.