National Rum Day is right around the corner on Aug.16, meaning it's time to start planning your celebration. Sandals Resorts, the all-inclusive Caribbean resort company, shares recipes from mixologists, allowing rum fans to celebrate as if they are staying on property.
The Bar at Coconut Grove – Sandals Royal Bahamian
Coconut Grove is a new lounge area extending the Bahamian beach vibes to the center of the resort, both day and night. The new beach bar offers stunning views of the sea with fun swing-style seating. Guests can grab a signature cocktail while enjoying live music, food trucks and more. For rum lovers not able to celebrate at the resort, here are two rum-based cocktails to make at home.
Dragon in the Coconut: Kingston 62 white rum, coconut rum, Wray & Nephew overproof white rum, fresh lime, pineapple and a dragon fruit float
Mango Mai Tai: House rum blend with Orgeat, pineapple, orange juice, mango and fresh lime topped with a dark rum
Mr. B's Bar – Sandals Royal Bahamian
Located near Sandals Royal Bahamian's new Butch's Chop House restaurant, Mr. B's Bar is named and designed in honor of the brand's late founder, Gordon "Butch" Stewart. The establishment gives a nautical nod to his love for the sea. The bar features two signature rum-based cocktails that include:
Banana Bread Old Fashioned: Appleton signature rum, Jim Beam whiskey, banana liqueur and black walnut bitters
Passionate Mule: Hibiscus-infused Don Q passion fruit rum, fresh citrus and ginger beer
SKY Bar – Sandals Royal Barbados
At Sandals Royal Barbados, the Caribbean pool bar reaches new heights with the addition of the rooftop SKY Bar. Guests can enjoy views of Barbados' coveted St. Lawrence Gap while sipping delicious cocktails. If you can't make it to the resort, check out these two signature cocktails to make at home.
Reimagined Strawberry Daquiri: Kingston 62 Gold, strawberries, fresh lime and simple syrup, all mixed and blended together
The DB: Dark rum, creme de cocoa, bananas, milk and simple syrup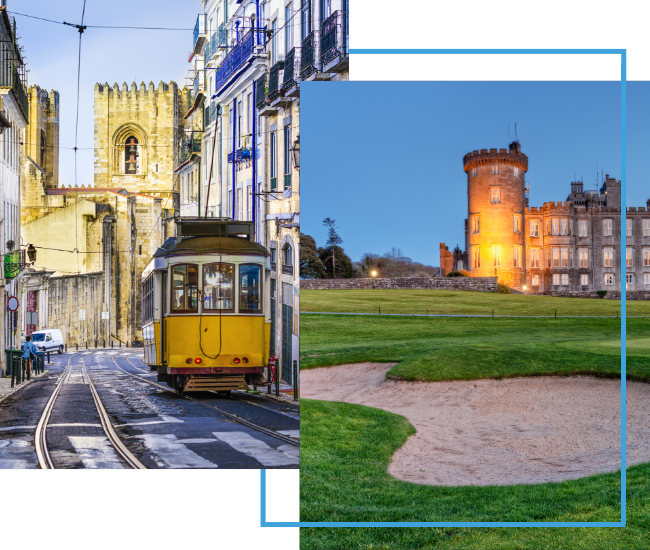 FX Excursions
FX Excursions offers the chance for once-in-a-lifetime experiences in destinations around the world.
Explore Excursions
While the 372-passenger Viking Polaris expedition ship, launched in September 2022, falls midway in size between Viking Cruises' intimate river cruise ships and large-scale ocean ships, it is operated with the same attention to detail and personalized service.
Sponsored Content
Learning more about our readers' travel habits and preferences ensures Global Traveler delivers the content you desire. As the travel industry has adapted and changed over the last few years, it's more important than ever to connect. To best meet your short- and long-term travel content needs, please help us!