Tokyo is one of the world's great bar cities with something for every connoisseur, from the themed, pocket-sized bars of the Golden Gai in Shinjuku to specialized saké and whiskey bars, local izakayas, artistically designed lounges and sleek hotel bars. The Bar on the 45th floor of The Ritz-Carlton, Tokyo, weaves some of the most interesting aspects of the city's bright, ambitious scene with a new menu of craft cocktails highlighting produce, bar techniques and flavor profiles specific to the Japanese archipelago.
Under the direction of head bartender Kentaro Wada, six drinks created for this exclusive cocktail menu take imbibers on a full sensory tour of Japan. Ki Wa Mitsu honey from the Minoh Mountains, caviar lime from the Setouchi Islands, hand-picked "Okunoyama" Uji matcha leaves and other rare elements are worked into recipes yielding conversation-starting results, especially when enjoyed on the 45th floor against a backdrop of Tokyo's equally complex skyline. Foodies will appreciate that the backstories behind the growers and purveyors also shine through in presentation and flavor.
Kita e Minami e Mojito
Wada's creative spin on the mojito begins with a foundation of light and dark rums and is built up with Awaji Island lime, Setouchi Islands caviar lime, Hokkaido Yerba Buena, wasanbon brown sugar syrup and Kiyora carbonated ice.
Bee's & Tea
This update on the Bees Knees cocktail is inspired by Japanese honeybees, known for their distinctive foraging practice of gathering nectar from diverse local flowers rather than a single variety. Matcha from the Okunoyama tea garden, Setouchi lemons, KI NO TEA Kyoto Dry Gin and Ki Wa Mitsu honey hand-harvested from Japanese honeybees from the Minoh Mountains in the Fukuoka Prefecture are blended to achieve a complex flavor that evokes "one hundred flowers."
Today's… (Honjitsu-no…)
This savory cocktail combines a kitchen-made, herb-scented consommé soup and Haku Japanese Craft Vodka with subtle saké-rice notes. The libation is accompanied by kombu-marinated tomatoes and a canapé of Negroni jelly spiced with shichimi togarashi.
Nishi kara no Old Fashioned
Ingredients sourced from western Japan and Okinawa, including rare ChulaSya vanilla from Ishigaki Island, seasonal citrus "Haruka" from Fukuoka and caramelized bitterness from the savory tulle and Scrappy's Bitters breathe new life into the tried-and-true classic. According to Wada, the smooth variant of the classic whiskey-based Old Fashioned evokes images of the pristine sandy beaches and crystal-clear turquoise waters of Ishigaki.
Hakka Chocolat Royale
Using the Grasshopper dessert cocktail as a template, Wada shakes things up with a delectable sorbet infused with Japanese Hakka mint and Valhrona dark chocolate. Fruity Mio Sparkling Sake from the Hyogo Prefecture fleshes out the finished drink.
Yoshimitsu
Brandy derived from Riesling grapes are blended with hand-picked artisanal "Okunoyama" Uji matcha leaves from 600-year-old tea producer Horii Schichimein. The Five XP Riesling brandy enhances the exquisite matcha for a silky, refined effect.
Even if your only destination is Tokyo on your next Japan trip, Wada's menu will take you around the country through the flavors and textures with your senses as the mode of transportation. It also may inspire you to curate a future trip as rich as every creation.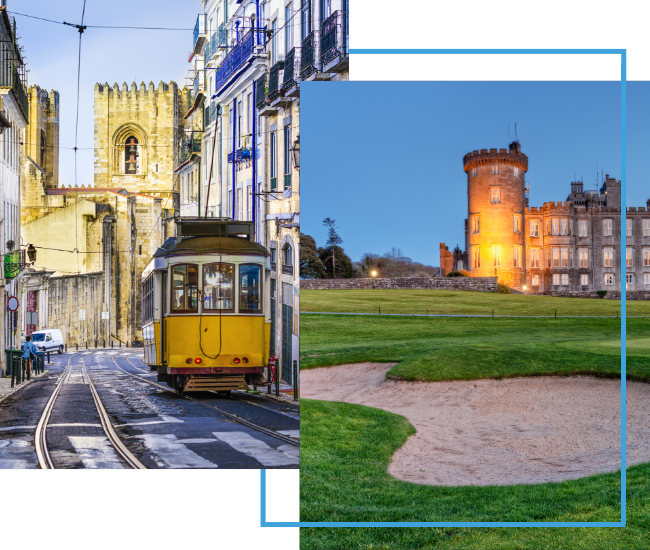 FX Excursions
FX Excursions offers the chance for once-in-a-lifetime experiences in destinations around the world.
Explore Excursions
More than 22 million visitors pour into Bangkok each year, adding to the roughly 11 million residents of the Thai capital famous for its bustling streets. Packed with food carts, markets and cultural spectacles, life in Bangkok is unusually defined by its vibrant street scene, both day and night. That means you don't necessarily need a solid plan when heading out on any given evening.
Sponsored Content
The Islands of Tahiti offer a range of captivating activities for travelers with diverse interests, from hiking to breathtaking waterfalls, riding horses on secluded beaches; swimming with sharks; or immersing in Polynesian culture through traditional dance, music and art. For watersports enthusiasts, the crystal-clear lagoons offer exhilarating experiences like surfing, kiteboarding and paddleboarding. And if you're looking to relax, the pristine beaches, overwater bungalows and tropical sun offer the perfect setting. With 118 islands and atolls to explore, island hopping is an excellent way to experience the full diversity of The Islands of Tahiti. With its blend of adventure, culture and relaxation, The Islands of Tahiti offer a truly unique travel experience.
As another phenomenal year of travel comes to an end, it's time, as always, for Global Traveler to celebrate and award those who do it best as we announce the 2023 winners of the GT Tested Reader Survey awards. But that's not the only cause for celebration here: We've hit another major milestone, as this marks our 20th year honoring the best of the best inn world of travel!