As the site of the first university, cathedral, castle, monastery and fortress in the New World, Santo Domingo in the Dominican Republic has been a center of culture, history and activity for centuries. The capital and largest city of the Dominican Republic draws visitors year-round. Its harbor welcomes ships throughout the year, and with high temperatures and cool breezes, this city proves a haven for travelers.
GETTING THERE & AROUND
Visitors can arrive via Las Américas International Airport, home to airlines such as Delta Air Lines, American Airlines, JetBlue, United Airlines and Avianca. The airport sits less than an hour from city center and can be reached by taxi or car rental. SICHALA provides direct taxi service for passengers to and from the airport. Once in Santo Domingo, visitors can opt to venture throughout the city via its underground and elevated rapid transit metro system, the most extensive of its kind in the Caribbean and Central America. Rental cars are another popular mode of getting around the city, as Santo Domingo boasts several large avenues and expressways.
LODGING
At this Spanish Colonial-style property, choose from luxury rooms and, for larger groups, houses, some of which date back to the 16th century. An on-site restaurant, pool and outdoor lounge area encourage guests to relax and enjoy the island's beauty.
Calle Padre Billini No. 252, Santo Domingo, Dominican Republic, tel 809 688 4061 casadelxvi.net
El Embajador, a Royal Hideaway Hotel
Business and leisure travelers will enjoy modern rooms with balconies, as well as a wine bar, piano bar and upscale Spanish Colonial restaurant. Its proximity to a main metro station and landmarks makes it an ideal stay.
Av. Sarasota 65, Santo Domingo, Dominican Republic, tel 809 221 2131 barcelo.com
JW Marriott Hotel Santo Domingo
Situated above Blue Mall shopping center, this luxury property spoils guests with stylish rooms; a rooftop bar, lounge and restaurant; outdoor infinity pool; and more.
Winston Churchill Av. No. 93, Santo Domingo, Dominican Republic, tel 809 807 1717 marriott.com
DINING
The city offers no shortage of fine-dining Italian restaurants, with this upscale institution serving crudo plates, handmade pasta dishes and pizza. Handcrafted cocktails are also available.
Calle Pablo Casals, Santo Domingo, Dominican Republic, tel 809 562 6060 bottegafratellird.com
La Cassina
Classic, upscale Italian dishes and fresh seafood plates await guests at this popular eatery. Fresh pasta and sharing platters see this restaurant fill up each evening.
Av. Roberto Pastoriza 504, Santo Domingo, Dominican Republic, tel 809 363 4444
SBG Sophia's Bar & Grill
Indulge in some of the island's best steaks cooked on a charcoal grill. A grand interior with warm lighting rounds out this fine-dining experience.
Calle Paseo de los Locutores 9, Santo Domingo, Dominican Republic, tel 809 620 1001
ATTRACTIONS
Ciudad Colonial
A UNESCO World Heritage site, Ciudad Colonial is the historic central neighborhood of the city and the oldest continuously inhabited, European-established settlement in the Americas. Today it features restored buildings, Museum of the Royal Houses, pedestrian-friendly streets, a park and plaza.
Distrito Nacional, Santo Domingo, Dominican Republic
Fortaleza Ozama
This fortress is one of the surviving sections of the Walls of Santo Domingo, recognized by UNESCO as the oldest military construction of European origin in the Americas. The site is where Christopher Columbus was imprisoned. The fort is open daily and charges a small entrance fee.
Calle de las Damas 1, Santo Domingo, Dominican Republic, tel 809 688 1553
Nuestra Señora de la Encarnación
Built in the early 16th century, this cathedral is the first and oldest cathedral in the Americas, holding the remains of four presidents of the Dominican Republic.
F4F8+696, Callejón de los Curas, Santo Domingo, Dominican Republic, tel 809 682 3848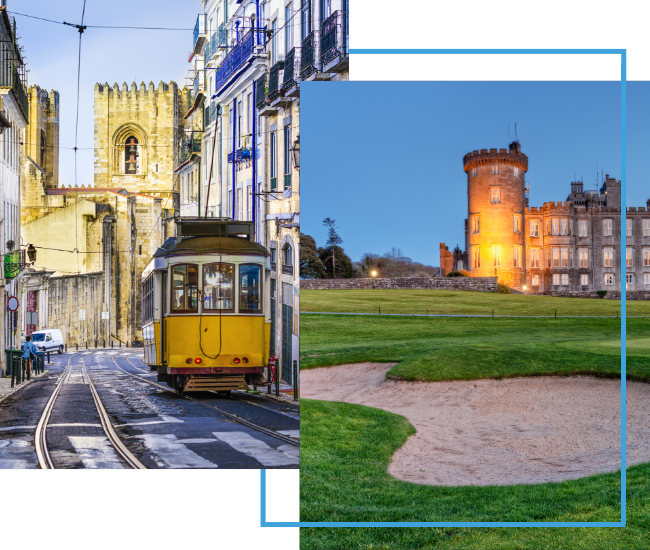 FX Excursions
FX Excursions offers the chance for once-in-a-lifetime experiences in destinations around the world.
Explore Excursions
The Perelman Performing Arts Center (PAC NYC), the cultural cornerstone and final public element of the World Trade Center site, opened this September.  The new performing arts center in Lower Manhattan provides a dynamic home for the arts, serving audiences and creators through flexible venues enabling the facility to embrace wide-ranging artistic programs.
Sponsored Content
Learning more about our readers' travel habits and preferences ensures Global Traveler delivers the content you desire. As the travel industry has adapted and changed over the last few years, it's more important than ever to connect. To best meet your short- and long-term travel content needs, please help us!
Whether you call secondhand fashion treasure troves "thrift stores," "fripperies," "charity shops," "vintage boutiques" or something else, shifting the paradigm from "old clothes" to "new finds," you may find the best, most conversation-starting souvenirs inside these shops and neighborhoods located in the world's most fashionable cities and a few unexpected places.