THE ''CITY DIFFERENT'' CAN BE DECEIVING. With a laid-back attitude and roots grounded in art and nature, Santa Fe appears unassuming but quickly proves to be anything but. Boasting a bustling art scene, an intensely rich cultural heritage and a stunning natural landscape, the city appeals to the most discerning tastes of the pickiest traveler.
Bishop's Lodge Resort and Spa, located just minutes from downtown, raises the local bar for luxury and elegance. The resort, dating back to the 1860s, when it was a private retreat for Archbishop Jean-Baptiste Lamy, is undergoing an $82 million transformation into a high-end dude ranch-style resort that takes full advantage of the natural beauty of the area and caters to guests' every need.
Auberge Resort Collection, which manages 19 world-class properties, will supervise the 312-acre property. Designed by architect Nunzio Desantis in conjunction with lead developer Richard Holland, Bishop's Lodge is expected to take its place as one of the top luxury resorts in the world.
The renovated property, expected to open by spring 2019, will consist of 92 guestrooms, 12 residences (or casitas) and three glamping tents. In addition to the usual amenities — like spa treatments, pool and fitness studio — guests can experience hiking and mountain biking trails as well as horseback riding instruction and trail riding through the Santa Fe National Forest bordering the property. A manmade trout habitat fed by a natural spring offers on-site fly-fishing. The trout fishing experience "will enable someone who has never fly-fished before to whet their appetite before possibly moving on to fish in some of the private streams and waters that our guests will have access [to]," said John Volponi, general manager and vice president, Bishop's Lodge.
The resort's main restaurant, Sky Fire, will feature a menu designed by conceptual chef Dean Fearing, the "father of Southwestern cuisine." An art and artist-in-residence program will add to the unique charm of the property. Guests will have the opportunity to observe and learn from various artists who will take turns residing at the lodge to teach and showcase their work.
The property's unique Bunk House residence will include 12 separate bedrooms and a community living room area. This log cabin-style building may not follow the resort's traditional Santa Fe style of architecture but will make an ideal destination for corporate retreats. An abundance of event and meeting space will include a 3,000-square-foot indoor venue (dividable into three separate spaces) and a 4,500-square-foot outdoor space complete with a stage.
"What makes Bishop's Lodge unique," said Volponi, "is that it is five minutes from downtown Santa Fe, so guests will have access to all the wonderful amenities of Santa Fe, then five minutes later they can be in a different world."
Santa Fe Municipal Airport will host an AOPA Fly-In Sept. 14–15. This event offers a way to bring the Aircraft Owners and Pilots Association, the world's largest aviation community, directly to places where members live and can fly to. The fly-in will consist of seminars, barbecues, exhibits and a pilot town hall. The event — expected to have a local economic impact of $680,000 — will focus on protecting the freedom to fly.
Santa Fe is well-known for its artistic community and commitment to supporting the arts. The local art market ranks third in the country, so it is no surprise visitors to the city flock to its numerous museums and galleries. SITE is a visionary and innovative contemporary art museum in downtown Santa Fe in the middle of its six-year SITElines program. It presents a series of connecting biennial exhibits focusing on "new perspectives on art from the Americas."
The current exhibition, Casa Tomada, opened in August and running until Jan. 6, 2019, features the works of 23 artists representing eight countries. The participating artist panel includes Melissa Cody, a seventh-generation weaver of Diné (Navajo) heritage; painter Victor Estrada; and Fernanda Laguna, a native of Buenos Aires who works with cardboard and paper mediums. The theme of the exhibit, translated as "House Taken Over," explores the concepts of property, boundaries and belonging.
When it comes to transportation options for visitors, New Mexico Black Car fills a growing demand in the city. Where there was once virtually no ground transportation available, this recently formed cab company provides reliable options for visitors arriving at the local municipal airport in the form of Mercedes-Benz vehicles operated by professional drivers.
Santa Fe has long been a sought-after location for business and tourism, but the city's current improvements help to secure its place in the ranks of luxury destinations.
SCENIC DRIVES
Take advantage of your time in New Mexico with a relaxing drive along the High Road to Taos. Head north out of Santa Fe along US-84/US-285 toward Pojoaque and exit at Nambe Road. From there, this 67-mile scenic byway heads northeast on a zigzag twist through quaint towns, beautiful forest and some of the most impressive churches in New Mexico before arriving at Ranchos de Taos. There it meets with US-68 to bring you back to Santa Fe via Española. Give yourself several hours to enjoy the sights.
The Jemez Mountain Trail offers a great drive whether you've got a few hours or a whole day. The journey takes you past stunning rock formations and Indian ruins for a glimpse into the cultural history of New Mexico. From Santa Fe head north on US-84 until you reach the 502 at Pojoaque and head west toward Los Alamos. After about 10 miles, take New Mexico State Route 4 toward the Bandelier National Monument/White Rock and enjoy the beautiful scenery through the rugged wilderness. When you reach US-550, you can either continue north toward Cuba to ride out the trail in its 163-mile entirety or head south toward the capital city of Albuquerque.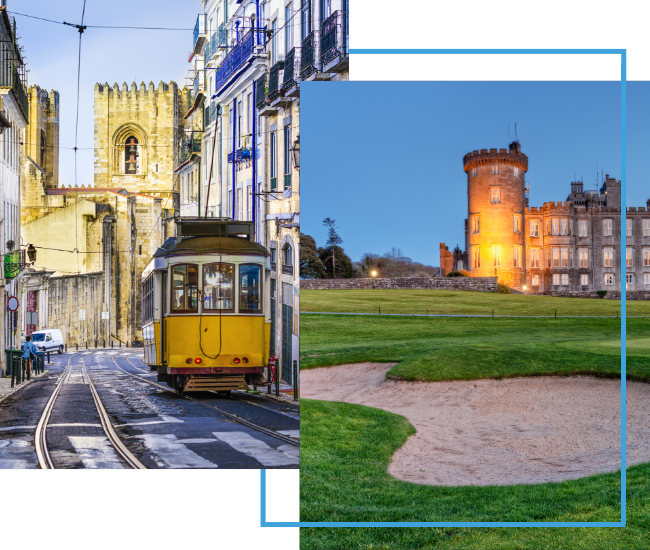 FX Excursions
FX Excursions offers the chance for once-in-a-lifetime experiences in destinations around the world.
Explore Excursions
In addition to intimate settings, smaller staff-to-passenger ratios, and personalized food and beverage options, river cruises have the advantage of providing a deeper dive into a region's culture, food and history. The Rhine, Rhône and Danube in Europe and the Mississippi River and St. Lawrence in North America have much to offer travelers with their itineraries, tying together beloved cities and lesser-known destinations along their routes.
Sponsored Content
One affordable plan can protect an entire year of trips: business or pleasure, short or long, domestic or international.
As another phenomenal year of travel comes to an end, it's time, as always, for Global Traveler to celebrate and award those who do it best as we announce the 2023 winners of the GT Tested Reader Survey awards. But that's not the only cause for celebration here: We've hit another major milestone, as this marks our 20th year honoring the best of the best inn world of travel!