As a mom, you're not allowed to pick favorites. With a growing baby in my belly and a toddler guiding my daily routines, my own favorites often take a back seat as I make the daily choice to swap healthy foods for junk food cravings and toddler tunes for windows-down, volume-up jams. But when I heard my favorite spa was relaunching its facial program, I felt zero guilt — of the mom variety or otherwise — about taking a morning off and booking myself a nice, long, rejuvenating facial at The Spa at Four Seasons Philadelphia at Comcast Center.
"I am going to start this off the same way I start it for all my moms that come through here," began Jenny Gaus, my spa aesthetician during that 90-minute collagen renewal facial. "Take a deep breath and remember: Taking care of yourself is exactly like what they say on the airplane, to 'put the oxygen mask on yourself before helping others.' You taking care of yourself first will be the best way you can help anyone else in your life. Now, relax and take another deep breath." And with that she tapped a wooden mallet against a crystal singing bowl, and I slowly allowed my tired body to melt into the warmed, plush bed of her treatment table.
The Spa at Four Seasons Philadelphia resides on the 57th floor of Philadelphia's tallest building, where arriving by glass-encased elevator becomes part of the surreal experience. Although the elevator travels at 11 mph to reach its destination, you encounter a decidedly different pace upon arriving on the 57th floor — likely due in part to the more than 700 pounds of energy-nurturing crystals embedded in the walls of the entire level. A blend of mechanical-diffusing crystals — such as pyrite, obsidian and clear quartz — placed near the elevator, electrical room and fitness center help offset the electromagnetic frequencies. Meanwhile, a calming mix of crystals — including rose quartz, moonstone and lepidolite — charge the relaxation lounge, salon and staff areas with an energy almost observable in the demeanor of the spa attendants and staff members.
When the spa first opened in August 2019, the striking balance between low-tech and high-tech was an intentional decision, one that becomes more and more relevant as guests continue seeking recharging experiences after a tumultuous few years. But it's not only guests who get recharged at the spa. Every six months a certified crystal healer comes in to re-energize the space and ensure the crystals remain active. Each treatment room carries its own calming energy. A single crystal dominates the theme of each space, and guests book treatments that coincide with the specific qualities and attributes of each room/crystal including rhodochrosite, carnelian, citrine, malachite, turquoise, kyanite, amethyst and clear quartz. My facial took place in the amethyst room, a crystal that coordinates with the crown chakra by enhancing intuition and removing negative thoughts and emotions while promoting a calm state of mind.
Among the spa's entire range of body wraps, massages, salon services and exfoliations, the signature treatments stand out, especially the Seasons of Chakras Massage. During the relaxing, 60-minute essential oil massage, a therapist stimulates all five senses. Reiki sessions and a sound energy healing session book up quickly throughout the week. The latter lasts for 105 minutes and comes with a complimentary chakra set of crystals for guests to take home and continue their healing journey in their own spaces.
The breathtaking views and rare opportunity to swim in an infinity- edge pool on the 57th floor inspired the facility's most exclusive experience, and so, in January 2021, the spa hosted its first Night Spa experience. The experience has become a favorite for couples, even today, as the evening begins with a runway of candles guiding two lucky guests to their makeshift spa above the clouds in the empty pool room. It continues with an intimate 60-minute couple's massage and a private swim above the twinkling lights of the city below.
The shared time in the treatment rooms or relaxation room, where anti-gravity chairs strategically look out over the streets of Philadelphia, makes this a favorite among couples. But for me, it's become my favorite place of solace, a place that reminds me time for myself is not selfish but rather a gift that recharges my inner being. Then, I can recharge those little gemstones waiting for me back home.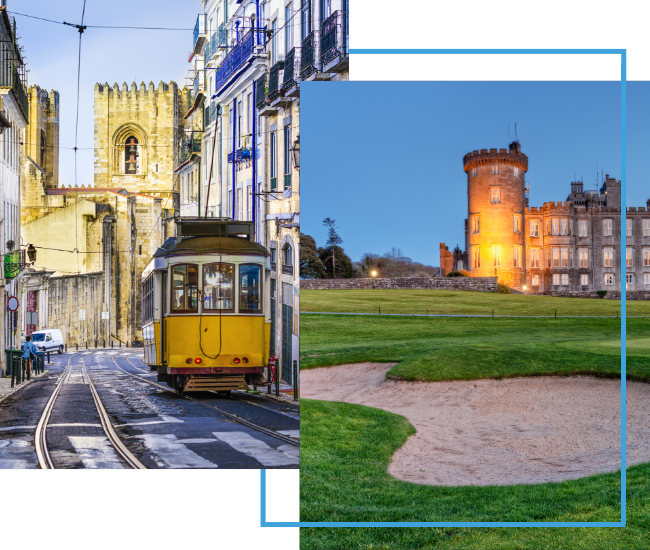 FX Excursions
FX Excursions offers the chance for once-in-a-lifetime experiences in destinations around the world.
Explore Excursions
One thing  surprising about the Prince Edward Island capital is its abundance of shops specializing in affordable, fashion-forward jewelry rendered in sterling silver, vermeil, 14K gold and semi-precious stones. Whether you prefer delicate pieces or bold wearable art, you can be assured the pieces for sale are inspired by the maritime island setting and, therefore, specific to the place where they are created. Here are a few shining, woman-owned examples:
Sponsored Content
Learning more about our readers' travel habits and preferences ensures Global Traveler delivers the content you desire. As the travel industry has adapted and changed over the last few years, it's more important than ever to connect. To best meet your short- and long-term travel content needs, please help us!
Norway, a haven for visionary artists, architects and designers, showcases an exceptionally diverse array of cultural attractions. This year, the country commemorates exciting milestones and unveilings captivating enthusiasts of the arts, from iconic scenic routes to new museums to gallery openings. Up Norway features these new offerings in personalized itineraries catered to aesthetes.