How have we arrived at our November issue already? While it is an oft-used phrase, time really does fly! And at least to me, 2022 has felt exceptionally fast. With the end of the year rapidly approaching,
my travel has certainly picked back up, and I couldn't be happier. In October I returned to Chicago, the last destination I visited before the pandemic halted travel, with Francis X. Gallagher and Haley Fogarty for an exclusive event we hosted with United Airlines and The Peninsula Chicago. Then I overnighted in New York City to check out the newest ship from Celebrity Cruises, Celebrity Beyond. As you read this, I'm likely on board Viking Fjorgyn, one of Viking's newest longships, plying the River Seine roundtrip from Paris, making stops in Normandy. And next month we're all off to Los Angeles to celebrate the 19th GT Tested Reader Survey awards. Where are your travels taking you to cap off 2022?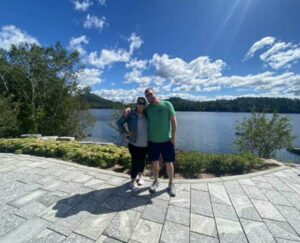 As always, each issue also allows me to reminisce on past travels. In this issue, we recap the fabulous event we had this past summer in New York City to celebrate the Leisure Lifestyle Awards and Wherever Awards winners. Check out the fun on page 38. And writing my Spas article on Mirror Lake Inn in Lake Placid, New York, took me back to the anniversary road trip my husband and I took in August.
Let's journey together in this issue. We're visiting Yerevan, Armenia; Mexico City; Victoria Falls; Doha, Qatar (just in time for the FIFA World Cup); the Greek Isles; the Florida Keys; Las Vegas; Riga, Latvia; Charleston, South Carolina; Portugal; and Queenstown, New Zealand. With the World Cup captivating the globe's attention this month, we also take a look at other soccer (or fútbol) events around the globe. Next month, join us as we announce the 2022 winners of the GT Tested Reader Survey awards, the Airline of the Year, the Hotel of the Year and our Outstanding Diversity in Travel awards.
FX Excursions
FX Excursions offers the chance for once-in-a-lifetime experiences in destinations around the world.
Crystal Bridges Museum of American Art, located in Bentonville, Arkansas, presents Diego Rivera's America, the first major exhibition focused solely on the Mexican artist in more than 20 years, on view until July 31. Crystal Bridges is the second and final stop for the exhibition, the only remaining opportunity for visitors to experience Rivera's expansive vision of America.
Sponsored Content
Whether it's the people, the craic (fun) or the coasts, travelers always find something to love about the island of Ireland. What fills your heart?
In San Antonio, Texas, old buildings are seldom destroyed. When they fall into disrepair, they are instead repurposed and restored to maintain the city's history and traditions for future generations to appreciate. Whether it's a former brewery or bank transforming into a chic hotel or a candy factory evolving into stylish lofts, this Texas city embraces both history and sustainability.