How have we arrived at our November issue already? While it is an oft-used phrase, time really does fly! And at least to me, 2022 has felt exceptionally fast. With the end of the year rapidly approaching,
my travel has certainly picked back up, and I couldn't be happier. In October I returned to Chicago, the last destination I visited before the pandemic halted travel, with Francis X. Gallagher and Haley Fogarty for an exclusive event we hosted with United Airlines and The Peninsula Chicago. Then I overnighted in New York City to check out the newest ship from Celebrity Cruises, Celebrity Beyond. As you read this, I'm likely on board Viking Fjorgyn, one of Viking's newest longships, plying the River Seine roundtrip from Paris, making stops in Normandy. And next month we're all off to Los Angeles to celebrate the 19th GT Tested Reader Survey awards. Where are your travels taking you to cap off 2022?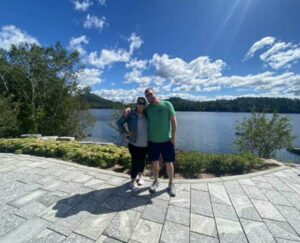 As always, each issue also allows me to reminisce on past travels. In this issue, we recap the fabulous event we had this past summer in New York City to celebrate the Leisure Lifestyle Awards and Wherever Awards winners. Check out the fun on page 38. And writing my Spas article on Mirror Lake Inn in Lake Placid, New York, took me back to the anniversary road trip my husband and I took in August.
Let's journey together in this issue. We're visiting Yerevan, Armenia; Mexico City; Victoria Falls; Doha, Qatar (just in time for the FIFA World Cup); the Greek Isles; the Florida Keys; Las Vegas; Riga, Latvia; Charleston, South Carolina; Portugal; and Queenstown, New Zealand. With the World Cup captivating the globe's attention this month, we also take a look at other soccer (or fútbol) events around the globe. Next month, join us as we announce the 2022 winners of the GT Tested Reader Survey awards, the Airline of the Year, the Hotel of the Year and our Outstanding Diversity in Travel awards.
FX Excursions
FX Excursions offers the chance for once-in-a-lifetime experiences in destinations around the world.
Pantone recently unveiled its color of the year for 2023. The highly anticipated announcement has become a tradition, each year introducing a new color to represent the coming year. In 2021, Pantone declared 2022 to be the color of Very Peri 17-3938, a blend of purple and blue. For 2023, Pantone's Color of the Year is Viva magenta 18-1750. A shade from the red family, this color represents a new signal of strength. Brave and fearless, Viva Magenta is rooted in nature and embraces joy and celebration.
Sponsored Content
Much of the global business travel industry has already made sustainable business travel a priority with a focus on reducing emissions and their environmental footprint. But the industry, as well as external stakeholders, such as policymakers, recognize more needs to be done.
The UNESCO World Heritage neighborhood of Balat rivals İstanbul's Old City for its historic significance, with an added splash of color. Its cobbled hilly streets boast a full rainbow of houses, cafés, restaurants and churches painted in pinks, reds, oranges, yellows, greens and blues — parts even surpassing my native San Francisco's steep, colorful corridors. The most vibrant stretch of homes, dating anywhere from 50 to 200 years old, runs along Kiremit Caddesi.