Name: Perry Cantarutti
Title: Senior vice president, alliances
Company, city: Delta Air Lines; Atlanta, Georgia
Number of employees: 80,000 company-wide; 50 in Alliances department
Recent project: Bringing together our two trans-Atlantic joint ventures into one combined partnership that offers more than 340 destinations
First job: Analyst, domestic yield management
Little-known fact about you: I was a young entrepreneur at the age of 12, starting a small business selling coffee and pastries at an Italian film festival organized by my father. More than 40 years later, the festival is still going strong, but I lost the taste for coffee!
Your Business
What innovations/initiatives do you foresee in the industry over the next years? The airline industry continues to invest significantly in innovative technology to bring back the ease of air travel and provide customers with more choice and personalization. Examples are next-generation digital platforms like our app, RFID bag tracking and, most recently, our fully biometric experience at ATL's Terminal F. Those trends are just getting started, and we expect to see more in the future.
Best career advice you've received: The advice I received to accept an international assignment defined my career. While it was a daunting decision at the time, four cities and half a lifetime later, I can't imagine it any other way.
What advice would you give someone starting out in the field? Focus more on the journey, less on the destination. We work in a rich and varied industry that provides unique and, many times, unexpected career opportunities. It's important to take advantage of that richness and variety. Learn at every step along the way. Apply and enjoy yourself. Career progression will follow naturally.
Perry Cantarutti as a Traveler
Favorite travel memory or story: My joy of travel comes from the people I meet along the way. My first international trip was as a young boy when my parents took me and my brother to Italy to meet our extended family. I remember it vividly (even that TWA Boeing 707). I didn't know what to expect, had never met our relatives and couldn't speak any Italian. Yet after just a couple days with my cousins, I felt a strong connection as we shared amazing meals around the family table, exchanged stories and got to know each other. I knew this was my family and this place was part of my roots. This incomparable trip motivated me to become a lifelong traveler and to work in the airline business.
One travel tip you cannot live without: Keep your seat belt fastened even when the seat belt sign is turned off.
Best advice for business travelers: Find some time on work trips to explore the city you're visiting, even if it's only for a few hours.
About Delta Air Lines
How have worldwide alliances affected the travel industry as a whole, and what are the most important aspects of the SkyTeam alliance for Delta?
Alliances provide airlines with the ability to connect customers across a much broader network than any single airline can fly to on its own. In addition to providing our customers with added reach, SkyTeam helps create better consistency across the member airlines.
When it comes to partnerships, what does Delta look for?
We look for partners that share our values, including a focus on the customer experience and a positive employee culture. We also look for carriers that have a strong network and well-respected brand in their home market. Beyond that, each carrier has its own strengths, and one of the best benefits of our partnerships is how much we learn from each other.
What's to come for Delta and SkyTeam this year?
One of our biggest business goals in 2019 is to create a more consistent experience across Delta and our partners. When there's a point of friction where customers can't transition smoothly between us and a partner, we call that a seam. Our goal is to eliminate as many seams as possible, making the experience significantly better for our customers. SkyTeam will play a role in helping facilitate that process, including developing technology that better connects us with each other.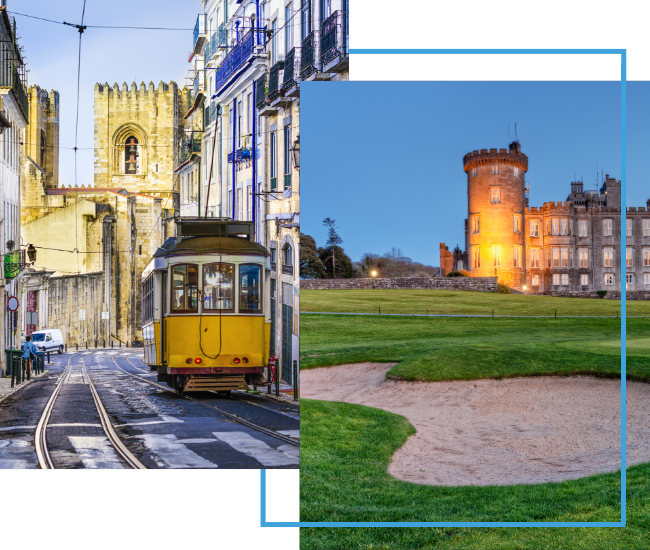 FX Excursions
FX Excursions offers the chance for once-in-a-lifetime experiences in destinations around the world.
Explore Excursions
Less than five years ago the world's first hybrid cruise ship, Hurtigruten Expeditions' MS Roald Amundsen, set sail for Antarctica in November 2019 with 450 passengers. The battery-hybrid-powered ship, named for the first man to cross the continent and reach the South Pole, was built specifically for voyages in polar waters. Its battery-hybrid power reduces the ship's consumption and CO2 emissions by 20 percent compared to equally sized ships.
Sponsored Content
Whether it's the people, the craic (fun) or the coasts, travelers always find something to love about the island of Ireland. What fills your heart?
A few months ago, I flew Polaris business class on a United flight from Dulles (IAD) to Paris (CDG). It was only when I got to my hotel in Paris I realized that I didn't have my iPad or its bag or accessories. Since I had been working on it in the restaurant in the Polaris lounge and then went directly to the gate, I knew I either left it propped up on my table when I packed up or in my business-class seat. But what was the best method to alert the airline about my careless mishap and (hopefully) retrieve it? With spotty data and WiFi, searching for information on my phone was frustrating and slow. Here's what I learned from the anxiety-inducing experience (and unexpected ending) about what to do if you leave something behind on your flight: