In a time when bigger is better and mergers in the travel industry are the norm, Omni Hotels & Resorts proves the exception. Call it the anti-brand. Or as Peter Strebel, chief marketing officer, Omni, likes to say, "We're in the business of hospitality, not size."
Founded in 1958 by the Dunfey family, the company has gone through several iterations. Aer Lingus purchased the company in 1976. In 1983 Dunfey Hotels Corp. acquired Omni International Hotels and changed its name to Omni Hotels. The firm was sold again in 1988, this time to a Hong Kong company, and finally reverted to a single proprietor in 1996 when Robert Rowling's TRT Holdings bought the Omni Hotels brand, excluding Asia Pacific.
Under Rowling's ownership, Omni divested itself of any underperforming properties and eliminated any franchise or third-party management agreements. Then, with a billion-dollar investment, it set about building a portfolio of distinct, high-quality holdings through acquisition and rebranding or new construction.
"It's a different operating model," says Strebel. "Our claim to fame is we control the messaging, the service and the asset. That equates to a better hotel experience." J.D. Power and Associates agrees, ranking Omni "Highest in Guest Satisfaction Among Upscale Hotel Chains" in its North American Hotel Guest Satisfaction Index Study six times, the most recent in 2015.
According to Strebel, the brand's core customers fall into two groups: 40 percent are the "power elite" — high-earning boomers ages 51 to 65 — while 25 percent are millennials ages 25 to 35. Keeping the brand relevant to its target audience puts Omni in the business of experiential travel. "Today's guests want to enjoy new experiences, be exposed to local culture and want to learn when they travel," Strebel explains.
Omni delivers. Guests staying at the Omni Nashville Hotel, for example, sip local coffee roasted in the hotel lobby and dine at the Kitchen Note restaurant on dishes culled from the local Junior League cookbook, including a choice of three unique biscuits every day. Omni even moved the city's historic Hatch Show Print, one of the country's few remaining wood block print shops, into the lobby. Not only can visitors watch posters roll off the presses, but also they can admire and buy more than 100 posters created by the print shop.
While no two Omnis are alike, the local flavor comes from more than just a design aesthetic. "Food and beverage is what sets us apart," says Strebel, who notes Omni has no third-party leases. "We spend a lot on food and beverage, even if it has a lower profit margin, but we are okay with that. We don't buy processed foods, still use pastry chefs and butcher meats ourselves."
Every year, Omni chefs take an international trip to educate themselves on new cooking techniques, menu styles and wines. Past destinations include Chile, Spain and Germany. Omni's signature Noé restaurants in Houston and Los Angeles are recognized among the world's best. The restaurants 676 in Chicago and Texas Spice in Dallas offer unique experiences for guests and locals alike.
Without Wall Street breathing down its neck, Omni enjoys the freedom of deciding how and when to renovate — or "re-imagine," as the company calls it. Omni Barton Creek Resort & Spa in Austin is undergoing a total reconfiguration with a new spa and additional rooms. Opened in the 1970s, Omni Charlotte Hotel has an A-plus location but was dated so is getting a redo. And the Omni Orlando at ChampionsGate is doubling the size of its pool, as well as adding a wave pool; 100 guestrooms; 40,000 square feet of meeting space; and another restaurant.
That same autonomy empowers employees from corporate to the front lines, what Omni calls the "Power of One." When asked about the difference between her former job at another hotel and her new position, one Omni Nashville Hotel front desk clerk told Strebel, "Here, I'm empowered to do anything to make the guest happy. If it's a guest's birthday, I can call room service and send a cake to their room without a half-dozen approvals."
Strebel even has his own story of how quickly ownership gets behind a good idea. Starting in June 2016, for every booking made directly on OmniHotels.com, Omni Hotels & Resorts makes a donation to Feeding America that will provide dinner to a family of four in that local community for an entire week. Not only are Omni hotels partnering with local food banks, but employees also pitch in as volunteers. "Say Goodnight to Hunger" was Strebel's idea. He took it to Omni president Mike Deitemeyer on a Monday and it was presented to and approved by ownership on Wednesday.
For the business traveler, Omni's Select Guest loyalty program goes far beyond free room nights. Says Strebel, "An extensive enrollment questionnaire helps us get to know you and your habits." Members at every level, even new enrollees, receive a morning beverage — coffee, tea, juice or soda — as a wake-up call. Room service knocks on your door or just leaves the drink; it's your choice. Also available are complimentary clothes pressing, shoe shine and WiFi.
Three new properties are in various stages of construction. Anchored by the Dallas Cowboys World Headquarters and The Ford Center, one of the largest indoor stadiums for amateur football and a practice facility for the Cowboys, the Omni Frisco Hotel in North Dallas is set to open in May 2017.
With 300 guestrooms spanning 17 floors, the hotel is the latest example of Omni's expanding collection of properties anchoring multipurpose sports developments. The Omni San Diego Hotel connects via sky bridge to Petco Park, home of the Padres, while the Omni Atlanta Hotel at CNN Center links to the College Football Hall of Fame and Museum.
Slated for December 2017, Omni Atlanta Northwest Hotel at The Battery in North Atlanta will comprise about 260 guestrooms and 16 floors, with an elevated pool deck and bar overlooking SunTrust Park, future home of the Atlanta Braves.
And bourbon will freely flow (figuratively and literally) throughout the Omni Louisville Hotel, with a target opening of May 2018. Each of 612 guestrooms will boast an old-fashioned liquor cabinet, and the hotel plans to host bourbon tastings, perhaps in its speakeasy equipped with a bowling alley.
Strebel says Omni "grows where it makes sense" and does well with convention hotels. Currently, the company is working with cities including Seattle, Charlotte, Phoenix and Oklahoma City, eyeing an expansion of its convention guestroom inventory. New resort properties are also on the expansion radar.
With just 60 properties in its portfolio, size is both a positive and a negative. "We can't have a hotel that appeals to everyone, but we know our audience and can appeal to them," he admits. "In some markets it's harder to compete; and if we went head to head with the big chains, we'd lose.
"But all the same, that's fine for a mass audience that wants the same carpet, the same coffee in every property. With Omni, you experience something different, something richer," he says. "When you walk into an Omni you know the difference. We still have doormen who aren't scripted. We still build a personal relationship with guests. We still believe in the art of hospitality."
OMNI HOTELS & RESORTS
Demographic: Omni guests appreciate personalized service and memorable and authentic local experiences. The brand's core customers fall into two groups: 40 percent are high-earning boomers ages 51 to 65, and 25 percent are millennials ages 25 to 35.
Offerings: Omni operates 60 hotels in the United States, Canada and Mexico, offering 21,000 rooms in leading business gateways and leisure destinations. Each property offers a variety of culinary venues that rank among the best in its area.
Highlight: Distinguished properties include Omni Shoreham Hotel in Washington, D.C., an urban retreat situated on 11 acres of lawns and gardens; Omni Parker House, offering historic luxury along the Freedom Trail in Boston; Omni William Penn in Pittsburgh, a recently renovated 1916 hotel attracting celebrities, business leaders and heads of state; The Omni Homestead Resort in Hot Springs, Va., steeped in Southern hospitality; and The Omni King Edward Hotel, the first luxury hotel in Toronto, built in 1903, with restored palatial grandeur reimagined for the 21st century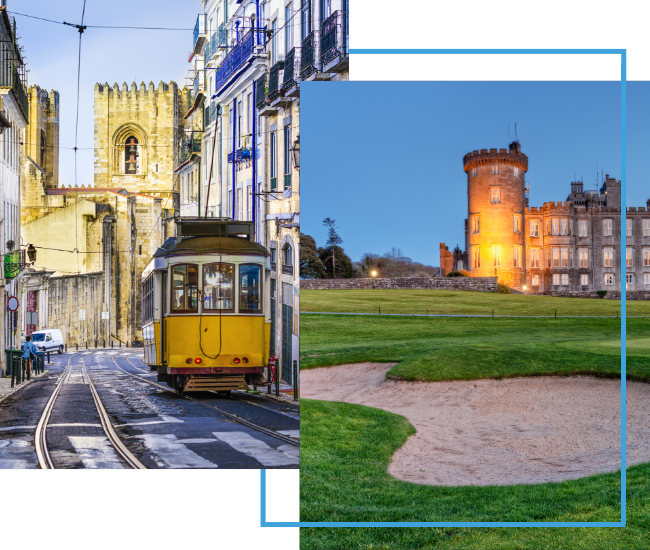 FX Excursions
FX Excursions offers the chance for once-in-a-lifetime experiences in destinations around the world.
Explore Excursions
There is something magical about sipping a glass of local wine while watching the sun slip into the Aegean Sea as the afterglow tinges traditional, white-washed Cycladic houses with glorious shades of rose, purple and gold. Ancient Greeks believed Helios, the Sun God, caused sunsets by driving his fiery chariot into the sea. Standing at water's edge in Mykonos, watching the sky slowly turn from purple to inky black, you almost believe it.
Sponsored Content
Exclusive Sailing with Global Traveler
The prospect of a post-visit treasure hunting session inside the shops of landmark museums such as the Louvre in Paris, the Uffizi Gallery in Florence and The British Museum in London can be irresistible. However, some of Europe's smaller and more unusual museums boast retail spaces with a surprising "wow" factor, often as well-curated as the galleries.