No. 284 – A Boston Guest House Review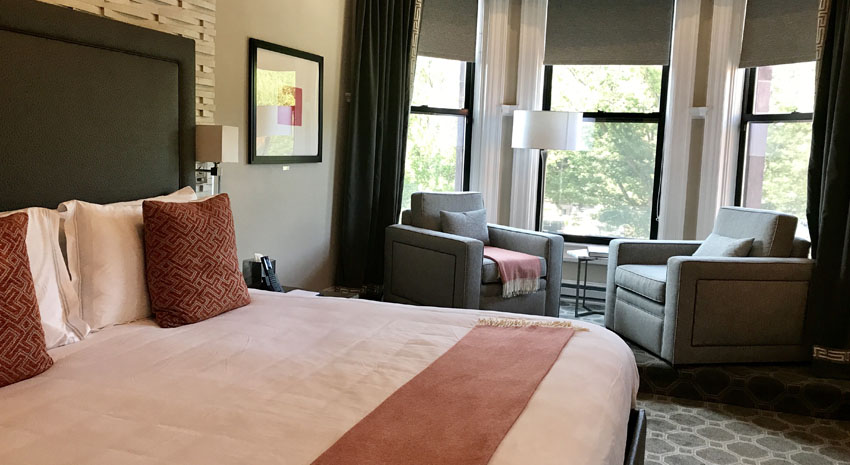 Photo: © Regina Baraban
By
Regina Baraban
- October 24, 2018
From the minute I stepped into No. 284, an intimate brownstone hotel on Boston's most beautiful boulevard, I knew I was in for a special experience. Originally built in 1881 as a lavish private residence, No. 284 opened spring 2018 after being renovated into a 23-room luxury guest house. It is a unique addition to the city's top-tier lodging; located on leafy Commonwealth Avenue in the upscale Back Bay neighborhood, a few blocks away from such top business and leisure destinations as the Prudential Center and Newbury Street. It feels like an urban oasis and home away from home you never want to leave.
I was greeted by charming, friendly Aura who staffs the tiny front desk area and serves as guest concierge. She showed me three cozy ground-floor public spaces I enjoyed to the fullest during my stay: kitchenette, library and outdoor courtyard. A commercial-grade Nespresso machine and a mini fridge stocked with an endless supply of Fiji water, juice and soda are available 24/7, and a complimentary continental breakfast of fresh pastries, fruit, cereal and yogurt is set out each morning.
I loved the hybrid design style of No. 284, mixing magnificent original details such as a spectacular grand staircase with a well-curated art collection. The 43 works of art become progressively more modern as you move up the building's five floors, culminating in an Andy Warhol Marilyn on the penthouse landing.
No. 284 has everything a luxury traveler could want except an on-site gym or full-service restaurant, but both are short walks away. Guestroom amenities include Frette linens and bathrobes, Elemis toiletries and a handy kitchenette. My third-floor king room had a comfy seating area and big windows with lovely views of Commonwealth Avenue and its tree-lined central walking path. I savored every minute of my stay at this one-of-a-kind Boston guest house.
No. 284 – A Boston Guest House
284 Commonwealth Ave.
Boston, MA 02115
tel 617 603 0084
no284.com