THE BASICS
Name: Natalya Leahy
Title: President
Company, city: Seabourn Cruise Line; headquarters in Seattle, Washington
First job: I had just started college in Tashkent, Uzbekistan, right after the Soviet Union collapsed. With a passion for finance, I saw the new Le Méridien was hiring, so I walked in and asked for the head of finance. When he asked what experience I had, I told him three months studying finance at university. He suggested reception or food and beverage, but I convinced him to give me a chance, and I started the next day as assistant shopkeeper. I was chief accounting officer by the end of college.
Where to next: Japan with my daughters for vacation, but I just got back from my first sailing on Seabourn Venture, the expedition ship!
A LITTLE BIT MORE
What actor or actress would play you in a movie of your life?
Viola Davis. As I read her book and watched her films, I realized she exhibits the same values in her life as I do in mine.
What would you be doing professionally if you weren't in your current industry?
I'd do something that transforms communities, like when I was involved in starting the Special Olympics in Uzbekistan.
What is your favorite book, movie or television show?
My daughters say I'm a workaholic and don't watch television. I do, however, read a lot, and the most impactful book I've read is Sapiens: A Brief History of Humankind.
What historical figure, dead or alive, would you love to have dinner with?
On a Seabourn Sojourn journey, while in Cape Verde, West Africa, I heard the incredible voice of local singer Cesaria Evora. I'd love to have dinner with her; as she passed in 2011, I now play her music to introduce others to it.
THE BUSINESS
What is your most recent project, and what was the inspiration behind it?
We just released plans for our first Grand Africa voyage, at 90 days and visiting 26 countries. This was inspired by our guests who were seeking authentic, bespoke experiences.
What is your favorite aspect of the job?
While I'm results- and numbers-driven, my favorite aspect is human-related. In business, our company is in the unique position to still make a difference; the people can make magic happen. The job has the power to change lives.
What's the biggest business risk you've ever taken?
Six years ago I worked on a spreadsheet of aspirations, known as Project Venture. Today we have two expedition ships, and we've achieved our goal of bringing the ultimate in luxury to the expedition world.
Who is someone you admire professionally in the travel industry?
One of our ships has a female first officer from Poland. I asked her why Seabourn, and she became emotional and shared she had a baby a year prior and Seabourn was the only company where she felt she could be a mom and drive ships. I admire and support women in business and maritime.
AS A TRAVELER
Tell us about a travel nightmare: I lived through one recently! On the way to our world cruise with our most loyal guests, the airline lost my luggage full of formalwear. I was on board with just shorts and T-shirts. I never saw my luggage. It was stressful, but every night I got to model the most beautiful jewelry that we sell on board.
Share a comical travel experience: This was also recent. On the day I was announced as president, I hosted a town hall and promised the team I'd do a polar plunge. While on Seabourn Venture, it was time to fulfill my promise, but the team surprises guests when it's time to take the plunge. I was in the middle of a business call when I got my 30-minute heads-up.
What is your preferred method of travel — planes, trains, automobiles, cruise ships — and why? Cruise ships, of course, but trains are a close second. I prefer transportation that allows people to experience and stop and smell the roses. I love to travel at a pace to take it all in.
What has been the best example of customer service you've experienced during your travels? We call them Seabourn Moments, and I've seen so many incredible ones. One couple was celebrating their anniversary, and we arranged for a surprise submarine dive for them. They were greeted with Champagne; and when they finished the dive, they returned to a suite transformed with roses, cake and more surprises.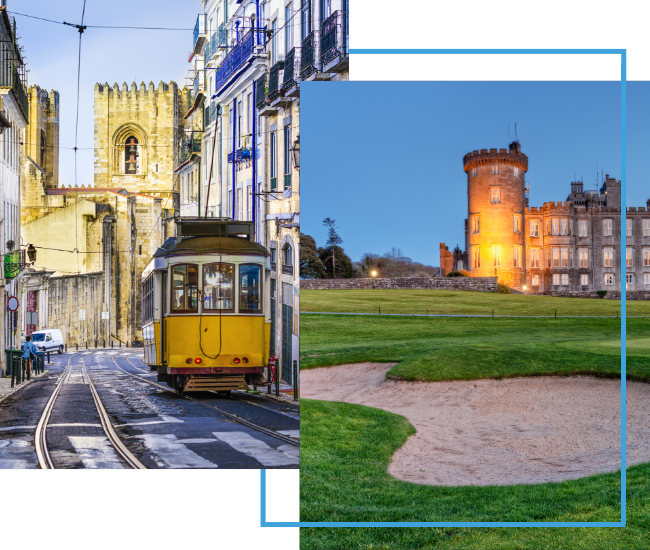 FX Excursions
FX Excursions offers the chance for once-in-a-lifetime experiences in destinations around the world.
Explore Excursions
The prospect of a post-visit treasure hunting session inside the shops of landmark museums such as the Louvre in Paris, the Uffizi Gallery in Florence and The British Museum in London can be irresistible. However, some of Europe's smaller and more unusual museums boast retail spaces with a surprising "wow" factor, often as well-curated as the galleries.
Sponsored Content
Don't risk losing all the money you've spent if you must cancel your trip at the last minute. Allianz Travel Insurance can give you:
Hyatt Hotels recently announced plans to add more than 30 new luxury and lifestyle hotels and resorts to its U.S., Canada, Latin America and Caribbean portfolio through 2025. These new hotels and resorts span many of Hyatt Hotels' brands including Park Hyatt, Dream Hotels, Thompson Hotels and Destination by Hyatt.