MULTIGENERATIONAL TRAVEL IS NOTHING NEW; travelers have taken their kids on vacation for, well, generations. But as our lives and our kids' lives — and even those of retired parents — become busier, the urge to gather everyone together for shared vacation experiences emerges as a top travel trend.
Multigen now inhabits a travel niche of its own, and there's even a subcategory called "skip-gen" for grandparents traveling with grandchildren. AARP's Boomer Travel Trends reported 15 percent of baby boomers planned skip-gen trips in 2019.
Girls' getaways have taken a family turn, too, with mothers and daughters — or fathers and sons — taking short getaways and longer vacations together. And it's not uncommon to see a third generation added. The families of siblings vacation together, seeking experiences their children can share with their cousins while the adults have time to reconnect.
A number of factors spur this trend: Travel experiences create closer bonds between family members as well as lifelong shared memories. A trip can replace a party as a way for families to celebrate an important occasion such as a landmark birthday or wedding anniversary.
Multigen can merge with business travel just as easily as it can on a vacation, as an add-on or even simultaneously. Most cities offer plenty for other family members to do while you are engaged during business hours as well as late-afternoon and evening activities to enjoy together. Or you can use a business city as a launchpad for a family vacation to follow.
All family members are on vacation, so plan one everyone will enjoy, but remember interests and energy levels may vary between the 6-year-old and her grandfather. How can you maximize the together time but not leave anybody dragging or bored? Perhaps you could build in mid-day quiet time or go separate ways for specific times. If grandparents tire, maybe they could take younger kids to a park or playground where they can sit while the kids play.
If you're traveling, you don't always need to eat together. Do parents want to take in a little nightlife? Kids and grandparents might eat earlier while parents have an aperitif snack and then go their separate ways. But don't expect grandparents to babysit all the time — unless they actively want to. Be up front before the trip; discuss all this so you can plan an itinerary with everyone in mind.
Traveling with kids is not the same as traveling as a couple. Their interests, attention spans and energy levels differ from those of adults. And they will be less enthralled by sightseeing, so plan experiences into the trip everyone can enjoy together. Think about things to do instead of just things to see.
Of course, everyone will want to see some of the sights, especially the iconic ones. But think of ways to interact with a place — learn to make perfect pizza and gelato at a family cooking class in Florence or have dinner with a local family. Join an Eating Europe food tour in London or Amsterdam to sample local favorites; take an art lesson in Picasso's hometown of Málaga and learn to paint like a Cubist. Learn to make perfect truffles at the Valrhona Chocolate Museum in Tain-l'Hermitage, France, or to paint traditional Portuguese tiles in Lisbon. Almost every destination offers interactive experiences for you to explore, but look for those offering a real connection to the place or something you can do only there.
Family vacation options are nearly infinite. Resorts, whether skiing or sun and sand, offer multiple activities in a single location. Everybody can choose their own activities. At a ski resort like Vermont's Okemo Mountain Resort, for example, along with skiing and snowboarding, guests can ride the snow coaster, snowshoe through the winter woods, ice skate, swim in heated outdoor and indoor pools, be pampered in the spa, play disk golf, choose from a variety of restaurants and browse the nearby village shops.
Beach resorts offer the same wide variety with water sports instead of snow, and you'll find them in locales with possibilities for adventures beyond the resort itself. A family-centered beach resort, Martinhal Sagres Beach Family Resort in Portugal's Algarve, boasts a full-service spa, water sports (kayaking, surfing, paddle boarding), multi-age children's programs … even a large staffed play center adjacent to the fine-dining restaurant so kids can play while parents or grandparents linger over dinner. And outside the resort lies the entire Algarve to explore with its castles, seaside villages and Roman sites.
Resort vacations only work when all family members like the environment and have plenty of things to do there. The same is true of active and adventure trips. These require that everyone love kayaking, cycling, hiking or whatever the featured activity might be, but many offer varied levels of activity with alternatives for those who don't care to spend all day pedaling or paddling.
A good option for family trips: an organized tour to an interesting destination. These vacations let someone else take care of the logistics, which multiply exponentially with the number of travelers. Details like flights, airport transfers and lodging are all rolled into the package, and you know all the costs before you leave.
Tour operators have quickly responded to the trend to multigen travel, and several design trips with different family groups in mind. Among the newest, Backroads tailors its 20s & Beyond trips for families traveling with adult kids in their 20s and early 30s, encouraging the different generations to connect as adults. These add to the Backroads portfolio of trips designed for families with Younger Kids (ages 4–12), Kids & Teens (ages 9–19) and Older Teens & 20s (ages 17–23), each with age-appropriate activities to share. Destinations include Greece, Sicily and the Alps.
Natural Habitat Adventures specializes in eco-friendly wildlife- focused expeditions, offering a host of varied family adventures. Discuss evolution, natural selection and adaptation to micro-environments while cruising in the Galápagos; learn about poaching and animal rescue at an elephant orphanage in Kenya's Maasai Mara; or seek sloths in the cloud forests of Costa Rica. The outfit designs programs around conservation, discovery and quality family time.
On The Go Tours can take your family to more exotic places such as Vietnam, Sri Lanka and Egypt, with itineraries suitable for children as young as 5. The Vietnam Family Holiday explores the limestone peaks of Hạlong Bay by boat and includes sleeping a night on board a Chinese junk, cooking a Vietnamese meal, swimming at China Beach and making souvenirs from bamboo. In On The Go Tours' Egyptian Family Adventure, multigenerations will not only visit the Sphinx, the Great Pyramids and the Valley of the Kings but also cruise the Nile on a traditional felucca sailboat, learn to barter in a bazaar and ride a camel across the sands to a seventh- century desert monastery.
Wherever you travel with whatever generations of your family, whether it's on a tour or on your own, take time to smell the roses. Stop often. Enjoy the moment when you're touring; you don't need to see everything. If you're traveling with kids, remember they are still young and have a lot of years to check off all the must-see places. Leave them reasons to come back as adults — and maybe bring their own grandchildren someday.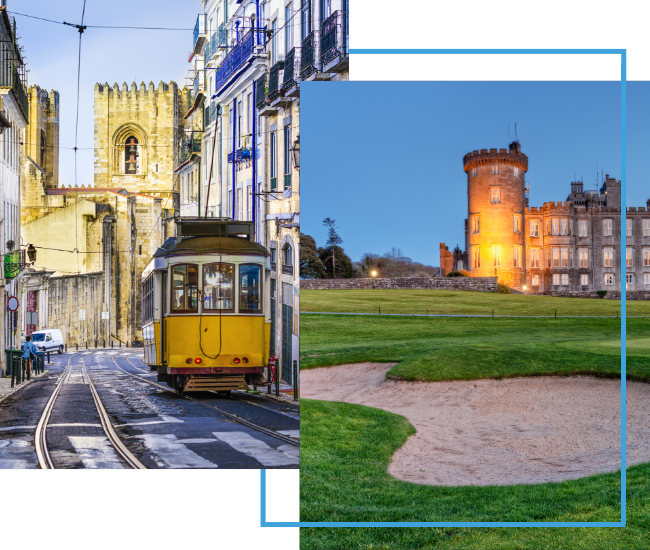 FX Excursions
FX Excursions offers the chance for once-in-a-lifetime experiences in destinations around the world.
Explore Excursions
The Perelman Performing Arts Center (PAC NYC), the cultural cornerstone and final public element of the World Trade Center site, opened this September.  The new performing arts center in Lower Manhattan provides a dynamic home for the arts, serving audiences and creators through flexible venues enabling the facility to embrace wide-ranging artistic programs.
Sponsored Content
One affordable plan can protect an entire year of trips: business or pleasure, short or long, domestic or international.
Whether you call secondhand fashion treasure troves "thrift stores," "fripperies," "charity shops," "vintage boutiques" or something else, shifting the paradigm from "old clothes" to "new finds," you may find the best, most conversation-starting souvenirs inside these shops and neighborhoods located in the world's most fashionable cities and a few unexpected places.