Name: Luc Delafosse
Title: Managing Director
Company, city: Waldorf Astoria Beverly Hills; Beverly Hills, Calif.
Number of employees: Close to 400; guests can expect two employees per room when the hotel opens.
Recent project: Opening the hotel, scheduled for June 1, 2017
First job: I was a chef during hotel school.
Little-known fact about you: Even though I may be someone who portrays a cool persona, I am not that cool.
YOUR BUSINESS
What innovations/initiatives do you foresee in the industry over the next years? I would say service innovation and enhancing the guest experience by using technology of the future. Consider millennials and their lifestyle and use the feedback for the industry of tomorrow. The future is integrating more technology and more digital into a service-oriented industry.
What is the best career advice you've received? Never say "No," and never take "No" for an answer.
What advice would you give someone starting out in the field? Engage the younger generation. I often meet with students in the second year of their master's hospitality programs, and my key message is be true to yourself but mean what you say and say what you mean.
LUC DELAFOSSE AS A TRAVELER
Favorite travel memory or story: Any chance I've had to spend time with my family! The hospitality business is 24/7, and it's not easy. Therefore, I make time with my family; I'm planning a week in France soon with my daughters.
One travel tip you cannot live without: Travel with sense, in a practical way. Travel light, make it simple. Pay attention to the environment to make the most of it.
Best advice for business travelers: More or less, the same as above. Take advantage of the services, and make it as easy as possible to enjoy what is going on.
ABOUT WALDORF ASTORIA BEVERLY HILLS
What can premium travelers and residents expect from Waldorf Astoria Beverly Hills?
A unique experience for upscale travelers will begin pre-arrival with an email or outreach to find out guests' arrival details, transfer needs and other preferences. We find out more to personalize the stay. Little things go a long way to anticipate guest needs and exceed expectations. The in-room technology is seamless and robust, with fast WiFi, TV connections to the services you love at home and more. We use the best of today's technology to our advantage to create a home away from home.
The hotel's design team includes Pierre-Yves Rochon Inc., Gensler and PYR, and Perkins+Will. Tell our readers about the designs.
Our vision was to create something that never existed before in Beverly Hills. Pierre-Yves Rochon's interior promotes a sense of California easy living, with a fresh, modern art décor. The exterior plan was to create as much green space as possible. The hotel connects to the Beverly Hilton through a garden space of trees, flowers and beautiful scents.
What unique on-site amenities will Waldorf Astoria Beverly Hills bring to the neighborhood?
In addition to the 170 guestrooms and suites, we will offer a ground-floor and a rooftop Jean-Georges restaurant. Our lobby bar will serve a California afternoon tea, and our pool will also be on the rooftop. We partnered with La Prairie to create the spa, which will include six private treatment rooms and two relaxation rooms in a 5,000-square-foot space. Every room offers a terrace and unobstructed views over the city. You can pick your view when booking. Three villa suites will offer 1,200 square feet of space and ideal privacy. The 4,000-square-foot presidential suite will boast a spa treatment room, kitchen facilities and a media room. And again, the service element is key: We will create authentic moments from day one.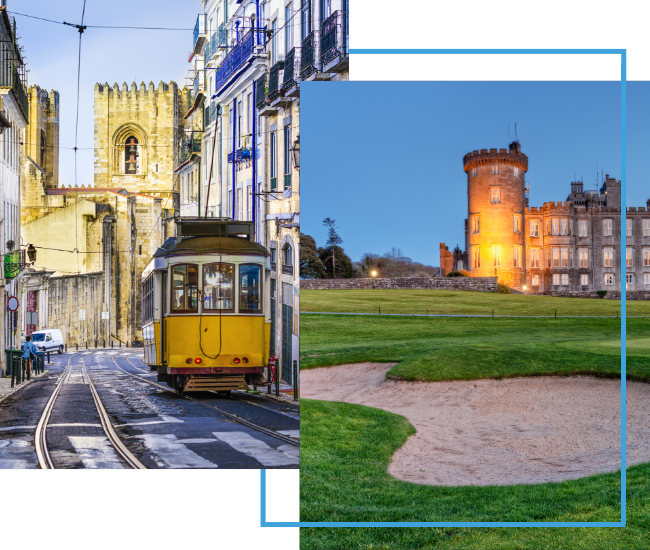 FX Excursions
FX Excursions offers the chance for once-in-a-lifetime experiences in destinations around the world.
Explore Excursions
Less than five years ago the world's first hybrid cruise ship, Hurtigruten Expeditions' MS Roald Amundsen, set sail for Antarctica in November 2019 with 450 passengers. The battery-hybrid-powered ship, named for the first man to cross the continent and reach the South Pole, was built specifically for voyages in polar waters. Its battery-hybrid power reduces the ship's consumption and CO2 emissions by 20 percent compared to equally sized ships.
Sponsored Content
One affordable plan can protect an entire year of trips: business or pleasure, short or long, domestic or international.
A few months ago, I flew Polaris business class on a United flight from Dulles (IAD) to Paris (CDG). It was only when I got to my hotel in Paris I realized that I didn't have my iPad or its bag or accessories. Since I had been working on it in the restaurant in the Polaris lounge and then went directly to the gate, I knew I either left it propped up on my table when I packed up or in my business-class seat. But what was the best method to alert the airline about my careless mishap and (hopefully) retrieve it? With spotty data and WiFi, searching for information on my phone was frustrating and slow. Here's what I learned from the anxiety-inducing experience (and unexpected ending) about what to do if you leave something behind on your flight: