THE BASICS
Name: Lisa Holladay
Title: Global brand leader, The Ritz-Carlton, Ritz-Carlton Reserve, St. Regis Hotels & Resorts and Bulgari
Company, city: Marriott International; Washington, D.C.
First job: Cashier at a grocery store at 16 years old
Where to next: Jordan
A LITTLE BIT MORE
What actor or actress would play you in a movie of your life? I'd say Reese Witherspoon; she's a brilliant actress, a smart businesswoman, multidimensional and dynamic. Plus, she's from the South, like me!
What would you be doing professionally if you weren't in your current industry? An actress! When I was younger, I actually studied to be a Shakespearean actress.
What is your favorite book, movie or television show? I love to read; at the moment, one of my favorite books is Where the Crawdads Sing. Favorite movie is The Wizard of Oz, and for television, right now it's Outlander.
What historical figure, dead or alive, would you love to have dinner with? Can I have a dinner party? I'd pick Shakespeare, Barack and Michelle Obama, and César Ritz.
THE BUSINESS
What is your most recent project, and what was the inspiration behind it? We recently opened the 100th The Ritz-Carlton in Perth, Australia. We are also looking at the family programming available at St. Regis Hotels & Resorts, as it is important to take into account our littlest travelers.
What is your favorite aspect of the job? The people, including my team, and the travel. I don't love the jet lag, but I love to travel and meet new people.
What's the biggest business risk you've ever taken? Leaving the safety of a job in the automotive space and making the move to the hospitality industry.
Who is someone you admire professionally in the travel industry? Herve Humler — he hired me and is the founder of The Ritz-Carlton brand, as well as a master of luxury hospitality and an amazing and kind human being.
AS A TRAVELER
Tell us about a travel nightmare: I travel a lot, so I've had quite a few! I was heading to the West Coast on New Year's Eve, but due to fog in San Francisco, we were dumped in Las Vegas. Las Vegas on New Year's Eve means no hotels and no flights out, so I rented a car with two strangers and drove to San Francisco.
Share a comical travel experience: Every year we drive from D.C. to the South for the holidays with our two dogs, one 70 pounds, the other 60 pounds. With the dogs, luggage, presents and more, it's a perfect set-up for comedy.
What is your preferred method of travel — planes, trains, automobiles, cruise ships — and why? Each method has its charms, but I'm most often on airplanes. I'm looking forward to becoming a big fan of cruising with The Ritz-Carlton Yacht Collection.
What has been the best example of customer service you've experienced during your travels? As with nightmares, I've had many examples of genuine care in all my travel. After being gone for a week, I was really sick and traveling from London to Rome. The St. Regis Rome took exceptional care of me, bringing me pajamas, tea and medicine.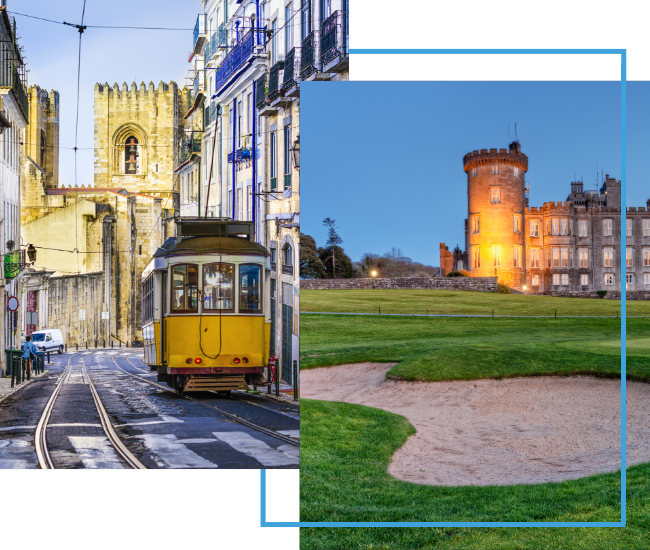 FX Excursions
FX Excursions offers the chance for once-in-a-lifetime experiences in destinations around the world.
Explore Excursions
Less than five years ago the world's first hybrid cruise ship, Hurtigruten Expeditions' MS Roald Amundsen, set sail for Antarctica in November 2019 with 450 passengers. The battery-hybrid-powered ship, named for the first man to cross the continent and reach the South Pole, was built specifically for voyages in polar waters. Its battery-hybrid power reduces the ship's consumption and CO2 emissions by 20 percent compared to equally sized ships.
Sponsored Content
The Islands of Tahiti are among the most beautiful and sought-after vacation destinations in the world. The endless images of overwater bungalows with Bora Bora's majestic peak towering over waters of every shade of blue have an intrinsic pull. But with 118 islands and atolls to explore, there is so much more to this spectacular region of the Pacific.
A few months ago, I flew Polaris business class on a United flight from Dulles (IAD) to Paris (CDG). It was only when I got to my hotel in Paris I realized that I didn't have my iPad or its bag or accessories. Since I had been working on it in the restaurant in the Polaris lounge and then went directly to the gate, I knew I either left it propped up on my table when I packed up or in my business-class seat. But what was the best method to alert the airline about my careless mishap and (hopefully) retrieve it? With spotty data and WiFi, searching for information on my phone was frustrating and slow. Here's what I learned from the anxiety-inducing experience (and unexpected ending) about what to do if you leave something behind on your flight: