Hotel diversity isn't where it could be, but it's a work in progress. Fueled with new energy that emerged from the racial reckoning of 2020, there's more of a sense of urgency … and with good reason. There's plenty to do when it comes to diversity, equity and inclusion in the hotel industry.
Black people account for one in five American hotel jobs, according to the U.S. Department of Labor. But they hold only one in 60 positions at a vice president or higher level, according to a report last year, "Black Representation in Hospitality Industry Leadership 2020," from the nonprofit organization the Castell Project. They hold 1.5 percent of overall hospitality industry executive positions compared to 5 percent of executive positions across all industries.
According to research from MogulRecruiter, women and minorities comprise 60 percent and 40 percent, respectively, of the U.S. hotel frontline. However, only 20 percent of U.S. hotel general managers are women and 10 percent minorities. Blacks represent 15 percent of the frontline and only 1 percent of hotel general managers. "It took us a few years to analyze the data, but we have developed algorithms to rank diverse pools of talent and predict their worth and annual compensation. Today, our talent database has over 500,000 elite hospitality leaders in supervisor roles and above, featuring over 50 percent women and 33 percent who identify as minorities. However, our work is just getting started," said Alex Mirza, founder and CEO, Mogul, a venture-backed technology company specializing in the hotel industry whose mission is to perfect meritocracy and accelerate diversity.
Mirza is passionate about diversity. In 2007, when he was senior vice president of corporate development at Hilton, he presented to the board of directors at a Waldorf Astoria resort in Phoenix. "After a very thorough question and answer period that followed my presentation, I undid my tie and walked to the valet to retrieve my rental car. The valet crew was out retrieving vehicles, so I waited. In a span of a few minutes, not one but three white men handed me the car keys to their vintage sports cars, mistaking me for the valet," said Mirza.
He passed the keys over to the actual valet who quipped, "This is one of the few places where they trust brown people." It turns out all three were CEOs of real estate and finance companies and were frequent guests at the resort. "While the implicit bias of this experience was demoralizing, it pales in comparison to the explicit barriers that women and ethnic minorities face in reaching the senior ranks of the hospitality industry," said Mirza, a former CEO of Cachet Hotels with more than 20 years of experience as a senior executive in hospitality and gaming.
The NAACP publishes a report of its grades of hotel operators and their franchisees on minority representation of skilled versus unskilled labor, property management and corporation ranks. In 2019 the NAACP found little progress had been made since the organization's 2005 evaluation and gave Hilton, Hyatt and Wyndham each a C and Marriott a B. For top management representation, the range of grades was from C (the best score) to many Fs, said Mirza.
No doubt there's much work to be done on the diversity front, but that's not to say there's nothing going on. In fact, "Unlike before 2020, diversity is among the top management priorities," said Mirza.
It is indeed. Here we highlight how some hotels are taking on the challenge of creating a more diverse workforce and partnering with diverse communities.
HYATT HOTELS
Hyatt has a tradition of diversity. In 1967 the Hyatt Regency in Atlanta was the only hotel in the area to welcome the Rev. Dr. Martin Luther King, Jr. and the Southern Christian Leadership Conference, earning it the moniker the Hotel of Hope. In 1998 the company established the Hyatt Diversity & Inclusion Council in the Americas long before it was trending. In 2017 the company put some teeth in its diversity, equity and inclusion efforts by linking executive annual incentives to DEI progress. In the wake of racial strife last year, Hyatt's Change Starts Here initiative vowed to accelerate DEI across the business. It went a step further this summer with its World of Care through which, among other initiatives, Hyatt is committing to increased communication and accountability around DEI.
"At Hyatt we know that we achieve our greatest success when all colleagues feel confident bringing their whole selves to work each day. These diverse backgrounds and points of view fuel innovation and connect us more closely to all who are in our care," said Malaika Myers, Hyatt's chief human resources officer, when the report. was released."We recognize there is much progress to be made — for our company, our industry and our global society. Sharing our diversity data publicly and tying executive compensation to progress will ensure DE&I is further prioritized and embedded throughout the company so that Hyatt can truly reflect the diverse communities it serves and contribute to a more just world."
Hyatt's U.S. leadership is 75 percent white. Among the company's announced goals for 2025, it hopes to double representation of women and POC in key leadership roles, contribute $1 million to support Black communities in the United States through its foundation, and achieve 10 percent of Black spend as a percentage of all minority- and women-owned supplier spend.
As the pandemic disproportionately affected minority-owned businesses, the Hyatt Loves Local program helps by providing complimentary space and resources to these businesses. For example, Hotel 50 Bowery, a JDV by Hyatt Hotel in New York City, is continuing its collaboration with the grassroots initiative Welcome to Chinatown, selling coffee mugs by its front desk for $15 with proceeds from sales going to support businesses and amplify voices in the city's Chinatown district. In late 2020 the hotel also donated space to the female- and minority- run organization to host a weekend-long art exhibition, raising $4,000 through ticket sales.
HILTON HOTELS CORP.
Hotels are also broadening their reach. Earlier this year Hilton announced it will partner with the historically black liberal arts institution Morris Brown College and investment firm CGI Merchant Group on a $30 million hotel and hospitality training center on the Atlanta campus. "We want to make sure we sustain a relationship with this early talent pool so that when they are in the market for full-time roles, they know about us and the schools know about us and have seen our commitment during tough times," said Laura Fuente, executive vice president and chief human resources officer, Hilton, speaking to Skift ahead of the announcement. "It starts by building those deep-rooted relationships and building the pipeline."
According to Skift, Hilton plans to achieve gender parity in leadership roles around the world by 2027 and have 25 percent ethnic diversity in U.S. leadership roles by then, too. Look for a public dashboard updated annually with reports on hiring, as well as tying executive compensation to progress. Skift reports Hilton has 17 percent ethnic diversity at corporate leadership roles in the United States, and women account for 37 percent of global leadership roles.
MARRIOTT INTERNATIONAL
Also earlier this year, the J. Willard and Alice S. Marriott Foundation and Howard University announced the creation of the Marriott-Sorenson Center for Hospitality Leadership in honor of recently deceased Marriott International president and CEO Arne Sorenson. The foundation will provide a $20 million endowment to launch the Center at Howard's School of Business and will feature a program that expands educational and professional opportunities for Howard students and has a goal of developing future hospitality executives. Furthermore, Marriott International announced the creation of the Arne M. Sorenson Hospitality Fund to help the industry build leadership talent in hospitality. Marriott is putting up the first donation, $1 million, and is inviting other companies, individuals and organizations from all industries to join in.
According to reporting in Skift, Marriott plans to achieve gender parity in global leadership by 2025, up from its current rate of women accounting for 44 percent of leadership positions around the world.
CONCORD HOSPITALITY ENTERPRISES
"Long before it became a trend, diversity and belonging was part of our company's DNA," said Debra Punke, chief human resource officer, Concord Hospitality Enterprises, a hotel development and management company.
Concord's mission, she said, "is to be a place to work for all, with emphasis on the 'for all ' because we know that if people feel safe and free to be authentic in the workplace, they will bring their best selves to work, which will fuel innovation and optimal performance. In other words, everyone wins!"
Concord Hospitality's management portfolio consists of 135 premium select-service, lifestyle/boutique and full-service hotels with more than 20,000 rooms in the United States and Canada. The company has eight affinity groups and a Diversity & Belonging Council, and during all the racial turmoil it ran a six-month campaign to end racism. "It was powerful, from candid conversations with our CEO to team member testimonials about our company's practice of inclusion and equal treatment for all," said Punke.
The push right now is on more intentional recruiting practices to increase diversity among the most senior positions in the company, said Punke. "Currently, our diversity is 20 percent. We're looking to get that to at least 40 percent."
They are hoping to get there in part by partnering with workforce development groups, mentoring programs, tapping employees for referrals of friends and family, and being flexible. Punke said, "We've never had a stringent stance that one must have a degree to succeed in our business. It's more about heart and passion for service."
As for the company's diversity goals, "It's a journey, not a destination."
FAIRMONT SAN FRANCISCO
Fairmont San Francisco's commitment to DEI includes involvement in Equality and Inclusion in Hospitality, Inc., a nonprofit organization committed to increasing the economic self- sufficiency of Black workers by expanding their hospitality-related employment opportunities while providing unionized hospitality employers access to skilled workers.
The hotel has been a long-time supporter of the Primed & Prepped Culinary Arts Program that provides youth of color ages 14–24 with the support to break down employment barriers and enhance leadership skills. The program focuses on hospitality management and culinary arts to grow into an internship and job.
As part of the hotel's focus on shedding light on its DEI pillar, Fairmont San Francisco started a Candid Conversation Series with speakers such as Tom Heinz, executive director, East Bay Innovations, an organization that provides personalized support to individuals with disabilities, to have candid conversations with the organization's leaders.
There are always celebrations, be it for Pride, Cinco de Mayo or Juneteenth.
CRYSTAL SPRINGS RESORT
Going the extra mile can lead to more diversity. The Crystal Springs Resort in Hamburg, New Jersey, developed an innovative hiring program in partnership with Paterson, New Jersey, which is a majority Hispanic community. The Paterson Workforce Development initiative was born in 2019 out of a relationship developed by Crystal Springs Resort COO Robby Younes and the mayor of Paterson, New Jersey, Andre Sayegh. They teamed up along with Passaic County to provide employment opportunities to those with ties to the municipal Workforce Development division. Since the spring of 2019 the resort has employed more than 50 people from this program, ranging from housekeepers and laundry attendants to dishwashers, line cooks, sous chefs and maintenance technicians. Many of these placements involved those seeking to reclaim their vitality after episodes of economic, legal or personal challenge. Crystal Springs provides daily carpool shuttle transportation from Paterson to the resort and continually assists these employees with ride-sharing services. They have also provided housing to those who have qualified and are able to contribute a monthly rent payment.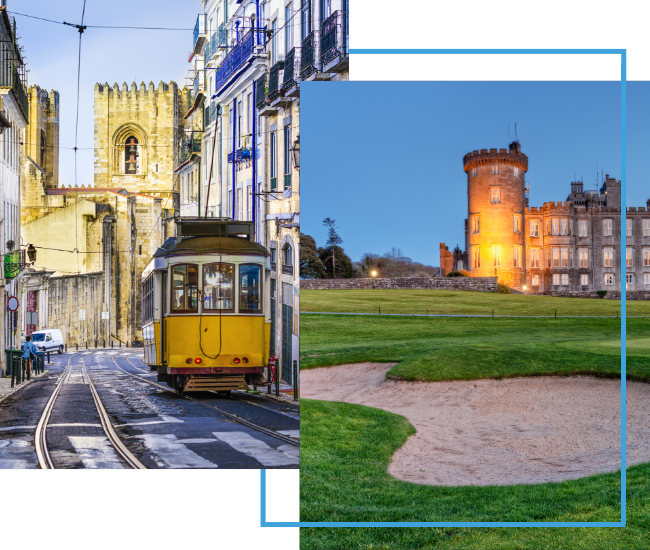 FX Excursions
FX Excursions offers the chance for once-in-a-lifetime experiences in destinations around the world.
Explore Excursions
Corsica with steep, gray cliffs overlooking the Mediterranean and sandy beaches attracting summer visitors, is a French-governed island sometimes confused with Sardinia and Sicily, Italian islands to the south. Fortunately, all three islands share the same love for good wine, food and sun-splashed beaches.
Sponsored Content
Whether it's the people, the craic (fun) or the coasts, travelers always find something to love about the island of Ireland. What fills your heart?
If you're ready to do a little holiday catch-up with your besties, make a beeline for Conrad New York Downtown. The lobby metamorphosed into a holiday forest of heavenly scented, decorated Virginia Spruce trees. Make your first stop ATRIO Barista Station in the lobby for a complimentary hot spiced apple cider (until Dec. 3) or hot chocolate (Dec. 22­–24).