A handful of historic towns in Texas Hill Country reinvented themselves as upscale food, wine and culture destinations. Fredericksburg is the shining star among them, transcending its historic German underpinnings to the point where it's drawing a more cosmopolitan group of visitors, including many from outside Texas.
The transformation is the handiwork of several families and individuals claiming long-standing Fredericksburg roots. Their challenge is multifold: maintaining the integrity of Fredericksburg's 19th-century German underpinnings and old-school fine art gallery scene while adding cosmopolitan and global zest to the landscape with its newer restaurants, bars, clothing boutiques, interior design emporiums and rustic-chic boutique properties minutes off Main Street.
Chef Leslie Washburne is the matriarch of one of the families credited for pushing Fredericksburg beyond its status as a driving-distance weekend retreat for Texas families. Although she cultivated a reputation across the state for her vegetarian and vegan cooking and pop-up wine dinners in Dallas, she took a leap of faith when she purchased a 12-room, 1840s, Texas-German guesthouse from its previous owner around 2004.
Since the first renovations and through subsequent additions, Leslie's long-term goal was to establish a pride of place that could be appreciated by visitors as well as those with familial ties to Fredericksburg; she and daughter Sarah — with a lot of creativity and a little bit of trial and error — gave Hoffman Haus a new lease on life that's raised local standards, as every lodging in downtown is independently owned and has historic underpinnings.
The now 23-room Hoffman Haus is the perfect embodiment of Fredericksburg's past and future thanks to Leslie's attention to detail in both the renovations of the 19th-century structures and creating continuity when pulling together the interiors of newer cabins and rooms. Different combinations of restored furnishings from different eras and locally crafted amenities add a distinctive personality to each room.
The Cottage, the newest stand-alone suite, for example, is its own self-contained country retreat, from a porch area overlooking prairie-style landscaping to its vaulted ceiling, upholstered living room seating and an armoire converted into a butler's pantry. The large bathroom adjoining the large bedroom is the most luxe section, with two vanities, soaking tub and separate walk-in shower.
The aromatic, made-to-order, in-room breakfast baskets are can't miss. The living room in The Cottage or the porch is the perfect spot to enjoy the kitchen's scones, quiche, muffins and whatever struck the fancy of the Washburne's bakers that day.
Given the thought that's gone into the accommodations to make them warm and calming, business meetings and retreats here are custom-planned for every client and event planner to ensure the stay is stimulating, focused and productive. Three indoor spaces and other public areas on the grounds can be mixed and matched to make every attendee feel at home regardless of group size. The 1,200-square-foot Great Hall can accommodate up to 80 people and features a stage for speakers and presentations. The adjoining Conservatory offers seating flexibility and space for up to 40 attendees. Corporate groups looking for a space for much smaller meetings can use the 800-square-foot Library, which can be closed off to the rest of the Great Hall area for added privacy.
For special occasions, the property's Private Chef Dinner (requiring at least a week's advance notice) blends haute cuisine dining with the joviality and intimacy of a home dinner party. Chef Karen Vaucher (a veteran New York City chef and restaurateur whose resume includes Bistro du Nord and Bar du Theatre) complements Leslie's regionally influenced Mediterranean cuisine, incorporating techniques from France, Spain and Italy.
608 E. Creek St.
Fredericksburg, TX 78624
tel 830 997 6739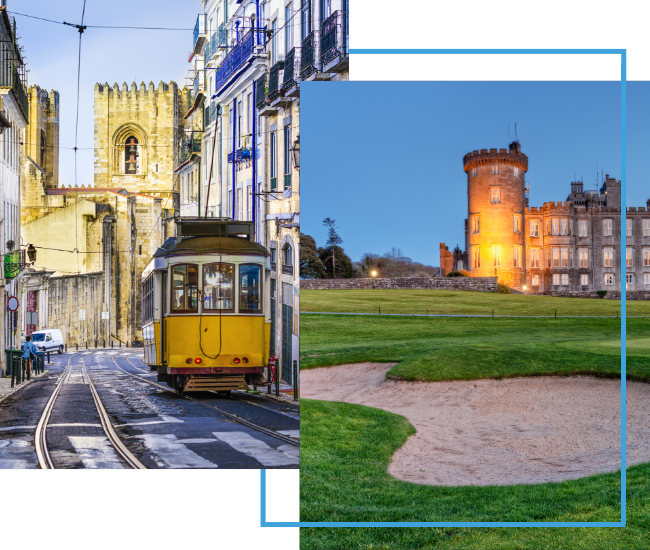 FX Excursions
FX Excursions offers the chance for once-in-a-lifetime experiences in destinations around the world.
Explore Excursions
Pleasant weather, autumn foliage and vibrant flowers are among the many delights awaiting nature lovers at botanical gardens and arboretums across the United States. However, some of these green spaces take on additional color this month and through Halloween when enterprising gardeners, landscape architects, management and other creative minds cast a spell with themed environments running the gamut from spooky to utterly bewitching.
Sponsored Content
Exclusive Sailing with Global Traveler
For travelers who love all things autumn, Crystal Springs Resort, New York City's closest destination resort, features special offers and experiences to meet the demands of everyone's fall bucket list. Located only 80 minutes outside New York City in Sussex County, New Jersey, Crystal Springs Resort offers a quick getaway to enjoy fall foliage. Are any of these new offers or experiences on your bucket list?