If you can dream it, and you have the money, you can do it. Once only a select group of elite travelers were privy to ultra-luxury trips, with private jets and helicopters, opulent accommodations and a personal concierge to ensure every need is met. These days, any intrepid traveler with deep pockets can find exclusive packages through tour operators, hotels and cruise lines.
Abercrombie & Kent sets the bar high, starting with 50 handmade, first-class leather seats on its privately chartered Boeing 757, centerpiece of A&K's Private Jet Journeys. In 2016 and 2017, the company will offer tours such as Around the World by Private Jet: Islands, Savannas & the Amazon — a 26-day trip (starting at $117,000 per person) to some of the most remote places on Earth. Stops include the Amazon River, Easter Island, Samoa, Papua New Guinea, Bali, Sri Lanka, Madagascar, Kenya and Monaco.
With flight times of eight hours from Nairobi to Nice or 10 hours from Easter Island to Samoa, the private jet offers a home in the sky with seats that recline a full 180 degrees into a completely flat 6.5-foot-long bed, plus an onboard executive chef, a fully stocked bar and individual iPads loaded with entertainment options.
A&K's The Tropics to the Arctic journey takes participants stargazing in Mongolia and attending a private concert and fashion show in Uzbekistan. Other stops include Colombia, Easter Island, French Polynesia, the Solomon Islands, the Philippines, Russia and Iceland. The 26-day adventure costs $129,000. The Cuba & South America by Private Jet tour takes guests south from Miami on a 23-day odyssey and visits six countries, starting at $99,500 per person.
On a new selection of A&K luxury journeys branded Wings Over the World, groups of 14 to 16 board privately chartered smaller aircraft such as a Gulfstream G450 to explore exotic destinations not easily accessible by major carriers. Wings Over India starts at $28,995, and Wings Over China starts at $27,995.
For $79,950 per person, you can join National Geographic Expedition's Around the World by Private Jet, a 24-day luxury global odyssey to Machu Picchu; Easter Island; Samoa; Australia's Great Barrier Reef; Angkor Wat, Cambodia; Lhasa, Tibet; the Taj Mahal; the Serengeti Plain; Petra and Wadi Rum, Jordan; and Marrakech. A team of National Geographic experts travels with you on a Boeing 757 configured for 75 passengers. Plus, you meet researchers and grantees in the field.
Already visited one of the places on the itinerary? No problem. An alternate stop or activity can usually be arranged.
IfOnly, a San Francisco company, packages one-of-a-kind trips that also benefit worthy causes, meaning you may score an extra deduction come tax time. The Ultimate Golf Getaway at Sea Island, Ga., rings up at $100,000 for three duffers and includes four nights at the Lodge at Sea Island. Play on three championship courses, including a round with PGA legend Davis Love III, whose Davis Love Foundation is the beneficiary. Hone your game with lessons at Sea Island Golf Learning Center, be fitted for a new set of custom clubs and outfitted by Nike and Peter Millar. Enjoy an in-room massage, private bourbon tasting and cigar rolling session, shooting lessons or a fishing expedition, airfare stipend and a private car and driver for your threesome during your stay.
For those who want to circumnavigate the globe but unpack only once, the Full World 2017 voyage aboard the Queen Mary 2 sails more than 37,000 nautical miles. The 132-night roundtrip from New York City takes in 40 ports in 23 countries, 33 UNESCO World Heritage sites, nine maiden calls and three overnight stays. QM2 features five duplex apartments, each with its own exercise area, marble bathroom with whirlpool tub and private library. Of course, the accommodations include a butler and exclusive access to the Queens Grill Restaurant and the Grills Lounge. Fares for a duplex start at $84,198 per person, double occupancy; but if you want the 2,250-square-foot Grand Duplex Suite (and what high roller wouldn't?), it will set you back $270,799 per person.
Elegance at a leisurely pace describes a 22-day private train tour of the Silk Road via Golden Eagle Luxury Trains. Follow in the footsteps of Alexander the Great and Marco Polo, crossing Russia and China as well as some of the remotest former Soviet republics such as Kazakhstan, Uzbekistan and Turkmenistan. Travel 6,800 miles across five countries and six time zones, the bulk of your trip spent on board the Golden Eagle and the Shangri-La Express. Tour operator MIR Corp. can book your spot for $24,595 per person.
Hotels are bundling their own ultra-high-end experiences. AKA Times Square touts an Ultimate Broadway offer, including a seven-night stay in a one-bedroom suite, seven nights of Broadway show tickets and VIP dinner pairings (preferred seating). For example, attend "An American in Paris," with dinner at Alain Ducasse's Benoit for an authentic Parisian bistro experience. Rounding out this $10,000 itinerary for two: a designated fashion stylist helps you pull together your look, a backstage tour of a Broadway show and a LiveIt! experience such as dance classes through Alvin Ailey Dance Theater or trapeze lessons.
Five luxury hotels that form The Quintessential Collection Vietnam devised a discriminating offer to help travelers traverse the country in style, with transfers in Bentleys and Rolls-Royces. Costing $19,358, the trip starts in a Panorama Suite at The Reverie Saigon. In Nam Hai, a local artist uses a photo sent two weeks before your arrival, then an in-person session, to finish your portrait before you leave the beachfront resort. During your stay in Hue, take guided tours of tombs, pagodas and a citadel that served as the seat of Vietnamese power from 1802 to 1945 while luxuriating at La Residence Hotel & Spa. Venture on to Hanoi and the Sofitel Legend Metropole Hotel for two nights in a Legendary Suite and a half-day city tour in a BMW 7 series sedan.
Exclusive Emirates is a nine-day itinerary with daily departures offered through Artisans of Leisure. It includes stays at One&Only The Palm and the Burj Al Arab Jumeirah in Dubai and Emirates Palace in Abu Dhabi, as well as two nights in a private tented bungalow at Al Maha among the sand dunes of the Arabian Desert. A private guide and driver and customized activities such as a visit to the top of the Burj Khalifa or testing your falconry and archery skills can be yours for $13,090 per person.
Luxury tour operator Remote Lands partners with Aman, proprietor of 30 resorts, hotels and private residences worldwide, for a Pan Asia jet trip through Vietnam, Laos, Cambodia, the Philippines and Japan. For $58,888 per person, up to 16 guests fly on two Gulfstream private jets. Helicopter over Angkor Wat and land at a lost temple in the jungle for a gourmet picnic lunch. Participate in a traditional Lao baci ceremony performed by a Buddhist monk and get an insider's view of the Asian contemporary art scene at some of Tokyo's top galleries. Each couple has its own private car, driver and guide on each touring day. Guests gather at night for cocktail parties, dinners and, presumably, to swap stories of the day's adventures and map out their next money-is-no-object vacation.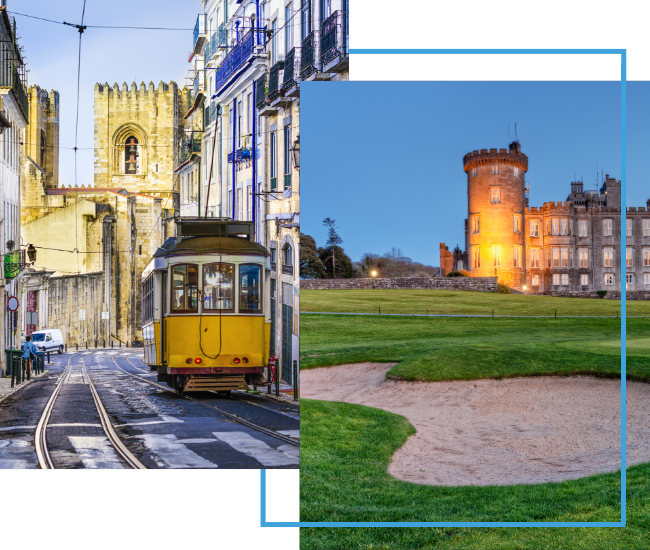 FX Excursions
FX Excursions offers the chance for once-in-a-lifetime experiences in destinations around the world.
Explore Excursions
Pleasant weather, autumn foliage and vibrant flowers are among the many delights awaiting nature lovers at botanical gardens and arboretums across the United States. However, some of these green spaces take on additional color this month and through Halloween when enterprising gardeners, landscape architects, management and other creative minds cast a spell with themed environments running the gamut from spooky to utterly bewitching.
Sponsored Content
Experience the life-changing destination of Greece by exploring its island gems in the Ionian Sea. Scattered off the western coastline of Central Greece, to the south of Peloponnese, the Ionian Islands are an island group comprising large and small islands.
For travelers who love all things autumn, Crystal Springs Resort, New York City's closest destination resort, features special offers and experiences to meet the demands of everyone's fall bucket list. Located only 80 minutes outside New York City in Sussex County, New Jersey, Crystal Springs Resort offers a quick getaway to enjoy fall foliage. Are any of these new offers or experiences on your bucket list?