Carlton Tel Aviv is a privately owned 5-star hotel located where "the city meets the sea" on Israel's famed Tel Aviv beachfront, overlooking the Mediterranean Sea. The hotel sits minutes from the hub of Tel Aviv's business, shopping, cultural and entertainment options.
Originally constructed in the Brutalist architecture style by famed Israeli architect Yaakov Rechter in 1981, the recently renovated 257-room, 12-suite hotel continues to attract loyal guests despite newer and more modern properties lining the same 3-mile beachfront from the Old Tel Aviv Port area to the north to Yaffa's famous Clock Tower to the south.
Carlton is known for its personalized guest services and spectacular, 360-degree rooftop views of the Mediterranean Sea and Tel Aviv. The hotel's Royal Executive Lounge and its meeting facilities make it a good choice for business travelers, alongside the popular rooftop swimming pool and beachside stand. The breakfast restaurant attracts leisure visitors, as well. The pool area offers a Jacuzzi, sun beds, umbrellas and a fully stocked bar. The rooftop is for the private use of hotel guests only.
During its early years, Carlton Tel Aviv was known for hosting an exclusive clientele of local and international business and political leaders, entertainment celebrities and major sports figures, as well as Israeli Prime Ministers. It is also the only member of Preferred Hotels & Resorts Worldwide in Israel.
Newly renovated rooms and suites all feature private balconies, with either city or sea views, and include large, flat-screen TVs; high-speed WiFi; a sitting area; minibar; coffee and tea facilities; and a large desk. All bathrooms offer a Carlton Tel Aviv special scented toiletry set.
The property is known for its large gourmet breakfast served in the Carlton on the Beach venue, located directly on Tel Aviv beach and separated from the main building by just a few steps. Diners enjoy sea views while enjoying a variety of breakfast buffet items, including an omelet bar; fresh juice bar; vegetables, fruit and herbs; smoked and marinated fish specialties; and a Mediterranean/Middle Eastern sweets bar offering baklava, lokum and halva, as well as hot dishes which change daily. Vegan-friendly, gluten-free and sugar-free items are also available.
For fine dining, rooftop cocktails and private events, Blue Sky restaurant is located on the 15th floor, functioning as both an open-air and closed-roof venue. The Lumina restaurant, located on the first floor overlooking the Mediterranean, is a fresh and breezy bistro, with floor-to-ceiling windows available for private events, meetings and conferences. On Friday evening and Saturday at noon, Shabbat dinner and lunch are served.
The Lobby Restaurant offers guests a variety of options in a casual setting including burger, fish, salads and vegan options. The newly designed lobby features a relaxing area and a circular beachfront bar, where drinks and bites are served all day and into the evening.
The Royal Executive Lounge, on the 14th floor, offers guests computers, newspapers and magazines, secretarial services, floor-to ceiling-windows, and a light all-day buffet with drinks included. Access to the lounge is offered to Executive Floor guests only 18 years and older.
The hotel offers 10 conference rooms and banqueting halls which can accommodate from 10–300 attendees. Carlton's gym and spa is a fully equipped state-of-the-art gym, and a modern spa provides a wet and dry sauna, jet shower, massages and spa treatments, as well as a health buffet offering snacks, herbal teas and cold drinks.
There has been a new collaboration with leading contemporary art galleries based in Tel Aviv, with art from local artists exhibited throughout the property, including works by Ohad Benit, Eitan Ben Moshe and Gal Sasson. There is an interesting piece by Ohad Benit called My Big Life: Monoblock, which represents different aspects of Tel Aviv architecture with handmade blocks. The new lobby renovations were designed by Tel Aviv-based Studio Yaron Tal.
For the Lumina restaurant and in the ballroom, custom lighting fixtures were also created by Studio Yaron Tal to fully bring forth the most complimentary light schemes possible without ever obstructing the natural light from the glass walls and windows, especially during daytime. Tal created three circled lighting fixtures with patterns inside to change the lighting schemes, all of which boast individual patterns especially for the space in which they sit, which gives Carlton Tel Aviv a range of schemes and perspective from the front of the halls.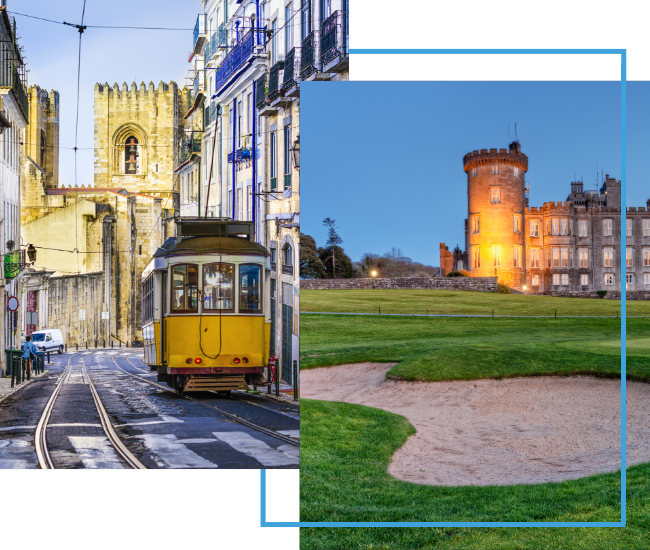 FX Excursions
FX Excursions offers the chance for once-in-a-lifetime experiences in destinations around the world.
Explore Excursions
Located in the heart of Houston's Theatre District, the recently renovated Lancaster Hotel originally opened in 1926. The classic interior with an abundance of natural light floods the two-story lobby. A shimmering chandelier and elegant marble floors juxtapose nicely with the contemporary art displayed on the salon staircase wall.
Sponsored Content
IHG Hotels & Resorts is thrilled to announce the launch of a new mobile product feature for members: IHG Wi-Fi Auto Connect. This feature is now available exclusively in the IHG One Rewards mobile app for both iOS and Android users and will automatically connect IHG One Rewards members to WiFi upon arrival at more than 5,000 IHG hotels worldwide — no separate passwords or log-ins needed. This is in addition to the exciting benefits of being an IHG Business Edge member. IHG Business Edge provides small- and medium-sized businesses access to a user-friendly portal that displays comprehensive spending and savings data while providing the convenience of direct booking with a guaranteed discount.
The Woodward Geneva and Swiss International Air Lines recently launched a new collaboration to transport passengers to the counter of Michelin-starred restaurant L'Atelier Robuchon. As part of the SWISS Taste of Switzerland inflight culinary program, the partnership provides Business and first-class travelers on SWISS long-haul flights departing from Geneva and Zürich carefully curated menus inspired by the restaurant.