A business traveler's biggest nightmare: flying home when a debilitating European snowstorm closes multiple airports. That's exactly what happened to Peter Shankman two days before Christmas last year.
"I was on a Lufthansa flight heading to Frankfurt when the airport closed," recalls Shankman, a Continental Airlines OnePass elite member. "We were rerouted, and I had just 45 minutes to catch the one Continental flight headed to the East Coast. Since Continental is a Star Alliance member, Lufthansa honored my elite status and personally shuttled me off to the gate to catch the flight to Newark. If not for that privilege, I would've spent the holidays away from my family."
When originally envisioned more than two decades ago, images of seamless flights and stellar service experiences floated through the air on a wisp of a promise called "airline alliances." In theory, the airline executives metamorphosed the earlier marketing agreements among carriers from simply codesharing into an international concept. Global alliances should make life on the road more productive, less stressful and, gasp, more rewarding. Business travelers were abuzz with excitement — could it be possible to expand their reach and reap the benefits?
Since the formation of Star Alliance in 1997 — closely followed by the two other main alliances, SkyTeam and oneworld — the combined power of these three groups has grown to encompass 54 airlines (and counting) and more than 45,000 daily flights worldwide. The alliances now control more than 60 percent of the world's airline capacities, and their members include 25 of the world's 30 largest airlines.
Leveraging airline alliances gives travelers such as Shankman, who logs more than 250,000 miles each year on Continental, more worldwide access while still remaining loyal to and maintaining his elite status. Shankman considers airline alliances essential to his business travel experience.
"My business is not unlike commuters on the Long Island Expressway," he says. "I just travel much farther. Commuters pay extra to drive in the easy pass lane to avoid traffic; I prefer to pay a few extra dollars, travel in the 'express lane' and avoid long lines at the airport. As alliances continue to expand, I can essentially go anywhere on the globe, pick from any carrier in Star Alliance and leverage my status to make my experience less stressful."
For business travelers, airline alliances greatly changed travel, and international travel has, for the most part, evolved into a more seamless experience for frequent travelers. Member airlines do move business travelers around the world more comfortably with worldwide access, improved choice and convenience.
Domestic travelers, like Denver-based, loyal United lifetime million-miler Steven Prather, are more neutral — perhaps even cynical — about the global alliances and, in particular, the United- Continental merger. "On a typical United commuter flight from Denver to Los Angeles with 180-passenger capacity, there are at least 100 frequent flyers in the priority line: some 60 Premier Executives and 40 with 1K. Even with my status, I have to fight for a United Plus seat. Merging the two airlines' frequent-flyer programs won't make that any better."
The magic and benefits of earning the lifetime membership with United has basically flown by the wayside, Prather says. "We used to receive two free 'regional' upgrades per year within North America, and now that's gone. Plus, the 100 percent mileage bonus is cut back to 50 percent. The only additional perk is my wife can be granted elite status with me. It's disappointing, when I had to earn this status the hard way."
Yet Prather remains loyal to United. "United is Denver-based, and so far, their flight schedules mesh with my travel. It still makes business sense to fly United and take advantage of my VIP status with priority check-in, boarding and baggage handling, access to airport lounges and some upgrades."
Passenger loyalty encompasses so many criteria: geographic location, the hub used by the airline, type of aircraft, location of lounges, quality and service levels and upgrade potential. Unfortunately for passengers without premier status, that translates into priority standby and wait listing for flights that are usually full.
According to frequent flyer Dave Dudar, an independent hospitality and transportation marketing consultant, "We are all sort of that George Clooney character in the Up in the Air movie. We're seeking recognition and status, anything that provides anesthesia for the stress of flying. Unfortunately, no single airline today can provide that bigger platform without membership in a global alliance."
Once you've given business travelers a taste of the VIP status, it literally takes a crow bar to separate them from the airline that has given them that recognition, says Dudar. "With the patchy economy, business travelers may be flying on the company's dime, but on-the-road expenses have been cut. In some cases, travel has been cut. Keeping their VIP status requires a conscious effort by the business traveler to track their legs and mileage."
For these elite frequent flyers, Dudar says, it's not about the 25,000 miles award. It's about comfortable seats with legroom. It's about lounge access, upgrades and that dedicated 800 phone number when a snowstorm grounds you. "When your airline is a member of a global alliance and the partner airlines recognize your elite status, that simply adds substance to your air travel experience."
Alliances have sustained a strong foothold in the industry. Strategically based member airlines can now capably move business travelers around the world among their member airlines with convenient connections and codeshare flights. These alliances have maximized revenues for member carriers by sharing in the costs of overhead, such as VIP programs, airport terminal locations, joint lounges and services.
Michael Blunt, oneworld's vice president of corporate communications, says, "Alliances like oneworld are going to be in place until our member airlines can replicate the global coverage we are in business to provide. For example, oneworld effectively more than triples the net worth of American Airlines, one of our member carriers. The oneworld alliance membership extends the frequent flyer's reach, allowing him to fly on his 'airline family' while maintaining and leveraging his elite status."
For passengers, this has translated into more services; and for carriers, the benefits of alliances far outweighed the disadvantages.
"Membership in oneworld makes airlines more competitive," says Blunt. "When an airline wants to maximize its revenues, alliances are another way to achieve that. For frequent flyers, the alliance translates into more services and more flight frequency and choices within the alliance. For both customer and airline member, alliances are financially more viable."
Blunt adds that with the addition of three more airlines in 2012, oneworld will increase its network by 20 percent, thus increasing passengers' and members' global reach. What started off as marketing agreements among carriers has blossomed into full flight benefits as members of a global alliance. But does it really benefit the consumer?
Simon Talling-Smith, executive vice president for the Americas, British Airways, believes it does. "Customer service for loyal alliance members on British Airways has reached a new level. Our goal is to provide the level of service customers expect. Our in-flight cabin service director now carries an iPad containing info on our elite members, enabling us to personalize the service."
For example, perhaps the cabin service director learns that an elite member experienced delays on her last two flights. The flight crew will take a moment to personally apologize for the delays and ask if there's anything they can do to make today's experience better. Another elite-level passenger may be seated in coach with his family, so a flight attendant will stop by, fuss over them and thank them for their loyalty.
Another trend among the global alliance members, says Talling-Smith, is to work together to provide customers with better schedules. "American Airlines and British Airways often fly the same route, so we've spaced our schedules to offer more flexibility with more departure and landing times."
Talling-Smith also notes that airline alliances are a real part of the future. "We are striving to gain efficiencies while investing in products of the future, including $8 billion in investments scheduled over the next five years in new customer products."
Alliances are not only the future but very much the present state of the airline industry, according to Ihsan Baytan, general manager, New York, Turkish Airlines. As a member of Star Alliance, Turkish Airlines is one of the fastest-growing carriers, offering 21,200 daily flights to more than 190 destinations in 185 countries.
"For airlines today, it's very important to be part of an alliance for many reasons," says Baytan. "In order to be competitive in a global setting, every airline must be able to offer its passengers a worldwide network of destinations with convenient codeshare flights and connections. The most cost-efficient way of providing that benefit is to be a part of an alliance. Airline alliances are here to stay, and they offer more creative solutions to both passengers and member airlines."
Fatma Yuceler, general manager, Los Angeles, Turkish Airlines, adds, "Membership in alliances is the future for airlines. One airline simply cannot compete with the benefits of membership in an alliance, such as ability to travel to almost any destination in the world, receive mileage advantages and elite status through the different frequent-flyer programs. One airline won't lead the market; the strongest alliance or alliances will."
With rumors of a fourth alliance circulating and debate of international antitrust laws and regulations grounding future airline expansion, most frequent travelers and carriers agree, global alliances a 6 re the airlines of the future.
Top Three Airline Alliances
Established in 1998, oneworld was founded by American Airlines, British Airways, Cathay Pacific Airways and Qantas. The Global Traveler GT Tested Best Airline Alliance in 2010 and 2011, oneworld includes 11 member airlines and 20 affiliated carriers operating almost 10,000 daily flights to more than 750 worldwide destinations. In addition to the four founding airlines, oneworld members include Finnair, Iberia Airlines, Japan Airlines, LAN Airlines, Mexicana (Mexicana has been an inactive member since suspending operations in August 2010), Royal Jordanian and S7 Airlines. In 2012, oneworld expects to add two new member airlines, airberlin and Malaysia Airlines. Membership status of a third, Kingfisher Airlines, has been placed on hold.
Currently, 15 SkyTeam member airlines provide approximately 14,500 daily flights to more than 926 destinations in 173 countries. Founded in 2000 by Aeromexico, Air France, Delta Air Lines and Korean Air, additional SkyTeam members include Aeroflot, Air Europa, Alitalia, China Airlines, China Eastern, China Southern, Czech Airlines, Kenya Airways, KLM, TAROM and Vietnam Airlines.
The leading global airline network, the Star Alliance was established in 1997. Star Alliance offers the highest number of member airlines (27), daily flights (21,230), airports (1,290) and countries (189). Star Alliance members are Adria Airways, Aegean Airlines, Air Canada, Air China, Air New Zealand, All Nippon Airways, Asiana Airlines, Austrian Airlines, Blue1, British Midland International, Brussels Airlines, Croatia Airlines, Egyptair, Ethiopian Airlines, LOT Polish Airlines, Lufthansa, Scandinavian Airlines, Singapore Airlines, South African Airways, Spanair, Swiss International Air Lines, Ltd., TAM, TAP Portugal, Thai Airways, Turkish Airlines, United Airlines, United Express and US Airways.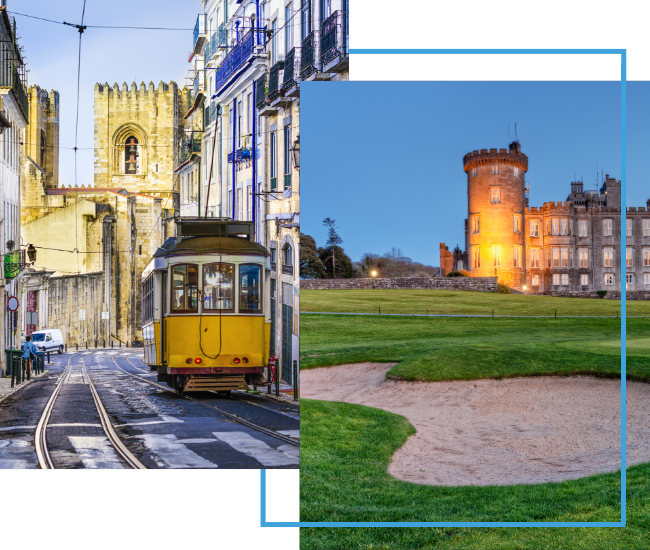 FX Excursions
FX Excursions offers the chance for once-in-a-lifetime experiences in destinations around the world.
Explore Excursions
Imagine yourself lounging in a stone cottage suite with a fireplace and freestanding tub, sipping hot chocolate in a rustic game and reading room with a raftered ceiling, and ice skating and cross-country skiing in the crisp mountain air. Sounds pretty perfect, doesn't it? Especially when you add in seasonal touches.
Sponsored Content
The Saronic or Argo Saronic Islands of Greece call travelers to explore its seven small islands and islets brimming with history, natural sites and more. With most easily accessible by boat, the islands' proximity to ports of Athens make the Saronic Islands an ideal destination for those preferring shorter boat rides. In fact, trips from Athens ports to the islands take only between 10 minutes and two hours, depending on the island you choose, making them perfect for day or weekend trips. From Piraeus port, you can access Hydra, Spetses, Aegina and Poros directly. Come explore these stunning islands with us and find the inspiration to plan your next trip to these islands. Hydra Hydra town curves around a slope overlooking the Argosaronic Gulf like an amphitheater and is considered one of the most romantic destinations in Greece. Most unique to the island is its lack of vehicles. People on the island get around on mules and donkeys as well as water taxis, making for a peaceful and laid-back day. Hydra lies a two-hour ferry ride from Piraeus port in Athens.
For the first time in Olympic history, when the 2024 Summer Olympics kick off on July 26, 2024, they will not do so in a stadium. Instead of an Olympic venue, the entire city of Paris will become the Olympic stadium, hosting the games among monuments, on bridges and on the grounds of some of the world's most historic sites. The Opening Ceremony will take place on the River Seine, where athletes will drift along on a flotilla of boats as spectators wave them on from the quays and bridges throughout the city.