Ghana's capital and largest city, Accra, sits on the coast of the Gulf of Guinea, part of the Atlantic Ocean. In this 13th-largest metropolitan area in Africa, travelers can get a taste of everything Africa offers: traditional and contemporary cultures, 17th-century architecture alongside modern skyscrapers, beaches and safaris. Take in the colorful, vibrant experience of Accra, also a hotbed for artists and grassroots enterprises.
GETTING THERE & AROUND
Accra Kotoka International Airport, located around 5 miles from city center, lies about 20–30 minutes from central Accra by car. Labour Enterprise Trust Co. Ltd. runs metered taxis to and from the airport, available at Car Park 5. Buses and Ubers also operate to and from the airport. Within Accra and Ghana, public buses are the main form of transportation for short-haul and long-distance travel; buy tickets online in advance. The two main bus companies are State Transport Corp. and VIP. If traveling by taxi, negotiate and confirm fares before the trip begins. Uber arrived in Accra in 2016 and proves a popular option for getting around.
LODGING
Kempinski Hotel Gold Coast Accra
This 5-star hotel is one of superlatives: largest guestroom size in Accra; largest meeting facilities in Accra; and ReSense, the largest spa in the city. Its 269 guestrooms, 24 suites and multiple eateries are conveniently located in the downtown business district.
Ministries PMB, 66 Gamel Abdul Nasser Ave., Accra, Ghana, tel 233 24 243 6000
Offering a private beach with 24-hour surveillance adjacent to popular Pleasant Beach, Labadi Beach Hotel boasts 164 guestrooms across seven room types. Enjoy tranquility amid the property's landscaped gardens, 10 minutes from the airport and 15 minutes to the Central Business District.
No. 1 La Bypass, Accra, Ghana, tel 233 302 772 501
Mövenpick Ambassador Hotel Accra
These modern guestrooms and suites feature state-of-the-art amenities with garden or city views. A tropical oasis in the middle of the city, Mövenpick offers complimentary breakfast, multiple dining outlets and the largest outdoor swimming pool in Accra.
Ridge, PMB CT 343, Independence Avenue, Accra, Ghana, tel 233 30 261 1000
DINING
Designed to appeal to discerning international travelers, Buka opened in 2004, serving a fusion of local foods with fine ingredients. Buka serves authentic dishes from Ghana, Cote d'Ivoire, Togo and Nigeria on an open-air terrace and in two indoor dining rooms.
10th Street, Osu, Accra, Ghana, tel 233 24 484 2464
bukarestaurant.com
To the Ewe people, Midunu means "let us eat," and this space is dedicated to the intersection of African culture, community and cuisine. Offerings include a bespoke event space, on- and off-site private dining, nomadic dining experience pop-ups and artisanal chocolates.
21 Silica St., Accra, Ghana, tel 233 59 343 3843
Santoku brings a taste of Tokyo to Accra with its minimalist interiors across the restaurant, bar and terrace. Staples include sushi, sashimi and gyoza, or guests can indulge in the tasting menu. Champagne, whiskey and lots of creative cocktails complement the cuisine.
Villaggio, 16 N. Airport Road, Accra, Ghana, tel 233 54 431 1511
ATTRACTIONS
Aburi Botanical Gardens
About 45 minutes outside Accra at the top of Akwapim-Togo Range sits the 160-acre Aburi Botanical Gardens. With only 3 acres developed and the rest a botanical reserve, visitors can tour the gardens and attractions like Bush House, Rock Garden, School of Horticulture and more.
VR2G+FRG, Aburi, Ghana, tel 233 20 585 4949
Makola Market
Since 1924 Makola Market has served as a market place and shopping district in the center of Accra. Across an array of products and women traders, shoppers can find everything from fresh produce, foods and clothes to tools; pots and pans; and jewelry made from local, hand-crafted beads.
A20 Kojo Thompson Road, Accra, Ghana
Also known as Christiansborg Castle, this 17th-century castle sits on the shores of Osu Township. Built by the Danes and rebuilt several times, the UNESCO World Heritage site was under the control of Denmark, Norway, Portugal and Britain before being handed over to Ghana. Today it houses the Presidential Museum.
Osu, Accra, Ghana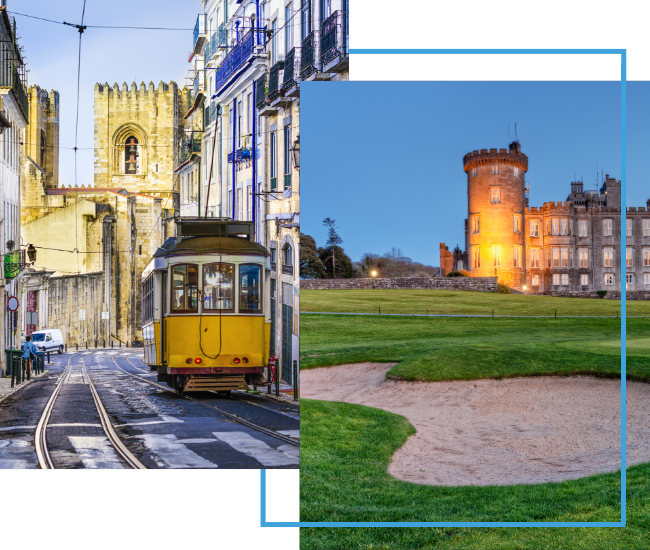 FX Excursions
FX Excursions offers the chance for once-in-a-lifetime experiences in destinations around the world.
Explore Excursions
The Perelman Performing Arts Center (PAC NYC), the cultural cornerstone and final public element of the World Trade Center site, opened this September.  The new performing arts center in Lower Manhattan provides a dynamic home for the arts, serving audiences and creators through flexible venues enabling the facility to embrace wide-ranging artistic programs.
Sponsored Content
Experience the life-changing destination of Greece by exploring its island gems in the Ionian Sea. Scattered off the western coastline of Central Greece, to the south of Peloponnese, the Ionian Islands are an island group comprising large and small islands.
Whether you call secondhand fashion treasure troves "thrift stores," "fripperies," "charity shops," "vintage boutiques" or something else, shifting the paradigm from "old clothes" to "new finds," you may find the best, most conversation-starting souvenirs inside these shops and neighborhoods located in the world's most fashionable cities and a few unexpected places.