Cathay Pacific recently launched a brand-new in-flight magazine after axing its previous offering during the pandemic. The airline's latest publication, Cathay, began circulating to passengers across all cabin classes earlier this month. The magazine launch coincides with Cathay Pacific's operating profits of $450 million last year, and a bounce back in passenger demand.
Before the pandemic, many airlines gravitated away from traditional, printed in-flight magazines, opting for digital alternatives. After a production run spanning 55 years, American Airlines retired its inflight magazine in 2021. Later that year, it announced it added "free access to TikTok" to its roster of in-flight entertainment.
Far removed, Cathay is a self-styled premium travel and lifestyle magazine showcasing the carrier's home hub of Hong Kong and the Greater Bay Area. Other content relating to travel, wellness, shopping and dining features highly within the publication.
"We know that our customers want and expect to be able to enjoy a travel lifestyle magazine when they fly with us. We are delighted to reintroduce a refreshed publication that encapsulates everything we want to bring them, every day inspiration, delight, and discovery," said Lavinia Lau, CCO, Cathay Pacific.
Cathay brings together a selection of high-end travel lifestyle topics, plus servings of food and beverages available across the carrier's route network. It highlights must-book restaurants, innovative chefs and lifestyle rewards and retail offers.
The airline's first in-flight magazine Discovery was introduced in 1973 before being withdrawn after the health crisis grounded much of the fleet. Many airlines ceased printing in-flight magazines during the pandemic in an attempt to cut costs and reduce to possibility of catching COVID-19. This also ushered in the magazines' demise and passengers made do without.
However, ground-based magazine publishers reported a different story of success. At the time, some publications reported triple-digit surges in new print and digital subscriptions. Lifestyle, leisure and wellbeing titles ranked highest in terms of new subscription numbers. Other high performers included special interest and children's titles.
"Our purpose is to move people forward in life by connecting them to meaningful people, places, and experiences. Through the content we share, we want Cathay to become a brand that people refer to on a daily basis, for inspiration and advice on the premium travel lifestyle," added Lau.
Contemporary research also advocates lots of people enjoy the experience of holding a printed magazine compared to a digital device. Surprisingly, younger generations now lead the way in reading printed magazines as an antidote to digitally overcrowded lives. For travelers, printed magazines are less susceptible to breakage, nor subjected to a reliable WiFi connection and power source.
Cathay Pacific still retains its digital in-flight entertainment connectivity as before, proving it is possible for both digital and print mediums to coexist in the same place and ultimately complement each other.
Stories and content are extended online in Cathay's Inspiration digital content hub, which delivers even more content on the premium travel lifestyle. Other areas of the magazine focus on exploring destinations across the carrier's route network.
The first issue focuses on reconnecting Hong Kong, the Greater Bay Area and the Chinese Mainland with the world. The magazine launches with a series of stunning aerial views of cities to inspire more travel.
Cathay magazine is printed using eco-friendly vegetable oil ink on environmentally responsible and ethically produced paper certified by the Programme for the Endorsement of Forest Certification. Once the airline replaces the magazines, the carrier ensures they are properly recycled by the airline's contractors.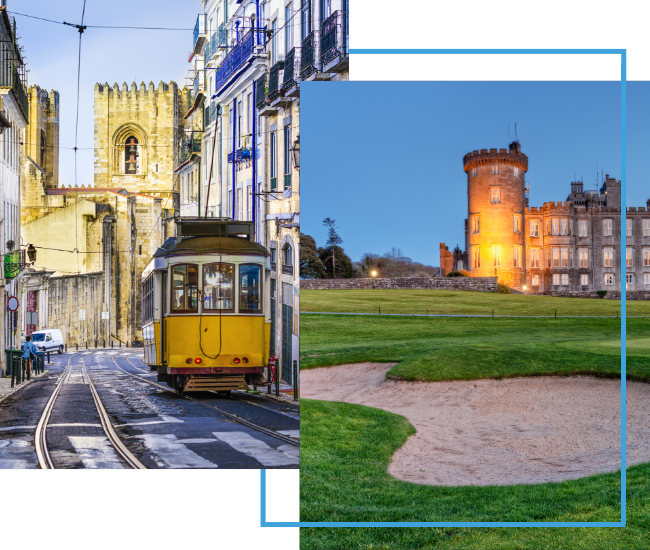 FX Excursions
FX Excursions offers the chance for once-in-a-lifetime experiences in destinations around the world.
Explore Excursions
As another phenomenal year of travel comes to an end, it's time, as always, for Global Traveler to celebrate and award those who do it best as we announce the 2023 winners of the GT Tested Reader Survey awards. But that's not the only cause for celebration here: We've hit another major milestone, as this marks our 20th year honoring the best of the best inn world of travel!
Sponsored Content
The Saronic or Argo Saronic Islands of Greece call travelers to explore its seven small islands and islets brimming with history, natural sites and more. With most easily accessible by boat, the islands' proximity to ports of Athens make the Saronic Islands an ideal destination for those preferring shorter boat rides. In fact, trips from Athens ports to the islands take only between 10 minutes and two hours, depending on the island you choose, making them perfect for day or weekend trips. From Piraeus port, you can access Hydra, Spetses, Aegina and Poros directly. Come explore these stunning islands with us and find the inspiration to plan your next trip to these islands. Hydra Hydra town curves around a slope overlooking the Argosaronic Gulf like an amphitheater and is considered one of the most romantic destinations in Greece. Most unique to the island is its lack of vehicles. People on the island get around on mules and donkeys as well as water taxis, making for a peaceful and laid-back day. Hydra lies a two-hour ferry ride from Piraeus port in Athens.
For the 13th consecutive year, Global Traveler honors the best of the best in the industry, naming 2023's Airline of the Year and Hotel of the Year.