All Nippon Airways (ANA), is the largest airline in Japan. With flights from the U.S. to Japan and all of Asia, it's the perfect airline to book your next trip with. From ANA's amazing in-flight food to their excellent customer service, it comes to no surprise that ANA has been awarded 5 stars for its 7th consecutive year by the SKYTRAX World Airline Rating.

ANA Premium Economy starts from the moment you enter the airport. With priority check-in, baggage pick-up and lounge access, you'll feel catered to before your flight. Experience the enhanced comfort of a 38-inch seat pitch, together with a large-sized monitor providing the best entertainment experience. Enjoy exclusive services included but not limited to Business Class desserts and sparkling wine.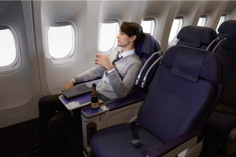 Want a little more? Travel to Japan in ANA BUSINESS STAGGERED, configured to provide every guest with an unforgettable flight experience, from every seat having aisle access to the delectable dining experience created by THE CONNOISSEURS, a team consisting of master chefs and beverage specialists. Relax in our spacious fully flatbed seats, prepared for your comfort with quilts and bed paddings. Whether you're traveling for work or leisure, an expansive sliding table creates the perfect environment to finish creating your itinerary or setting your out of office e-mail.
Explore the birthplace of sushi, manga and ramen or visit iconic sites like the Tokyo SkyTree when you fly from one of our nine U.S. gateway cities (Los Angeles, San Francisco, San Jose, Seattle, Chicago, Houston, Washington D.C., New York, Honolulu, Vancouver and Mexico City). With services from North America to Tokyo and over 45 cities in Japan, we can take you there! Visit fly-ana.com to find out more about our products and services.
Search Business Class Fares Here.
FX Excursions
FX Excursions offers the chance for once-in-a-lifetime experiences in destinations around the world.
Bahia Principe Hotels & Resorts invites travelers to celebrate the holidays at any of its properties in Riviera Maya, Mexico. There is no time like the present for you to experience a stay at one of these luxury resorts.
Sponsored Content
United Airlines remains firmly committed toward sustainability in aviation. The latest development in its eco-conscious goals includes working with Oxy Low Carbon Ventures to commercialize the production of sustainable aviation fuels (SAF) with biotech firm Cemvita Factory. Cemvita looks to develop a revolutionary new way to produce SAF by using carbon dioxide and synthetic microbes. Additionally, United Airlines Ventures (UAV) recently announced an equity investment in Fulcrum, and United has invested more in SAF production than any other airline in the world.
After a two-year hiatus from in-person sporting and outdoor recreation events, the seaside, car-free town of Las Catalinas in Guanacaste, Costa Rica, recently announced the return of the annual Tri Las Catalinas, an off-road, multisport triathlon, Feb. 15–18.