Name: Eva Reda
Title: Executive vice president, global co-brand partnerships and business development
Company, city: American Express; New York City, New York
Number of employees: 55,000
Recent project: The rebrand and refresh of the Marriott Bonvoy American Express Card portfolio, formerly the SPG American Express Card portfolio
First job: I was a pharmacy technician.
Little-known fact about you: I love old homes and find restoration so much fun. I bought a home from the 1890s and restored it to what it was; I love all the detail and architecture notes.
Your Business
What innovations/initiatives do you foresee in the industry over the next years? In the travel and credit card space, it will be finding ways to leverage technology without losing the human touch. Our brand cares about our customers.
Best career advice you've received: Do what you love because it is what you will be best at.
What advice would you give someone starting out in the field? Prioritize taking the time to find what you love.
Eva Reda as a Traveler
Favorite travel memory or story: About 10 years ago I was in Costa Rica at a hotel situated at the base of the Arenal Volcano. At dusk I could see the active volcano from a wall of floor-to-ceiling windows in the hotel. With the glow and smoke pouring out of the volcano, it almost seemed fake, it was so spectacular. It was both relaxing and a reminder of the power of Mother Nature.
One travel tip you cannot live without: Take care of sleep. If I don't get eight hours, things can go bananas. Plus, if you're sleep-deprived, you cannot appreciate any of the tasks at hand, business or leisure.
Best advice for business travelers: Add on extra time if you can, especially when you're in a beautiful place. Find an opportunity to leave the conference room. Catch a moment to enjoy where you are.
About American Express
As Marriott recently rebranded its loyalty program, American Express and Marriott rebranded the co-branded credit cards. Tell us about the new cards.
Earlier this year Marriott International, a longstanding partner of more than 50 years, worked with us to rebrand and refresh our co-branded card products; the Marriott Bonvoy American Express cards feature new names, benefits, designs and special offers.
The Starwood Preferred Guest American Express Luxury Card rebranded to Marriott Bonvoy Brilliant American Express Card; this is our highest-level card and features a stainless-steel card design. One of its new benefits is up to $100 in property credits per stay at The Ritz-Carlton or St. Regis properties.
The Starwood Preferred Guest Credit Card from American Express is rebranded as the Marriott Bonvoy American Express Card, complete with an artist-commissioned card design.
Finally, the Starwood Preferred Guest Business Credit Card from American Express is now the Marriott Bonvoy Business American Express Card, with a new benefit of receiving an additional free night award (redemption level at or under 35,000 points) when a card member spends $60,000 or more on the card annually.
What exclusive events and experiences can Marriott Bonvoy American Express card members look forward to?
We have events throughout the year that really touch on our card members' passion points of food, music, art and sports. Some events are open to all card members while others are exclusive to Marriott Bonvoy Brilliant card members. American Express and Marriott Bonvoy host a range of exclusive events annually; this year, for example, we had a presence at the Masters, hosting card members at golf's most prestigious tournament. In December we'll host card members at a premium Marriott hotel during Miami's Art Basel, while in October there's a card member experience at Marriott's Ion Hotel in Iceland. Other events include BottleRock, Aspen Food & Wine and the U.S. Open.
Marriott and American Express enjoy a history of more than 50 years. What can our readers expect from the future of this relationship?
We're excited to fully bring these rebranded cards to market and further communicate all the benefits. Now that The Ritz-Carlton program has been integrated into the Marriott Bonvoy program, whereas before it was its own program, we can bring more luxury events to card members. We will also continue to develop an exclusive event calendar for our card members each year.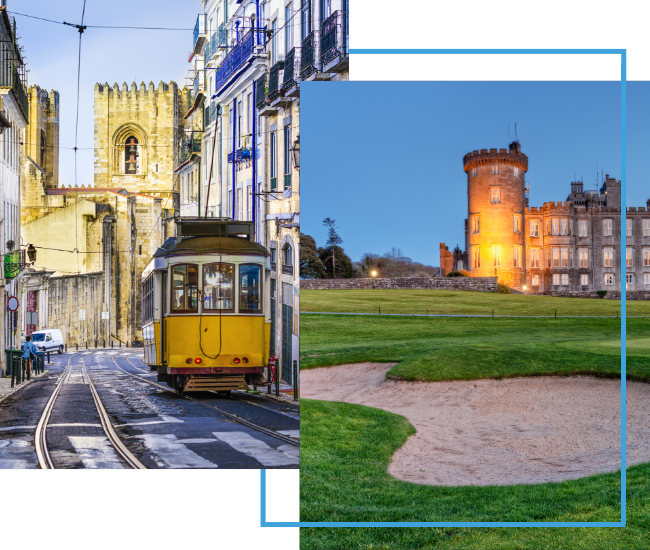 FX Excursions
FX Excursions offers the chance for once-in-a-lifetime experiences in destinations around the world.
Explore Excursions
Less than five years ago the world's first hybrid cruise ship, Hurtigruten Expeditions' MS Roald Amundsen, set sail for Antarctica in November 2019 with 450 passengers. The battery-hybrid-powered ship, named for the first man to cross the continent and reach the South Pole, was built specifically for voyages in polar waters. Its battery-hybrid power reduces the ship's consumption and CO2 emissions by 20 percent compared to equally sized ships.
Sponsored Content
Many small- and medium-sized businesses face time and budget constraints when organizing corporate hotel travel for employees. To address this problem, IHG® Business Edge emerged as a cost-free business travel solution for small- to medium-sized enterprises, offering travel managers exclusive access to enticing perks, handpicked educational resources and comprehensive company travel metrics. IHG Business Edge connects our loyal customers to our portfolio of 5,800 hotels and resorts across 18 brands in more than 100 countries.
A few months ago, I flew Polaris business class on a United flight from Dulles (IAD) to Paris (CDG). It was only when I got to my hotel in Paris I realized that I didn't have my iPad or its bag or accessories. Since I had been working on it in the restaurant in the Polaris lounge and then went directly to the gate, I knew I either left it propped up on my table when I packed up or in my business-class seat. But what was the best method to alert the airline about my careless mishap and (hopefully) retrieve it? With spotty data and WiFi, searching for information on my phone was frustrating and slow. Here's what I learned from the anxiety-inducing experience (and unexpected ending) about what to do if you leave something behind on your flight: